A passion for football and equality
Football is a universal language. And because of this, Lebanese equal-rights NGO ABAAD has chosen to use the language of football to facilitate the discussion on equality. For both men and boys, football demonstrates the benefits of working as a team; the same is true when men and women play together – whether playing 'at home' or 'away'.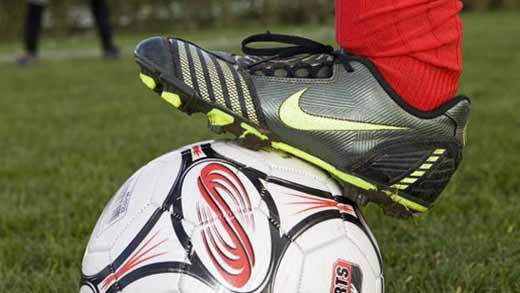 Facts about football and equality
ABAAD is a Beirut-based Lebanese NGO that works to promote equality and to combat gender-based violence. The work carried out by the organisation focusses on creating lasting structural change within society by promoting more flexible and non-violent concepts of masculinity.
Read more about the many initiatives of ABAAD
Picture the scene: a group of boys going off to football camp. They are grouped into teams with matching jerseys, and each day they meet in workshops to discuss rules and tactics. It is about more than just football – it is about equality.
So why not treat the issue of equal rights like team sport? Why not make fullest use of each individual player's optimal potential in order to strengthen the team as a whole?
This is the idea behind a new equality initiative in Beirut fronted by the organisation ABAAD. The main aim of this initiative is to get boys and men talking about gender roles.
"Unlike other initiatives in the field, where men and boys are brought together to participate in a sports activity and then afterwards take part in a discussion of topics such as equality, we want to use the characteristics of football to open up a discussion of how player dynamics can be adapted and used in the family or in life in general. How gender equality benefits the collective group, the family, the community and the individual," explains Anthony Keedi, project leader in the Lebanese equal-rights organisation ABAAD and brains behind the football concept.
Anthony Keedi is currently working on a manual for ABAAD's football workshops. The fundamental concept is to use the terminology of football to encourage men and boys to develop a way of thinking that is focussed on equality – a mindset that often seems alien, trivial, or even provocative to the men and boys. Studies in educational psychology show that when an abstract discussion is translated into more well-known terms then it becomes easier to broach because the 'new' abstract concepts are immediately understood and useable. 
 
Equality and male roles
Since its foundation in 2011, ABAAD has been working to promote gender equality, with a particular focus on fighting gender-related violence. Whereas the majority of similar organisations work to ensure the safety of women victims of violence by establishing shelters and crisis centres to provide legal and social help, ABAAD breaks with tradition by focussing on the men. The objective is to create a lasting structural shift within society with equality benefiting everyone. And to achieve this, they adopt a multifaceted approach.   
Throughout its four years of operations, the numerous viral campaigns launched by ABAAD on YouTube and other social media platforms have succeeded in getting men talking – particularly younger Lebanese men. Last year, a video competition resulted in a number of creative and dedicated films, all of which spread the message that real men do not hit women.  
This is a message not without controversy in a Lebanese context. In Lebanon, the gender roles are etched into a traditional framework and social norms dictate, in some cases, that violence be used to solve personal conflicts. The image of the strong male figure who is prepared to defend himself at all costs is seen as an ideal image by many Lebanese men. Such an ideal is often bolstered by the fact that Libya is a conflict zone where the warrior, the soldier and the rebel are concrete role models for men and boys alike, explains Anthony Keedi.
In a similar anti-violence context, ABAAD has founded its Centre for Men. Here, men can participate in workshops in peaceful conflict solving and anger management, and the centre also offers free therapy with a psychologist to men who experience that they find it hard to tackle stress and family issues in a non-aggressive manner.
The message is the same on all of the organisation's platforms: it is possible to be a man in many different ways – and the same goes for women. The issue is one of unleashing your entire potential as a human, irrespective of gender.
 
Football culture driving social change
For Anthony Keedi, the idea of coupling up the world of sport with work promoting equality arose as a natural extension of ABAAD's work. He is himself a football fanatic and has an equal passion for equality and masculinity. The analogy was plain to see.
In football, the team gets better and the game becomes more interesting if each player is allowed to realise his or her potential. And the same is true in society. 
"The concept of working as a team in football has been used to promote other ideas that deal with respect and fair play. For example, football has been used as a means of fighting racism. But football has never been used as a model to explain gender equality, and that's something I want to change." 
"Traditionally, football supports a very conservative and masculine set of values. Much emphasis is placed on physical strength and endurance, and there's a clear division of the sexes. Yet football also possesses a transformative potential. For example, FIFA has been tackling the issue of racism head on. When the Kevin Prince Boateng (a Ghanaian professional footballer who currently plays for Schalke 04 of Germany, ed.) was met with racist chanting from the crowd whilst playing an Italian club match for AC Milan in January 2013, he walked of the pitch – and the rest of the team followed. The signal this sent was a strong one, and it received the full backing of FIFA. This is just one of the many examples of how football has been used to fight social problems and get young people talking," explains Anthony Keedi.
 
Gender-roles workshop
ABAAD's workshops focus on the possibilities inherent within the game of football to directly communicate the subjects of fair play, development and change. Here, the concrete benefits of equality are put into a football context.
Just like after every football training session, the 'team' meets every day to discuss one or more of the technical aspects of the game for which they have been practicing that day. In this case, however, the elements are related to everyday life. 
A module on interaction, for example, will focus on the importance of communication. Another module about tackling will open up a discussion on non-violent conflict solving and the constructive aspects of going after the ball rather than after the player. A third module deals with stress and anger management, because if you allow your temper to get the better of you on the pitch, you will likely be given the red card – and that is of no benefit to the team, who are left one player short.   
In this way, the world of football imitates the real world, with young boys and men gaining the opportunity to socialise constructively as open-minded players.
"In the future, we're going to have a module that specifically deals with gender roles vs. playing positions. In football, there are also many different 'roles' – goalkeeper, centre forward, mid-field and defence. You're selected for a specific position based on your abilities and talents, not on outward parameters such as height or skin colour. We want to show just how crazy it would be if we allowed these outward parameters to determine which players could play on the pitch instead of fielding the best centre forward who can score as many goals as possible. But this is precisely what we do every day when we segregate people in society on the basis of their gender. Here, women always end up in the housewife role and men as the providers, even if they are better at doing something completely different. Or where only men enter into politics based solely on the fact that they are men. If we used the same selection criteria in football, we'd end up with the worst team in the world. In the same way, the automatic division of the sexes weakens our society," tells Anthony Keedi.
 
Total Football and total equality
A key issue for Anthony Keedi is that football renews itself. He advocates moving away from the situation of fixed player team identity towards fostering of a sense of identity that is in line with modern concepts of the individual and interpersonal relationships. In the world of football, this concept is known as Total Football. The concept of Total Football revolves around every player being, in theory, capable of taking up any position on the field; all players should be trained to be good at scoring goals, and all players should be capable of putting up a strong defence. According to Keedi, teams that practice the Total Football philosophy, such as FC Barcelona, have become much stronger as a result.  

Danish-Arab Partnership Programme
KVINFO's programme in the Middle East and North Africa is financed by:

And it is his vision that this same approach will be adopted at a social level. 
"When men and women take an equal share in contributing to and participating in society, the economy and childcare, our society will become stronger. The only reason that we're still stuck with the old models of gender roles is because we've been socially conditioned to them. Our aim isn't to point a moral finger. We just want to show how equality can create a social model that's superior to the one that currently exists. And show that men have a lot to gain from it too," he concludes. 
Recently, the work of ABAAD has been curtailed due to fact that many resources in Lebanon have been given over to the relief work associated with the Syrian conflict. Nevertheless, Anthony Keedi expects to be ready with the first football test group in the very near future. And from here, he plans also on involving Syrian children in the project.