Challenge My Story – digital storytelling as empowerment in Jordan
Muath Isaeid remembers how he learned to be a man. As a small child in primary school, one of his classmates, a girl, told him that it was time for him to stop playing with dolls. She also told him that when she was being bullied, it was his responsibility, as a man, to stand up for her. Isaeid quickly learned that there were certain behaviors expected of him because he was a man (or, at least, a boy).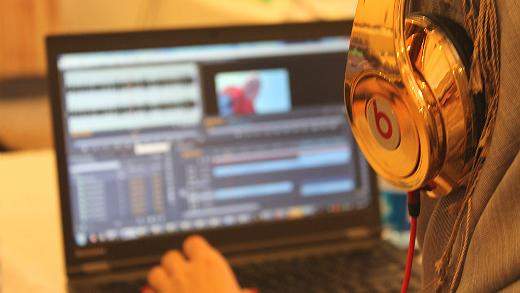 About "Challenge My Story"
See the stories form the workshop and interviews with partneres and participans at www.challengemystory.com.
"Challenge My Story," is a collaborative project between the Danish organisation, Digital Storylab, and two Jordanian organisations, the online magazine 7iber and Al Balad Theater.
By gathering young people to share stories through a digital storytelling process, Challenge My Story aims to explore differences and similarities in the gender-related challenges that young men and women in Jordan face, such as discrimination, harassment and physical or mental abuse.
15 participants from Jordan, Syria, Palestine, Lebanon and Somalia participated in the 5 day facilitator workshop in digital storytelling in Amman, where they learned to facilitate the digital storytelling technique for others.
The Project is financed by KVINFO's Mini Pool under the Danish-Arab Partnership Programme. This is the second time that Digital Storylab and 7iber receives a grant from the Mini Pool. The first was for a project documenting the participants in the Palestine Marathon.
When Isaeid told this story to a room of assembled activists, as part of a 5-day intensive workshop in the method digital storytelling, it became clear that he was not alone. Several other participants had similar experiences where, as children, they had learned what they could and could not do because of their gender. Areej Khreeis recalled being told that girls don't ride bikes. Mohamed Farah remembered his mother telling him that he needed to stop playing with his sisters, and to go outside to play with the boys. Fadia Barjous remembered learning that as a girl, she needed to wait for her family to give her rides home after school. She couldn't walk or take cabs like boys did.
"There is a tension point between you and when you hit society," said Aysha Shamayleh, exploring a common theme in the stories that got told. There is a point at which your gender determines what is possible for you".
Creative process
In the workshop, led by the Danish organization, Digital Storylab, and sponsored locally by 7iber, an online magazine and Al Balad Theater, participants used digital storytelling as a tool for discussions about gender. According to Nikoline Lohmann, co-founder of Digital Storylab, digital storytelling is a powerful tool for drawing out these kinds of stories and facilitating group conversation around important topics.
Developed as a method in the 1990s by Joe Lambert from the Center for Digital Storytelling in Berkeley, California, USA, digital storytelling helps people to produce their own 2-3 minute personal stories, using their own photos, new as well as old ones, video clips, shot with mobile phone or digital camera, and narrated with their own voices.
It is a creative process by which diverse peoples share their life stories and creative imaginings with others, Lohmann said.
In the workshop, participants learned several strategies for finding and exploring stories about themselves that they may have forgotten. Through these stories they were able to explore their position in society and talk about how they became who they are today. With a focus on learning to use these techniques as activists interested in community empowerment, participants saw how the process of storytelling facilitated certain interactions with each other and enabled empowering explorations of themselves.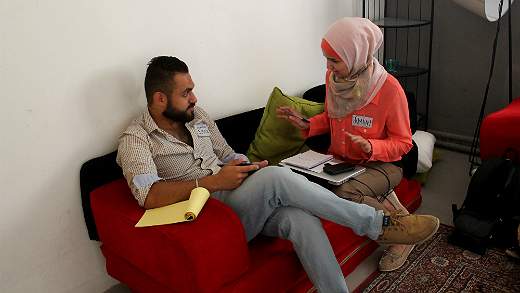 Personal stories
By the end of the workshop the 15 participants had all completed short, personal, digital video stories about their experiences with gender. These digital videos were then shown as part of the Hakaya Storytelling Festival in Amman, which also included additional, shorter workshops on digital storytelling techniques.
In their videos, many of the participants told stories of how small things, daily indignities, can have big impacts on how they feel about themselves. For instance, Khreeis, whose parents told her that she could not ride a bike, talked about wanting for her entire childhood to be able to ride one. Her video describes the liberation that she felt when, on her 30th birthday, she finally bought herself a bike as a present and rode for the first time. Khreeis said that she felt unsure about telling such a small, personal story in a
time of big events like war and revolution (which some of her co participants did
talk about). Maybe she should have tried to tackle a bigger issue. "I'm as embarrassed as the moment I felt on that bike," she said, "but it is very important to me. It's my independence."
One of the things that participants learned in the workshop is that such small personal stories are valuable and can communicate powerful, important points.
"My story is not one of domestic violence or a dominant father," said Rawan Zeine, "I'm just a woman whose daily choices are determined by society." Zeine's story centered around the childhood experience of a strange man accosting her for wearing immodest shorts. Zeine described how this and other experiences fill her with self doubt and self censorship. "This is not me," she says of the cautious, doubting woman that society has made her.
When asked, Zeine says that she was frustrated with the video that she has made, because she appears to be a victim in it, and this is not how she wants to be. Several of the female participants expressed similar concerns, wondering how to talk about the daily indignities of gender without appearing as powerless victims. For example, Deema Dabis talked about the conflicting emotions that she felt after being grabbed by a strange man in the street: a mix of shame, anger, confusion, and helplessness. How is it possible to tell this story without appearing to be a victim? While maintaining her power?
Part of the idea behind the digital storytelling technique is to facilitate group discussion that works through issues like these, Lohmann said.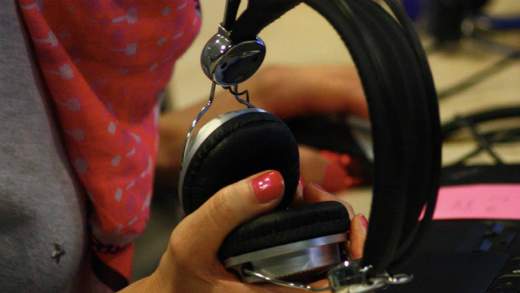 Feeling like a burden
The participants
The workshop participants were:
Malek Ikhmies and Abdelsamee Abdallah, who work with "Global Platform," and who are tasked with translating the training into Arabic for an upcoming workshop
Aysha Shamayleh, who is designing creative writing workshops for youth and professionals
Rawan Zeine of Ta3leeleh, an open space for people to share ideas
Areej Khreeis, who works in youth advocacy
Mohamed Farah of the Jesuit Refugee Society
Fatima Ashour of the news organization Syria Direct
Deema Dabis of the storytelling organization Mena and "the Border Diaries"
Menna Ekram of the Egyptian organization Khayar
Muath Isaeid of Al Balad Theater
Lames Assaf of 7iber
Mohmmad Hijazi, who runs an independent record label and recording studio
Fadia Barjous of Amman 101
Hala Abu Taleb
Omar Al Tabakha
Another participant, Fadia Barjous, discussed her childhood frustration with having to wait for her family to give her rides home from school and to other activities because, as a woman, they would not allow her to walk or take a taxi. Realizing that her family did this out of love and that her father went out of his way to take her wherever she wanted to go, Barjous still struggled with how limited she felt by this rule. "I felt like a burden," she said, "…why should I be waiting? I was hating being a female. What if I had been the youngest male member of my family instead?"
If digital storytelling aims to facilitate conversation about tough issues, this video generated a lot of discussion among the group, with some male participants saying that Barjous ought to view her experience as a good thing, to have a family so loving as to give you rides. Yes, women in the room responded, but the problem is that she does not have a choice.
Concerns about how to tell your story without appearing like a victim became especially important in the context of the workshop, which was held in English. Participants wondered about the politics of sharing certain stories or societal criticisms in a foreign language. Who would it look like they were talking to? What might be out of bounds? One participant specifically described holding back for that reason. In English, she did not feel comfortable criticizing the Qur'anic interpretation of a religious teacher, although she would have done so in Arabic, if she was speaking to her community. Instead, she altered her story to remove this criticism.
How to discuss gender
Ekram, who works with Khayar, an Egyptian organization dedicated to studying and producing Arabic-language information about gender related issues, said that most of the information about gender in the Arab world is either in English or written by outsiders. Her organization works to correct this imbalance. The workshop generated intense group discussions about what gender is. Speaking to the group during story development, Ekram also challenged the idea that gender was simply about the difference between men and women. "The discussion is always about how I am different from men, but what of all the times where I have felt different from other women?" she asked.
Gender should be thought of as a continuum, agreed participant Aysha Shamayleh, adding that she likes to use the terms "masculinity" and "femininity" rather than "men" and "women" when she talks about gender. "It's a range," she said, "It's inspired by your sex, especially if you want to fit in (but it isn't determined by it)."
This related to another key discussion that came up in the workshop: What does it mean for a man to be gendered? In introducing the topic of gender to the group, workshop facilitator Anne Herholdt shared some academic research about gender, which she said might help the participants think about the issue. However, she noted that she had been unable to find any information about men in published research about gender in Jordan. "That is why you are here," facilitator Nikoline Lohmann told the males in the group.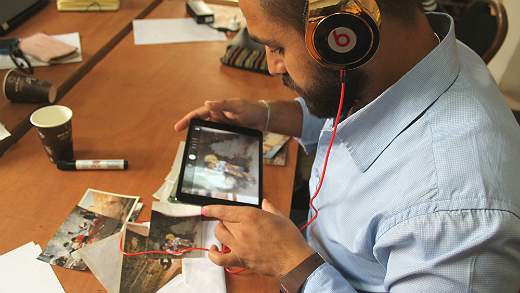 Important male stories too
Nevertheless, many of the male participants were able to tell important stories about how they too encountered gender as a constraint in their lives. Malek Ikhmies told a story of being asked to help save a friend's sister from an honor crime. While knowing that he had to do something, Ikhmies describes struggling with the knowledge that if he tried to intervene directly, the family might accuse him of being complicit in the girl's dishonorable absence. Mohamed Farah told of how, as a refugee fleeing Somolia, he was denied refuge in a relative's home because there was a daughter his age in the house. Farah described being stuck outside in the scorching heat. "I felt like I was imprisoned in the free world," he said.
This story again generated a lot of discussion from the group. "The film provoked me in an interesting way," said Zeine, who asked Farah how he felt to be treated like a predator by his family. "Did you ever think 'what am I going to do to their daughter?' Or did you just accept it? I'm really curious about the gender part….it's a good film to show in a gender discussion."
As many of the films were very personal, and as participants worked closely together in developing their stories, several participants remarked on how they got to know each other through the process. Now that the workshop is over, participants hope to take the skills that they have learned back to their own organizations. There, they expect to hold workshops around a variety of topics, not just gender, to explore and tell community stories as a means to community empowerment. Already, during the workshop, several participants, including Aysha Shamayleh, Deema Dabis, Rawan Zeine, and Muath Isaeid, developed a plan to use digital storytelling in an anti-bullying campaign which they hope to launch in Jordan's schools.

Danish-Arab Partnership Programme
KVINFO's programme in the Middle East and North Africa is financed by:

"We picked the participants to make sure they can reach different parts of communities," Said Amal Hammoudeh, of 7iber, who helped organize the event. "So the idea of the workshop is to teach these participants the methods so that they can teach others in order for them to get their stories out there."
7iber's managing editor, Lina Ejeilat, added that by teaching storytelling techniques to an expanding network of people, 7iber hopes to expand its contributor base, potentially offering a forum for future stories that get developed. "We're really hoping as 7iber that this would help us expand this network of contributors and people who can produce some interesting work," she said.