Charged for witnessing against the police
Azza Soliman speaking at a CSW (Comission on the Status of Women) event in New York recently.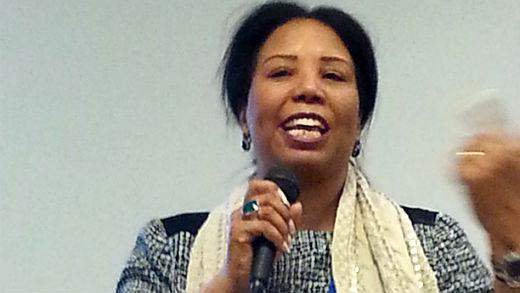 The leader of one of KVINFO's Egyptian partners has now been officially charged because she volunteered as a witness, after she saw the police shooting a demonstrator in January. The case is the latest example of the Egyptian regime's repression of human rights defenders and attempt to silence women in the public sphere.
The internationally known women's rights lawyer Azza Soliman is the founder and Head of the Trustees Board in KVINFO's partner organization CEWLA (Center for Egyptian Women's Legal Assistance). On the day before the anniversary of the Egyptian revolution in January she was sitting in a café in Cairo, when a small, peaceful demonstration passed. Shortly after, the police cracked down on the demonstrators full force and opened fire. 32-year old Shaimaa al-Sabbagh was killed by police bullets.
Following the events Azza Soliman went to the prosecution to testify, but during the interrogation she was instead threatened with charges that include rallying and participating in a demonstration that jeopardized public security. Others have gotten up to 15 years in prison for the same charges.
This week the prosecutors office then confirmed that she is now officially charged in the case along with the participants in the demonstration.
"It's deeply worrying that defenders of human rights and women's rights are targeted like this and that women are forced out of the public sphere. It's really critical both for civil liberties and for the position of women in the Egyptian society," says leader of KVINFO's international department Katarina Blomqvist.