Conflict Resolution Without Women
Arab women are most often excluded from efforts to prevent wars and create peace. While women and children are particularly vulnerable during armed conflicts, they rarely take part in peace-making processes. At a large conference in Beirut, 60 women tried to come up with a solution in order for women to achieve new roles.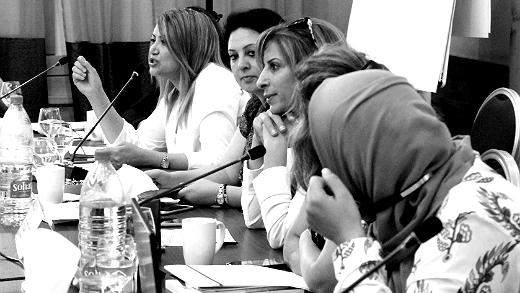 The women all hold unique positions in the 10 Arab countries represented at the conference. This is due to the single fact that they are already engaged in politics in their home countries.
Yet, their engagement is often in spite of, and without notable recognition from, their male colleagues and the male-dominated regimes of the war-torn region. There could be no doubt as to the sense of marginalisation experienced by these women, after listening to the many presentations at the conference.
Syria Divided
The Syrian opposition had five participants at the conference, one of whom currently participates in the international peace negotiations.
As a group, they represented a range of positions on the issues – Dr. Mais Krydee is pragmatically in favour of including President Assad in a future peace deal. The others were strongly opposed to this, particularly Hanan Mohammad who, as a lawyer, represents families of missing persons and some of the prisoners in Assad's jails in cases against the Syrian regime.
Their continued residence in Damascus is a common denominator. Besides their fatigue due to years of war, they are also dissapointed in the outside worlds' lack of effort in listening and understanding Syrian women's struggle for greater political influence.
A Lack of Influence in Iraq
A physician from the Kurdish areas in Iraq talked about the impact of armed conflict on hospitals. They are already overstretched due to the high number of internally displaced and are left with very little medical equipment. In her presentation, Vian Sabri suggested that everything would be so much easier, if only the Iraqi Kurds were able to separate, or gain greater autonomy from Baghdad. She tightened her stance during a subsequent interview:
"We are quite simply not compatible. The Kurds are entirely different from the rest of the population. We have always been more peaceful".
During the conference, her presentation was followed by Maha al Dawri, a physician from the Iraqi capital. She describes the same problems as her colleague and fellow countrywoman from the north, but argues for the continued unity of the Iraqi state. Kurdish and Arab Iraqi participants did, however, agree that women have far too little influence – in Iraq and during the international negotiations.
Faulty Priorities in Libya
Libya was represented by a delegation of two. The conference organisers were, until the very last minute, unsure of whether the Libyans would reach the conference. In Libya, it is exceedingly difficult to obtain visas and exit permits – even when in possession of a conference invitation. However, the Libyan forensic expert, Maha Salim, appeared at the last minute accompanied by a political activist. She reported that she had just closed the comprehensive programme set in place in order to identify the human remains from Libya's numerous mass graves.
While some of the mass graves are older, most are from the period when armed groups struggled to depose the country's long-lived dictator, colonel Muammar Gaddafi. During the final days of the regime, Gaddafi hid out in his hometown of Sirte, before being caught and lynched by a furious mob in October 2011. Until recently, Maha Salim's identification programme has been answering families, seeking missing relatives.
But, International funding for the forensic laboratories is lacking, and the Libyan authorities have not prioritised the programme. The country's two competing 'governments' are more concerned with their own power struggles, the challenges posed by the numerous armed militias, and the battle against a branch of Islamic state in northern Libya which has recently compelled the two 'governments' to cooperate.
If it were up to Maha Salim, priorities would be quite different. Knowing the truth about missing family members is the path to mourning and grieving, reconciliation, forgiveness, and being able to look forward to a more peaceful era.
Common Challenges
These examples from Syria, Iraq, and Libya are just a small taste of the many accounts shared at the two-day conference, Enhancing Women's Contribution to Peace Building and Conflict Resolution in the Arab Region. The conference was organised by KVINFO and Al Quds Center for Political Studies in Jordan and Lebanon.
Researchers, politicians, and activists presented their own experiences, and particular challenges faced by women when working in areas of armed conflict with fragile, or practically non-existing states.
There were further presentations from Jordan, Egypt, and Morocco, countries devoid of armed conflict. In these countries, the challenges lie in the slow-moving process of changing legislation to grant women equal status – or as a minimum, increased rights. The common challenge in these countries, is how the rise of extremism and the fights against terrorism affects the work towards increased civil rights – including gender equality – and the fact that the political agenda is automatically set by men.
Egyptian journalist, Karima Kamal, summed up the conference contributions in an article in the recognised print and on-line news publication, Al-Masry Al-Youm (Egypt Today, Transl.):
"60 feminist leaders from ten Arab countries and Kurdistan debated for two days. They spoke about their experience fighting extremism, building bridges, making peace, carrying out humanitarian work, and about changing legislation." Karima Kamal describes how "the patriarchal structures in Arab societies" are the primary factors in  excluding women from carrying out this important work.
A Focus on Solutions
About the Conference
This past summer, KVINFO co-hosted two conferences in Beirut, addressing the UN Resolution 1325 from different perspectives.
The conference "Enhancing Women's Contribution to Peace Building and Conflict Resolution in the Arab Region" had a particular focus on the marginalization of women in conflict resolution and –prevention in the Middle East and North Africa, and the methods necessary in breaking down the barriers encountered by women.
The conference was organised in cooperation with Al-Quds Center for Political Studies and KVINFO with support from the Danish-Arab Partnership Programme.
While all of the conference speakers and participants are well-educated and relatively influential in their home countries, they still feel pressured and forgotten.
Generally speaking, it is more difficult for them to get through to the inner circles of power, compared to their male colleagues in their home countries. They also experience a notable lack of international support when trying to set the agenda. The results from the UN Resolution 1325, ratified 16 years ago, are pitifully few, even if the resolution sought to support women's access to power and influence in countries marred by armed conflicts.
Thus, it was difficult for many of the presenters at the conference to look beyond their own accounts of long and often tragic struggles. Several times, Oraib Al Rantawi, director general of Al-Quds Center for Political Studies and moderator of the conference, had to remind speakers to stay focused on the current situation, and on ideas for including women in politics, bridge-building, and sharing valuable experiences.
Extremists and Security
The rise of extremism and issues of security are the most notable challenges to women's active participation in society.
Often, in conflict-ridden countries it is dangerous to simply leave the house and this makes it easier for male relatives and members of local communities to come up with reasons for women to not be activists, politicians, or working outside the home.
The rise of extremism is a further push in the wrong direction. Or in the words of Karima Kamal in an article from Al-Masry Al-Youm: "It means that we are being pushed back to an era where women were slaves and traded at the market".
Challenges
The conference presentations are supported and mirrored by the final document of the conference. It prioritises four challenges (translated and abridged):
1: The Arab countries are characterised by patriarchal societies supporting a discriminatory culture and traditions that discriminate against women, both legally and politically.
2: In countries characterised by armed conflicts, the state and its institutions are often weak or absent. This leads to a power vacuum, which is exploited by religious and/or tribal leaders who rarely favour the women's equal legal status to men.
3: There is a general trend for mounting pressure against civil rights and freedom, and for threats to the political reforms necessary for the institution of democracy. The resilience of civil society is weakened and there is a rising trend of gender-based persecution.
4: Increasing extremism violates women's dignity and their universal rights as citizens and human beings in particular. Additionally, (uninformed/poor) women are being abused in order to further the extremists' agenda.
Tunisia's Warriors
The advance of extremists was a common concern at the conference in Beirut.
The head of research at the International Centre for Strategic, Security and Military Studies in Tunis; sociologist, and PhD Badra Gaaloul, gathered the views in her research presentation of the surprisingly large IS recruitings in Tunis, especially of young people of age 20 to 25. The majority of them male, but also quite a few female.
"It is a disaster to the Tunisian people for such large numbers to join Islamic State. Keeping in mind that 5,800 men have joined the terrorist organisations, and we know that approximately 700 women have left in order to join DAESH, (A pejorative Arabic acronym, often used in Arab countries to challenge it's connection to Islam, Transl.), we must ask a few questions" explains Badra Gaaloul in an interview after her presentation at the conference.
Most researchers agree that Islamic State has brought in approximately 30,000 fighters from abroad, including approximately 6,000 from Europe. Tunisia is, in other words, close to have contributed a third of the remaining 24,000 recruited from Arab countries.
The Disheartening Spring
In western eyes this is a paradox, as Tunisia is often credited as the country that, after the 2011 Arab Spring, succeeded in getting a new constitution, a democratically elected parliament, and gender-equality reforms.
However, the Islamists are successfully targeting areas with marginalised social groups, e.g. young jobless inhabitants of poor neighbourhoods marked by crime. Quite a few have suffered from interrupted schooling and education due to the conflicts.
"This is just like Europe, in Belgium, France, and Germany for example. But in Tunisia, the recruits are mostly criminals released from the prisons and shunned by the rest of society. This may occur online, but it also happens in small mosques. If a young, poor criminal encounters an imam who offers him a small sum of money in order to open a small shop while promising him God's redemption from his sins so long as he attends mosque, well, this sets the stage for influence. The imam then follows the young person in order to determine the kind of tasks he may be able to carry out in DAESH. If he is strong, he is sent to Libya for military training. But there are other tasks too, e.g. logistics, communications, security".
It is rarely obvious how these young marginalised people may benefit from the new democratic era in Tunisia. For many, the post-Arab Spring period is thus considered a disappointment, explains Badra Gaaloul.
Extremist Women
The recruited women similarly assume various roles in the Caliphate. "They must be mothers and raise the children as fundamentalists. This is a strategy for the reproduction of the value system in order for mothers to pass the ideology on to their children.
And women are used for recruitment purposes. They are skilled at media propaganda, they are better at convincing men to become warriors, and they lead the way in making other women understand that they also have an important role in building the Islamic State from the inside."
Recommendations
Hence, one of the many recommendations of the conference is a call for a specific effort to liberate women and girls held as prisoners or are kidnapped by terrorist and paramilitary groups. Furthermore, large-scale media campaigns should be launched in order to counter the violence and extremism targeting women and girls. And generally, women and children should be protected from the violence they are particularly subjected to during armed conflicts.
Danish-Arab Partnership Programme
KVINFO's programme in the Middle East and North Africa is financed by:

The other most important recommendations are support for the development of democratic states with legislation that ensures equal rights for everyone, the equal and fair treatment of all citizens, and the abolition of all forms of discrimination against women.
Furthermore, the conference calls for a national, regional, and international coalition that will ensure the goals set out in the UN Security Council's Resolution 1325 are met.
This endeavour must be concrete, e.g. the international community should push for the allocation of funds in national state budgets in order to secure women's inclusion in conflict-prevention activities, in peace negotiations, and during reconstruction efforts.