Danish local elections seen through new eyes
Ideas for new initiatives were conceived and new perceptions of the Danish election system were formed when a group from the Middle East came to Denmark to follow the recently held Danish local elections. And as an added bonus, the group got to see how Denmark deals with a politician who does not have his financial accounts in check.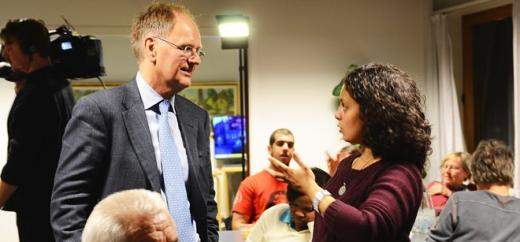 Five delegates from KVINFO's partner projects in Jordan, Tunisia and Egypt recently visited Denmark to witness the local elections being held across the country. Throughout the elections, these delegates attended workshops arranged by the Danish Institute for Parties and Democracy (DIPD) that enabled them to scrutinise the workings of Danish democracy and the Danish voting system alongside Danish politicians. 
One of those participating was Hala Salem, executive director of Al-Quds Center for Political Studies in the Jordanian capital Amman. She was particularly keen to learn how elections in Denmark avoid vote rigging and corruption, so she was interested to see the measures taken in Denmark to combat such things. 
"Those we asked responded that it's just a part of the culture and the system – because there's both transparency and a political will to maintain such a culture," tells Hala Salem. For her, it puts the recent first Jordanian attempt to carry out a non-corrupt election, not to mention the challenges associated with this,  into perspective: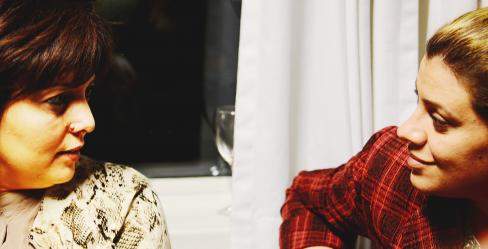 "The culture [in Jordan, ed.] is such that the candidates buy votes for themselves, and the voters expect that they can sell their votes. My own argument against this to people is that the money they get for voting for a specific candidate can be gone tomorrow or in a week, whereas the vote they give to someone who they genuinely believe in will benefit them, their children and their family for the entire duration of the politician's tenure," tells Hala Salem. 
A boost of motivation for astonished Tunisians 
Taking part from Tunisia was Besma Soudani, chairwoman of the League of Tunisian Women Voters. This organisation has been one of KVINFO's partners since 2012, and – together with KVINFO and Kvinderådet (the Danish woman's council) – it has carried out a number of projects focussing on the political participation of women.
Besma Soudani explained that the five women politicians from Tunisia who were sent to Denmark by the organisation back in 2012 were not only shocked and surprised but also greatly encouraged. They noticed how Danish politicians do not wear designer clothes, nor are they driven round in fancy cars; instead, they cycle around on their own and wear flat shoes and jeans.  
"Their experience stood in sharp contrast to the Arab stereotype that peoples political careers start when they retire from their jobs. In Denmark, they met women politicians who were normal citizens and not 50-60 year olds with an affluent and well-to-do family behind them," recounted Besma Soudani. At the same time, she told how the five women who visited Denmark in 2012 gained an insight that has made them more valuable within their own political parties and increased their chances of being nominated for office. 
Besma Soudani went on to tell how the women learned about the structure of Danish political parties, lobbyism and political campaigning, and how the delegates also established a network outside Tunisia that instilled them with a 'yes we can!' attitude. 
Besma Soudani herself told how she was particularly impressed with how elections in Denmark are characterised by their competition-like atmosphere with people respecting their opponents. This, she believes, is something that ultimately serves to support democracy.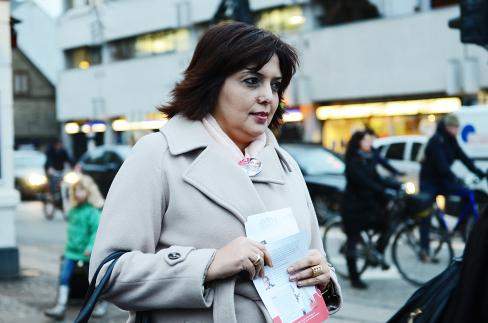 "The whole process is based on trust, and nobody suspects the others of rigging the results or throwing out votes," explained Besma Soudani.
And like the rest of the Middle-East delegates, Besma Soudani was interested to observe the high level of political engagement by young Danes, who participate in politics and elections at all levels. Besma Soudani finds it hard to envisage such political interest and involvement from young people in her own country – or that they will even be allowed to become involved now that the momentum behind the country's revolution has ebbed away. 
"The youth of Tunisia sparked off the revolution, but they haven't been part of the process that has followed. I normally say that the dictatorship managed to kill off any political leadership. But if you were to ask me now whether I think it's the young people's own fault that they have missed out on a bite of the cherry or whether it's down to the older generations, then my answer would have to be a mixed one. On the one hand, you could argue that the older generations have stolen the revolution – but on the other hand, the young people in Tunisia need to get their act together and follow things through to the end. Right now, the young people have given up and are just sitting bored on Facebook and Twitter," explained Besma Soudani.
Jordanian Hala Salem added that even though the Jordanian government has launched a number of initiatives and schemes aimed at young people as a form of soft containment, they have done so purely to prevent further unrest. Even an advisory body for young people has been set up, but according to Hala Salem the whole thing lacks real substance.
"Young people need to play a maningful role and not just be extras in the background at major public events. But for this to change, they need to be given responsibilities. But speaking to young people in a respectful way is not part of the culture – and giving young people responsibility is even less so. In Denmark, the entire family goes out to vote, and in this way democracy is instilled in people from an early age. I want to get a closer look at how you create the perfect framework, in structural terms, for getting young people involved," explained Hala Salem. 
Egyptian admiration for peaceful disagreement and free dialogue
The delegates from Egypt were particularly interested in how Danish politicians conduct dialogue, negotiate and even form agreements with someone with whom they previously have disagreed. 
"For me, the most remarkable thing has been to see how political opponents sit down at the same table and agree on things. They form cross-party alliances and enter into political agreements," explained Sherif Gamal Younis. She represents Egypt's Center for Women's Legal Assistance, CEWLA, which works with politically active – and potentially politically active – women as well as with the broader electorate.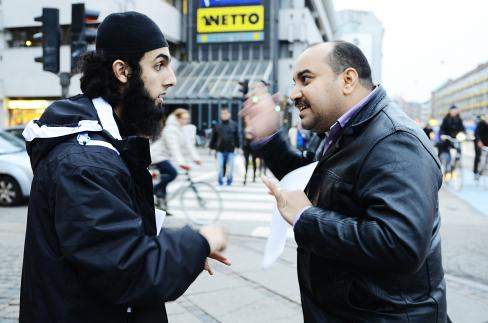 Together with the other delegates, she experienced at first hand during her visit the true meaning of open dialogue without exception. When the delegates accompanied a group of volunteers handing out party-political material during the run-up to the election, they were met by a group of Salafists at Copenhagen's Nørrebro station [Salafists are an extreme Muslim group who reject democracy as a form of government, ed.] Here, the Danish Salafists stood alongside the political parties and handed out their own flyers. The message in the Salafist's flyers, however, was a very different one: whereas the political candidates were encouraging people to vote for one of their candidates, the Salafist's flyers were encouraging people not to vote at all. 
 "In Denmark, you enter into dialogue with everyone – even Salafists, who are fundamentally opposed to democracy. This is just incredible. And Election Day itself is a festive occasion for everyone, and it's quite naturally accepted that 'today I am in the opposition, but tomorrow I'll be the winner'," explained Sherif Gamal Younis. 
 This was a view shared by fellow Egyptian Salma, programme manager at the Egyptian organisation Nazra for Feminist Studies. She particularly noted how competing candidates stand in physical proximity to each other and run their campaigns without the least suggestion of unease. 
 "We stood five metres away from the others without any escalation of aggression whatsoever. You may smile, but where I come from this could never happen. There, electoral districts are split into zones that are controlled by specific political groups; people take it very personally and become aggressive if others infringe on their territory – completely the opposite of what we've seen in Denmark. Here, the competition takes place in an orderly manner," noted Salma El-Naggash. She believes that conditions similar to those in Denmark can, with time, be developed in Egypt. But the question is – as always – how and when?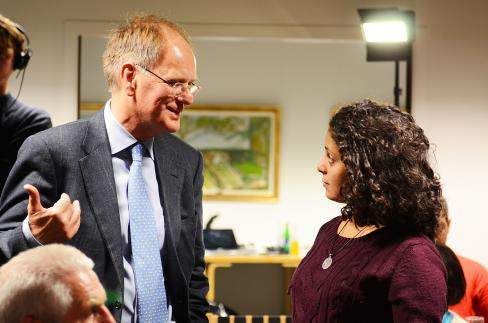 "In a way, we've already started. After all, the fact that we're practicing at being better at democracy is the thing that helps, and we've actually been voting a great deal recently. But instilling into people the idea that it's okay to compete and that diversity is a positive thing is going to a long time. And the diversity issue is something in particular that worries me now that we're seeing a trend in Egypt where the major political parties are busy swallowing up the smaller parties," she explained.  
Danish politicians held to account over slapdash accounts
As an unexpected bonus, the delegates from the Middle East got to witness a textbook example of how transparent democracy works in practice in Denmark. Christian Friis Bach, Minister for Development Cooperation, was forced to step down from his ministerial post when it transpired that he had supplied incorrect information in a controversial case concerning travel arrangements with the South Korean climate fund Global Green Growth Institute, GGGI.
This case had previously tarnished the former Danish prime minister and chairman of GGGI, Lars Løkke Rasmussen, at the local elections. Here, it came to light that he had personally spent one million Danish kroner [approx. €135,000] of the institute's funds on luxurious air tickets and hotels. 
All of the visiting delegates from the Middle East thought that it was particularly interesting that such a case of a minister's excessive use of funds should even be deemed relevant. And none of them could envisage such a case coming to light in their own countries. 
A bonus for the Danish partners
Meetings and activities with Danish politicians represented a key element of the study trip. Among other things, the delegates spent an entire day with Yildiz Akdogan, social-democratic member of Copenhagen's municipal council. Here, they were able to witness her campaign activities, panel debates and her discussions with voters.  


"The first thing I get out of meeting this group are the stories that I would otherwise never read in the newspapers. And the whole idea of having a meaningful exchange of opinions confirms my belief in the importance of dialog across boundaries – both religious and ideological. At the same time, it also confirms my belief that it is important to help others on their own terms," expressed Yildiz Akdogan, continuing: 
 "More specifically, it provides me with new arguments that I myself can use in the future when debating a wide range of issues. For example, it could be in the area of development policies and aid policies, where I have new arguments for why supporting the work such as that conducted by KVINFO under the Arab Initiative is so important – that it really is valuable work. Or it could be in the area of domestic policy about integration and how vital it is to have the participation of women in the battle against extremist forces in Denmark – and in arguing that Islam is not the antithesis of democracy."  
Inspiration for much more than elections 
All of the visiting delegates agreed that there are interesting elements of both the Danish electoral system as well as the Danish model for decentralised public administration and government where municipalities and regions wield a substantial share of the power.
The Egyptian and Jordanian delegates in particular expressed how beneficial it would be in their countries if more key decisions were made at a local level, such as in the regions or provinces. Not only is it the local politicians who know the area best, but also experience has shown that the level of engagement ministers have for the regions is far from adequate. 
Local solutions – regional sparring
Because KVINFO works actively with partners in many countries across the Middle East and North Africa, experiences gained from one country can also benefit partners in others. Due to this fact, a number of activities in the projects focus on cross-border networking and creating opportunities for the exchange of suggestions and initiatives aimed at tackling common issues, explains KVINFO's head of activities in the Middle East and North Africa, Katarina Blomqvist.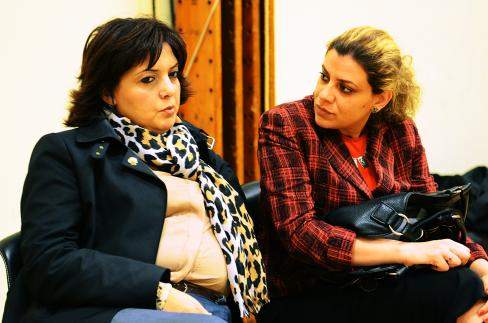 At the same time, the participants also benefit in ways that may not have originally been foreseen. One such example highlighted by Katarina Blomqvist is the fact that the Middle Eastern delegates visiting during the Danish local elections also met Danish Salafists who are opposed to democracy. This demonstrated to the Middle Eastern visitors that Denmark is not one big rosy picture of democracy. 

Danish-Arab Partnership Programme
KVINFO's programme in the Middle East and North Africa is financed by:

"This shattered image helps underline the message that that democracy is never the end of the line or something static. In Denmark, too, there are anti-democratic forces trying to undermine the democratic foundations of society. And there are also barriers to political participation here that many groups, such as women, immigrants or marginalised individuals, still face – and which we need to break down. Democracy is never a completed thing; it can and must always be renewed and improved," concludes Katarina Blomqvist.