Danish minister of Development acknowledges KVINFO-partner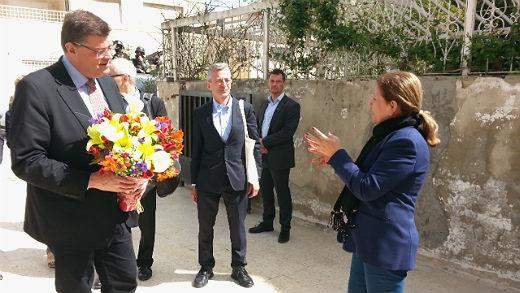 The Danish Minister of Trade and Development Mogens Jensen visited one of KVINFO's most important partners today – The Jordanian Women's Union (JWU). During his visit in Amman he thanked them for the fruitful cooperation and expressed his acknowledgement of their important work.
Mogens Jensen is in Jordan to see for himself the conditions for Syrian refugees, but had made space in his program to visit JWU. Since 2008 JWU has had a number of partnership projects financed by the Danish-Arab Partnership Program under the Danish Ministry of Foreign Affairs.
"JWU is very pleased with the close cooperation with KVINFO and grateful for the support from Denmark," JWU's general manager Nadia Shamrouk said in response to Mogens Jensen's appraisal.
JWU is the oldest women's organization in Jordan with a comprehensive work for women and their rights. Among other things Mogens Jensen heard about the work JWU has for victims of domestic violence. The organization runs the only women's shelter in Jordan, and several of the first projects with KVINFO aimed at strengthening this work. From the beginning KVINFO has also been involved in projects strengthening women's political participation and their role in the public debate as well as awareness building about women's rights and possibilities for women all over the country.
Furthermore KVINFO has supported a number of activities in the regional network Arab Women's Network, which is chaired by JWU. One of the newest projects aims to support women's organizations in Syria and Libya through the network in order to strengthen the structures which will be crucial in a future reconstruction phase.