Danish politicians in support for Azza Soliman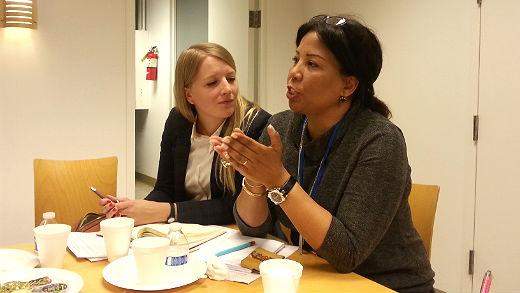 A couple of the Danish politicians who met KVINFO's Egyptian partner Azza Soliman at the CSW meeting (Commission of the Status of Women) recently now wants the Danish Minister of Foreign affairs to raise her case internationally. Azza Soliman is an internationally known women's rights lawyer and founder and head of the board of the organization CEWLA. The Egyptian authorities have tried to silence her by making her at defendant instead of a witness after she saw the police gunning down and killing a demonstrator in January.
Azza Soliman gave her own account of the case at a briefing with the Danish CSW delegation. Since then the prosecutor's office has made the charges against her official, but has refused to hand them over to her or her lawyers in writing.
The MP for the Social Democrats, Yildiz Akdogan was one of the Danish politicians in the delegation. She calls the case "Kafkaesque" and will bring it up in the parliament's foreign affairs committee in order to get the Minister to raise it, she says to the newspaper Information. The paper also interviewed Azza Soliman herself, and she criticizes the EU countries for focusing only on stability at the cost of a democratic development in Egypt. Yildiz Akdogan calls this "an important point, which we shouldn't ignore,"
Liv Holm Andersen from the Social Liberals agrees and thinks that Denmark should do more in the EU to highlight the Egyptian government's human rights violations.
"This case also touches me personally, because I've met her and felt her fighting spirit," Liv Holm Andersen says.