Egypt's new anti-harassment law to make a difference?
A YouTube video of a woman being sexually assaulted in Tahrir Square during the inauguration celebrations for new Egyptian president Abdul Fattah al-Sisi has again drawn attention to the problems of sexual violence against women in Egypt. For the first time in history the country has a new law criminalising sexual harassment, yet activists remain sceptical as to how effective it will be is if is left to stand on its own.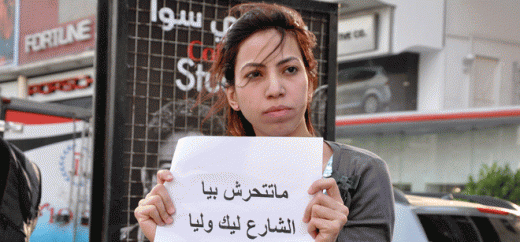 Facts on Egypt
The popular revolution in Egypt started on 25 January 2011 with the Egyptian people taking to the streets and gathering in Cairo's central Tahrir Square – which remains the focal point for demonstrations and protests. The people demanded that President Mubarak step down after 30 years of rule. Following the ousting of Mubarak, a military council installed an interim government and work began on a new national constitution. On 29 June 2012, Mohammed Morsi from the Muslim Brotherhood took office as president following a democratic election. One year later, further popular protests and demonstrations broke out – particularly centred around Tahrir Square – and on 3 July President Morsi was overthrown by the military. Adly Mansour was appointed as interim president. In June 2014, Abdel Fattah al-Sisi was elected as Egyptian president.
Colonel General Abdul Fattah el-Sisi, the new president of Egypt, was installed into office on 8 June this year. The following day, a video was leaked on YouTube that catapulted an unexpected issue to the top of the newly inaugurated president's agenda. 
The shaky and chaotic video shows a woman who during the evening's celebrations in Cairo's Tahrir Square is sexually attacked in a most brutal manner by a large group of enraged and agitated men. 
Unfortunately, this attack is not something new in itself. According to new studies, 99.3% of Egyptian women have experienced sexual harassment on the street, ranging from degrading jeering and groping to all out rape. During the many popular protests in and around Tahrir Square during the last three-and-a-half years of tumultuous upheavals in the country at least 500 women (and more than 250 between February 2013 and January 2014 alone) have, according to independent activist groups, experienced sexual attack and mass rapes; the scale is such that many have begun talking of Egypt being home to a systematic culture of rape. On one single day – June 8 2014 – activist groups reported a further five incidents of women being attacked so severely that they required hospitalisation, not to mention recording a series of other less severe attacks taking place. 
Protesting side-by-side with men, Egypt's women have been taking to the streets in unprecedented numbers in the ongoing demonstrations for a changed Egypt. Nevertheless, it is these the women who have become the victims of the revolution – although they themselves prefer the term 'survivors' to the term 'victims'.
Breaking the silence
Egypt's massive problem with sexual violence against women has for the most been ignored by the country's succession of leaders. The shame, the social stigma and the often-brutal repudiation of victims by the police have further served to dissuade women from reporting these crimes. 
In the international media, the video of the attack posted on YouTube has almost overshadowed the presidential inauguration itself, the result being that it has become impossible for al-Sisi to ignore this specific incident. And following the successful attempt to secure the removal of the video YouTube, the president posted a new video in which he can be seen paying an official visit to the victim in hospital.   
The result of this has been twofold: firstly, the rape victim is given redress; and secondly, the issue of violence is given a face and therefore also a voice. And this in itself is a groundbreaking development. 
New laws against sexual harassment
Egypt's new sexual harassment law
Shortly before leaving office, Egypt's interim president Adly Mansour passed a law which, for the first time in Egypt's history, criminalised the sexual harassment of women in public. Anyone who verbally, physically, by means of gesture or via electronic media is culpable of sexual harassment can be given a six-month jail sentence and a fine of between EGP 3,000 and EGP 5,000. For repeat offenders, these punishments can be doubled.
An edited version of the YouTube video showing a woman being attacked in Tahrir Square can
be seen here on the CNN website
, which also details the main point of the new anti-harassment law
Only a few weeks earlier, Adly Mansour, Egypt's former and provisional president, had passed the country's first ever law against harassment and assault – legislation that had been drawn up on the basis of collaboration with 25 women's organisations. 
For the first time ever, the new law makes it a punishable offence to harass women on the street by heckling, jeering or groping them, or by overstepping women's personal boundaries or coercing women into sexual services in any other way, including via electronic media. Those who break the law face stiff fines and prison sentences. 
So far, al-Sisi has gone so far as implementing the law, but does the inauguration of Egypt's new president – who in the past has defended the police force's practice of carrying out degrading 'virginity' tests on women protestors – herald the long-awaited positive development for women's rights and security in Egypt?  
Local activist groups and NGOs are pleased about the initiatives that have been taken so far, but they agree that that it is too soon to say how much the new law will make a difference in the long term.
The legal rights of Egyptian women need to be reinforced
Sara Katrine Brandt, who works for the Cairo-based NGO Centre for Egyptian Women's Legal Assistance (CEWLA), has noted how al-Sisi predominantly refers to Egyptian women using conservative terms such as 'housewives', 'mothers' or 'sisters'. She does not believe that a new law criminalising the sexual harassment of women is enough on its own to prompt the change in society that Egypt desperately needs.
"It's not enough just to for a law to exist if that law isn't actively enforced. For example, several years ago a law was passed banning female circumcision, but no one has yet to win a case in this area – so if the law isn't implemented in practice, it won't make any difference. We need to see an official endorsement that this law will in fact be enforced. And it the law's going to work, this should be followed up with a national information campaign. We need to look at this this as a common problem affecting all of society and as a problem to which we need to find a common solution," she explains.  
A core focus of CEWLA is working for the promotion of the political participation of women in Egypt. For Sara Katrine Brandt, the work towards strengthening the representation and legal rights of women is closely linked with improving the physical safety of women on the streets.  
"If a law about sexual harassment is to be enforced, it's vital that women have access to the legal system. And if women are allowed to claim their legal rights and use these I believe that this will not only change attitudes on the streets but also change the way people think. If just one woman wins a sexual harassment or assault case more will follow – and this is something that will really contribute to change," tells Sara Katrine Brandt.
Because of this, Sarah Katrine Brandt takes a broader view of the individual cases that have been picked up by the media. This includes the assault from 8 June that was posted on YouTube and cases such as that of Yasmine El-Baramawy, the first Egyptian woman who broke the taboo surrounding sexual assault in an attempt to secure her assailant's conviction. 
"Each individual case is not much by itself, but the fact that these cases are coming to light can help change things over the long term. If, for example, we can secure some government initiatives on the basis of these individual cases, we can create fertile ground for change," tells Sara Katrine Brandt.
Calls for a reform of the police
The new law has already come into force. In the wake of the violent attacks in Tahrir Square in connection with al-Sisi's inauguration celebrations, seven men have been arrested and indicted for sexual assault. At the same time, the government has taken the decision to set up local centres aimed at working to prevent sexual assaults on women.
Nevertheless, Nadeem Abdel-Gawad from the NGO The Arabic Network for Human Rights Information (ANHRI) is also sceptical as to whether al-Sisi's government will make a difference over the long term. Nadeem Abdel-Gawad himself has played an active role in the political demonstrations and the civil anti-harassment groups that have been at work in and around Tahrir Square to prevent mass rapes and other sexual assaults and also to help victims.
Further reading
The organisation
NAZRA
for feminist studies has published three witness accounts by women who have experienced being sexually assaulted in in connection with the demonstrations in Tahrir Square: nazra.org
Using the YouTube video as a starting point, Nesreen Salem, PhD, analyses the media's and society's response to sexual violence against women:
timep.org
Al Jazeera's coverage
of Egypt's problems with sexual violence against women and the new anti-harassment law
Seen from his perspective, the first step towards change has to be a change in the mind-set of the police. It was namely the police who during al-Sisi's leadership as defence minister were known not only for disregarding reports of sexual violence by women but also for exposing women in detention to assault. 
"The police force and the Egyptian Ministry of the Interior are key elements if the law against sexual harassment is to be enforced. Now that public opinion counts, Sisi has chosen to visit the women who have been attacked; nevertheless, there are still many cases of women reporting sexual assault which has been carried out while they were in police custody. So a reform of the police is a top priority. Right now we're in a situation where a woman who reports a man for sexual harassment to the police runs the risk of that she will be further harassed by the police themselves," explains Nadeem Abdel-Gawad.
Mixed signals from al-Sisi
Both Sara Katrine Brandt and Nadeem Abdel-Gawad are worried how about the situation facing activists and political opponents under the presidency of al-Sisi.
On the one hand, al-Sisi, shortly after taking office, released from jail the Al Jazeera journalist Abdullah Elshamy, who since January this year had been on a hunger strike in protest against his being held in custody for over a year without trial. On the other hand, 24 pro-democratic activists, including prominent activist Alaa Abdel-Fattah, one of the main forces behind the original anti-Mubarak demonstrations, were handed down particularly severe 15-year jail sentences only a few days after al-Sisi's inauguration.

Danish-Arab Partnership Programme
KVINFO's programme in the Middle East and North Africa is financed by:

At the same time, the police have adopted a hard-line stance against the Muslim Brotherhood and other vocal opponents of the government, and they have also shut down a blog newsletter that was highly critical of the government. These actions suggest that al-Sisi plans to continue his uncompromising security policy that continues to afford a great deal of power and authority to the police.
So, no reform of the police seems likely in the near future. 
"At the end of the day, al-Sisi is himself at the mercy of the security system," tells Nadeem Abdel-Gawad.
The question is how long a tenure will al-Sisi manage to secure before Egypt moves forward into a political process that, so far, has been anything other than predictable. 
In the meantime, NGOs and activist groups continue to work to press through initiatives, just as they have succeeded in doing with Egypt's new law criminalising sexual harassment.