Gender & Digital Violence
Digital Safety Apps: Protection or Social Control?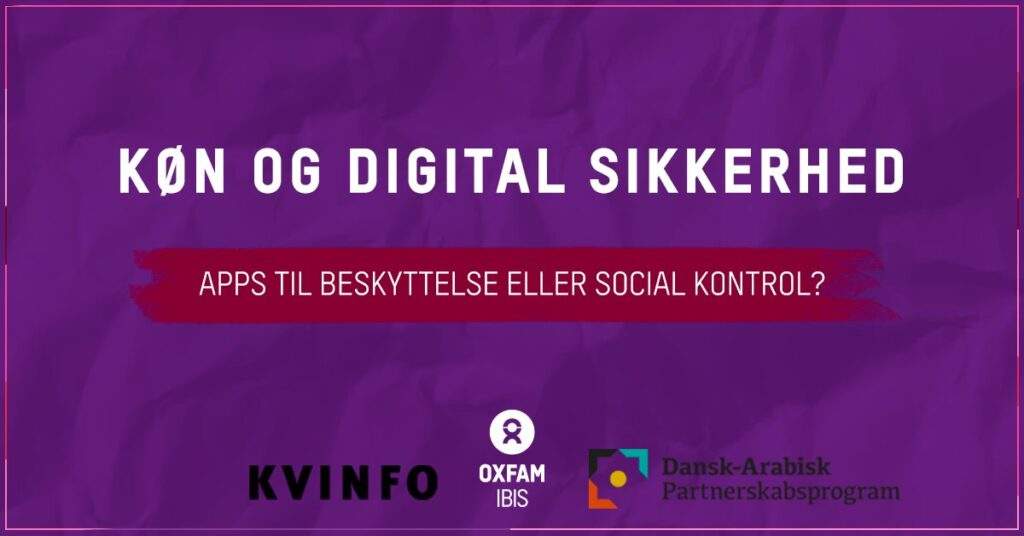 With 3.5 billion smart phones in use globally, the risks of online harassment and violence is increasing. In order to overcome, prevent and combat these issues personal safety apps are being designed and promoted. On one hand such apps might help and give protection to potential victims of violence. On the other hand, it has been proven that a large amount of these apps, in clear violation of personal privacy, are being used widespread for surveillance, stalking, and domestic violence.
On November 18th you are invited to join KVINFO and Oxfam IBIS in a webinar where the gendered nature of these issues of digital safety will be addressed and discussed.
With a focus on gender based violence, this webinar will shed light on the use of apps for safety or social control especially in West Africa and the MENA region, but will also reflect on the situation and issues regarding the subject in Denmark.
The event will initiate with an introduction to the digital field and its potential as both protective and abusive. Next a presentation will be made about spyware by Maia Kahlke Lorentzen. Maia is an expert in cyber security at 'Cybernauterne' and co-founder of the tech-activist network of DO:TOPIA. Maia is also co-author of the book Can trolls be tamed? – trolling and debate culture in the digital age (Kan trold tæmmes? – trolling og debatkultur i den digitale tidsalder). Additionally, cases will be presented from both Liberia, Egypt, Jordan and Denmark.
After a short break there will be a presentation about social control by Kefa Abu Ras. Kefa is a passionate women's rights activist both inside and outside Denmark's borders. Kefa works as a district consultant in the Vollsmose Secretariat, where she is head of the civil society initiative District sisters (Bydelssøstre). Kefa is furthermore co-founder of the association Sisters against Violence and Control (Søstre mod Vold og Kontrol) and has just received Danner's Honorary Award for her work to ensure minority women the right to live a free life without violence and social control.
The event will culminate in a discussion between Maia Kahlke Lorentzen, Kefa Abu Ras and Amalie Skovengaard concerning the use of apps for social control and the gendered nature of these issues. There will be time for the participants to engage in a debate.
The event will be conducted via zoom.
Participation is free, please register via this link.
The program:
10:00            Welcome
10:05            Based on our recent survey on Apps: how the field of digitalism in relation to gender based violence can be used for protection and abuse equally / Amalie Skovengaard/ Oxfam Ibis
10:20            On spyware: Presentation of trends in use of spyware / Maia Kahlke Lorentzen/ Cybernauterne
10:40            Cases from MENA and West Africa.
10.55            Questions
11:00            Break
11:10            Social control and digital real-world digitalism / Kefa Abu Ras from Sisters against Violence and Control
11:30            Discussion: Kefa Abu Ras, Maia Kahlke Lorentzen and Amalie Skovengaard,
11:50            Inputs from audience
12:00            End of webinar
NB! This event will be conducted in English and simultaneous interpreting will be available in Arabic