Fighting child marriage in 18 Arab countries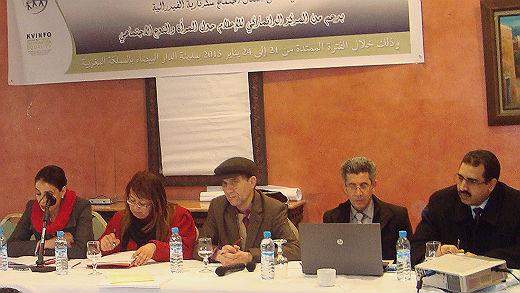 The prevalence of underage marriage is an issue in many Arab countries. Especially young girls are affected.
At the end of January KVINFO's Moroccan partner CDG (Centre des Droits des Gens/Centre for Peoples' Rights) held a seminar for its partners across the region focusing on how to fight underage marriage in the MENA region.
Outreach activities, educating decision makers among civil society organisations in terms of legislation and internal laws, and awareness programs were among the activities planned.
The seminar was the second of two which are part of a project aiming at raising public awareness on gender based violence and child abuse. Through these two seminars, CDG and its partners would like to prepare an advocacy strategy in order to urge Arab countries to ratify human rights conventions, and adopt new laws against child abuse and gender based violence.
The network members are Centers for People's Rights in the following countries; Algeria, Tunisia, Libya, Egypt, Palestine, Iraq, Mauritania, Jordan, Yemen, Qatar, Bahrain, Syria, Oman, Saudi Arabia, Kuwait, Somalia, Sudan, and Morocco, where the headquarters of the network are based.