Find the Tunisian women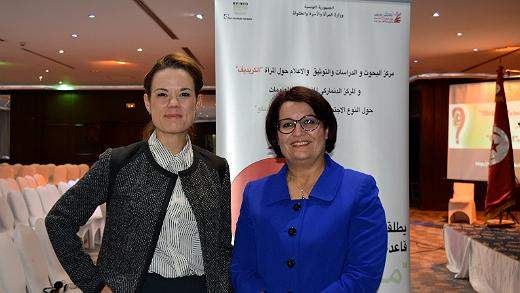 The fifth Who is She database is now up and running in Tunisia. Who is She is an database of expert profiles, which aims to strengthen the visibility of female experts and capacities in a range of mainly academic fields.
The launch took place in the attendance of the Tunisian minister for women, Samira Merai as well as KVINFO's director, Nina Groes.
"Today we celebrate the opening of the Tunisian "Who is she" creating yet another tool to support the process of reform and development towards a new and democratic Tunisia", Nina Groes said.
Previously Who is She databases have been launched in Jordan, Lebanon, Palestine and Egypt, all inspired by "Ekspertdatabasen", a similar database of women experts in Denmark, that KVINFO has been running since the 1990's.
At the launch the Tunisian database has about 80 profiles of woman experts within the fields of natural sciences, law, economy, social sciences, technical sciences, informatics and media, literature and administration. It also has capacities within cyber-activism and other actors in society. The database will gradually be expanded with more profiles.
In the concrete work in Tunisia experiences from both the Danish database and from the other Arab Who is She databases has been incorporated. The partnerships around Who is She is financed by the Danish-Arab Partnership Programme under the Danish Ministry of Foreign Affairs.
The purpose of Who is She in Tunisia is the same as the other databases: To create an exposure of women experts in society, in the media as well as in relation to a better use of their competences in decision processes, boards and other organs of influence.
Part of the background can be found in the international survey of sources in the media "Who makes the news". In 2010 it showed that worldwide only 22 percent of expert sources in the media are women. Denmark is slightly ahead with about 30 percent, while in the Middle East as a whole only 16 percent of the sources are women. The concept of Expertdatabasen and Who is She was recognized in 2013 as Best Practice by the European Institute for Gender Equality (EIGE) as a tool with a proven efficiency of promoting women experts in the media.

Danish-Arab Partnership Programme
KVINFO's programme in the Middle East and North Africa is financed by:

Read more about the Who is She projects