Gender Equality Is a Sound Investment
Does gender equality only concern women? KVINFO has met four Jordanian men who are working to promote women in the workforce in Jordan. For the sake of society and business.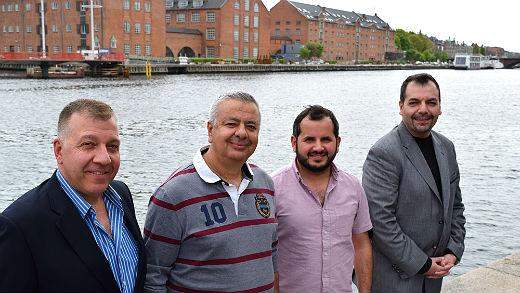 When Mohammad Adwan, development manager in Jordan's largest Bank, Jordan Ahli Bank, considers his immediate circle of family and friends, it is only natural for him as a man to support women's participation in the labour market. The vast majority of women in his family and close circle of friends are all working outside the home. And women constitute 42% of employees at the Jordan Ahli Bank.
And yet he is fully aware of not being representative of the views held by the average Jordanian male.
– It may well be controversial for me as a man to support women's improved access to the labour market. You will definitely find conflicting views on this issue across the Middle Eastern countries. And the majority in Jordan does not necessarily concur with me – a change of opinion will require a fundamental change of mentality. But we have the power and opportunity to instigate change precisely because we are male, explains Mohammad Adwan.
Gender Equality in Jordan
Despite a high level of education among Jordanian women, the country has one of the lowest rankings on The Global Gender Index prepared annually by the World Economic Forum. Jordan is ranked number 134 out of a total of 142 countries.
Jordan is preceded by Morocco at 133. Tunisia and Egypt are ranked numbers 123 and 129. The five Scandinavian countries dominate the top of the index, Iceland claims the number one spot, Denmark is ranked number five.
If only level of education is considered, Jordan has an above-average ranking, at number 70.
According to article 71 of the Jordanian labour law, private companies employing more than 20 women who have a collective minimum of 10 children below the age of four, are obliged to offer child care facilities with trained staff on-site.
However, the almost equal distribution of male and female employees at Jordan Ahli Bank is hardly representative of the entire country. Jordanian women constitute a mere 13% of the labour force despite relatively high levels of education.
The high percentage of women among the 1,600 employees of Jordan Ahli Bank is partly due to the bank being an attractive place to work (Jordan Ahli Bank is Jordan's largest bank, with additional branches in Cyprus and Palestine), and partly thanks to a conscious management decision aiming to integrate women at work.
   
Nevertheless, Mohammad Adwan believes government, the private sector, and society should cooperate even closer in order to ensure women's participation in the labour force.
That is why Mohammad Adwan has visited a number of large companies in Denmark with a delegation of colleagues from large, private companies in Jordan in order to learn more about Danish companies' work with diversity, equality, and inclusion.
The visit has confirmed his view that gender equality boosts productivity to the advantage of companies as well as society at large.
Men and Women Should Have the Same Opportunities
Sami Jarrar, HR Director in Jordan's largest mobile telecommunications provider, the rapidly expanding Umniah, shares Mohammad Adwan's point of view.
– We have a double interest in gender equality. Firstly, we believe it is the right thing to do. Everybody – women as well as men – should have the same opportunities in terms of social participation. Secondly, our visit to Denmark has confirmed that gender equality is also good for business. The composition of your business should reflect consumer diversity or you will be limiting yourself, he explains.
At Umniah, a rapidly expanding company in the field of innovation, the company core values focus on talent development and gender equality. They represent a new trend in Jordan by working to reduce subjectivity in the recruitment process by subjecting all interested candidates to standardised evaluations and aptitude tests prior to job interviews.
– We are looking for talent regardless of gender or background. We aim for an objective recruitment process and we generally try to challenge managers when they estimate that a job opening is unsuitable for a woman. Who knows if there is a woman out there with the right qualification willing to make the effort, asks Sami Jarrar.
While his views on gender equality are rare in Jordan, he finds that Umniah's efforts are generally well-received. Corporate policies on gender equality is a win-win proposition, he believes. It increases productivity thereby improving the bottom line. The IT sector in particular needs more women employees in order to make up for the brain drain of talent to the neighbouring Gulf states due to higher salaries. According to Sami Jarrar, women tend to be more stable and loyal employees and are much less likely to try their luck working abroad. 
There is nevertheless, a high turnover of female employees because of other reasons. One of the greatest challenges to gender equality in the Jordanian labour market is the fact that women often work for just a few years before getting married and raising a family. Due to cultural mores and the difficulty in achieving a satisfying work-life balance, most women leave the labour market after marriage.
Sami Jarrar recognises that the labour market must come up with flexible solutions to this issue. There is still room for improvement.
Loss of Female Talent
KVINFO and the Business Development Centre
Beginning in 2008, KVINFO has cooperated with a number of local partners in Jordan in order to increase the number of women employed in the public and private sectors. KVINFO and the Business Development Center (BDC) have collaborated for the last five years with the aim of improving private sector working conditions in a bid to increase women's employment.
18-22 May 2015, a group of HR managers visited a range of companies working to improve inclusion and diversity in Denmark.
The visit and the partnership with the BDC is financed by the Danish-Arab Partnership Programme under the Danish Ministry of Foreign Affairs.
Dr. Amid Abdalnour nods in agreement. The large turnover of female employees is a challenge for Biolab, the group of medical laboratories he founded and manages. The pharmaceutical sector has a large pool of female talent. 60% of Biolab's employees are women, and women constitute 48% of management.
In fact, Dr. Amid Abdalnour is convinced that women often deliver better outcomes than their male colleagues. Women are more focused and dedicated to the job. At least until they head the call of society's norms concerning marriage and family. He considers this a social problem.
– I believe in gender equality for the simple reason that without gender equality we are short of 50% of the population. When we train an employee and they only remain with us for two years, we have nevertheless made an investment in economic as well as human terms. Whether one is a society or a business it seems pointless to let go of them without making an effort in order to make them stay, explains Dr. Amid Abdalnour.
This is also the reason for Biolab being one of the employers investing heavily in the necessary infrastructure in order to make it possible for women to remain in the workforce after having children.
– We have flexible working hours, have extended maternity leave (ordinary maternity leave in Jordan is approximately 70 days, ed.), and adjust women's working hours while their children are young. We support them in enhancing their qualifications and in the pursuit of further education. If a woman wants to further her level of education by pursuing a Master's degree we will support her. Additionally, we offer relevant staff research grants in order to motivate them to continue their employment with us. We motivate staff to consolidate their level of education – rather than waste it. We offer opportunities for courses abroad in order to boost new input, and we include women at the managerial level. These are all factors which contribute to the retention of women in the workplace, explains Dr. Amid Abdalnour.
And yet, Dr. Abdalnour recognises that the great effort to remedy the basic social structures by presenting practical solutions and motivations falls short.
Biolab still loses several female employees every year. Dr. Abdalnour is currently in negotiation with a highly skilled female genetics expert. After completing her maternity leave she is unable to return to her job due to a lack of childcare because her own mother is also working outside the home and thus unable to care for the child during working hours. The genetics expert has been granted a year's leave of absence before having to make a final decision regarding her employment situation.
Many employers would not be so patient, however to Dr. Abdalnour, the female genetics experts is an investment in society on several levels.
Women Are Just Like Us
Muhye Aldeen Alkhatib, senior human resources officer at the Arab Center for Engineering Studies, a male-dominated field, underscores the importance of private sector management being open to gender equality and working proactively in order to improve women's possibilities in the labour market.
– We have to start changing the mindset at the managerial level, among the decision makers. 
Danish-Arab Partnership Programme
KVINFO's programme in the Middle East and North Africa is financed by:

During our visit to Denmark, we have witnessed how an equal distribution of male and female employees increases productivity and turnover and diminishes the risk of corruption. While not all men in Jordan are interested in gender equality, we have witnessed its positive effects. And women are just like us. They possess the same mentality and the same capabilities, explains Muhye Aldeen Alkhatib.
English translation by: Maria Zennaro