Grass Roots Peace Building
Inside Syria groups of mainly women are struggling hard to keep their local communities out of the conflict. Or to mend the deep rifts the conflict has torn. A peace building network keeps supporting local groups and activities in spite of five years of hopelessness and war. Their experiences have also proved invaluable to the millions of Syrian refugees abroad and their host communities too.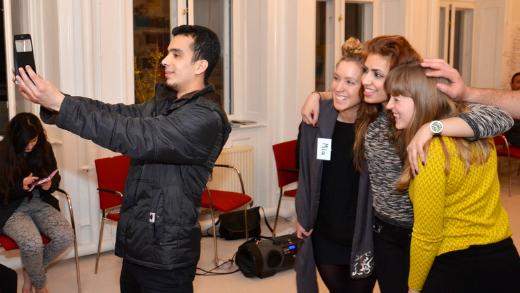 "Five!" she shouts and everybody in the room desperately scrambles into group hugs of five. No time to hesitate or choose who to hug, everybody just go for whoever is standing near.
They call it the "Titanic-exercise" as the people missing the "lifeboats" of five drown and have to leave the game. Two groups of four both try to pull a girl to their side until someone in one of the groups jumps ship and leave for a safe fifth place somewhere else. The group quickly dissolves in panic under much laughter.
A couple of people didn't make it into groups of five, and stand sheepishly alone, but the purpose is not really who wins and who loses. Instead it instantly breaks down the barriers between people having only a few seconds to find each other to hold on to. "Three", the leader shouts and sets off a new round of chaos.
The game is a short relief in a concentrated three-day workshop in a large flat in central Copenhagen. The participants are Syrian refugees in Denmark and local Danes, often involved in refugee hospitality groups. But what makes the workshop truly stand out is the leaders. They are at the workshop as individuals, but have all at some point been active in the Syrian grassroots peace organization Mobaderoon, which is working with conflict prevention and peace building inside war-torn Syria.
Active citizenship
About the workshop
The workshop was organized by the Livia Foundation.
The foundation, which is also the organization behind the Livia award, has received several grants from KVINFO's Mini Pool for activites like the workshop in the article.
The participants in the workshop were a mix of refugees in Denmark and ethnic Danes.
Photo: Jacob Holdt, who also hosted the workshop.
The organization is built around the concept of the active citizen – individuals who want to make a positive change in their communities.
"I had this feeling that I had to do something," says Rafaf, originally from Aleppo, who took up the task of active citizenship in 2012.
"Everything split in two parties. Then the war started. And it got worse and worse. Before the war we didn't have these divisions – Muslims, Christians, Kurds. We were Syrian," she says.
So she and her friends started a project to reach out to groups in other parts of Syria. One of the first effects of the war in Aleppo was that the city got isolated. Internet was missing and the journey to Damascus took 12 hours on unsafe roads.
"We made a lot of activities, like sending peace letters," she tells. Another way was to use the Japanese PechaKucha format to foster dialogue. "Our story is peace – to speak out for peace."
After getting her own project going she moved on to being an initiative coordinator and trainer for Mobaderoon, training other activists to make them able to pull their own projects through. The organization works out of a principle of participatory planning. The ownership over the projects goes to the entrepeneurs. 
Local successes
Mobaderoon itself actually started before the war, in 2010 as a movement of active citizenship.
"How can you engage yourself in activities that benefit your community?" asks Shaheed, who has been active almost from the beginning.
"I have a duty to the area I live in. Bringing people together, get them to agree on common values," she says about her own motivation as well as Mobaderoons fundamental ethos.
About Mobaderoon
Mobaderoon is an organization for peace activism in Syria. They support activists and their projects across Syria and across ethnical, political and religious divisions.
There are 168 active projects in 2016.
Both men and women are active in the network, but women are the majority, if only for the reason that they are often the ones left behind in the local communities.
Mobaderoon is only active in Syria, but several of the movement's activists who have fled the country have started similar activities in their new countries.
Several of the names in the article have been changed for safety reasons.
One of the main goals has been to keep young people out of the fighting. Especially at the beginning of the war, the problem was that people thought one side was going to win.
"They thought that their role is to fight," says Shaheed. "So we give another door to them – an active role to help the country."
This is a work on a very local level with a lot of small projects. The aim has been to keep neigborhoods and villages out of the conflict.
"There was a lot of work with sectarian conflict. How to debrief, understand others. Coexist. We successfully got a lot of young people away from a sectarian approach – don't go fight. Especially between the two main sects, Sunnis and Alawittes," she says. One of the ways is to recognize some of the grievances that led to the war in the first place. "Everyone is holding his own positions, but have an understanding of the other."
The women are left behind
As the war has dragged on, wounds have deepened and new needs have arisen.
"It is Syrians doing this to Syrians. We need a lot of healing. We need forgiveness and justice more than revenge. We fear revenge."
As one example she mentions a project, which brought women from both the rebel and the government side together, who had all lost children in the conflict.
"Women can lead their families either to revenge or to forgiveness. They will understand that others lost too. They will understand that we in Syria are all losers. When I'm with myself I'm the biggest loser. Together we see each others' losses," Shaheed says.
The war in Syria
The civil war in Syria has been going on since the wave of revolutions in the Middle East and North Africa in the spring of 2011.
After mass demonstratios had succeded in topplig the presidents in Tunisia and Egypt, the demonstrations spread to Syria. They were met with harsh repression from president Bashar al-Assads regime, and soon the situation escalated into an outright rebellion, with rebel groups taking control over parts of the country. The fighting has been raging ever since without any of the sides being able to defeat the other.
There has been several rounds of peace negotiations, but they have only led to brief cease fires. The rebels reject any peace solution in which Assad remains i power, the government reject any solution without him.
The UN Security Council resolution 1325 demands that women representatives are included in peace negotiations, but this has only happened to a very limited extent.
Read more about the conditions for women in the civil war: 'Scenes from the Syrian War'.
The focus on women is not coincidential. Mobaderoon is not a women's organisation, but it is a woman led organisation. And even though a good number of men are active in the projects, they are vastly outnumbered by the women.
"The situation in Syria is pushing the men to leave the country – or engage in fighting. Women are left in the local communities, leading the NGO's," Shaheed says. Still, this is not always easy.
"It is a challenge because two women are leading. In Syrian context it is until now not welcomed that women are leaders. But it is going to change. Because this is the way society will look like in coming years. There is a space for women to lead in the peace process. This is our opportunity for woman leaders," she says.
The exiles and the ones left in Syria
Both Rafaf and Shaheed have had to flee Syria and are now living in exile. But still new projects are created inside Syria. Last year Houda became an activist in Damascus, after attending workshops etc. for a couple of years. 
"Me and my friend started this project called 'The Active Syrian'. Lots of Syrians are fleeing. We are longing to communicate with Syrians everywhere," she explains.
"We are trying to connect moderates. The conflict will end eventually. We don't want to end up like the Lebanese. It's very hard for them. Very separate. We don't want any second or third generation problems," she says about the danger of a further radicalization amongst the exiled youth.
On top of the danger everyday life is hard enough under the war. Even in a relatively calm area like Houda's a grenade hit her car in front of her house.
"Of course I lose hope. It's not easy living inside a country at war. But I have this dream that I want to do something for humanity. To have an impact," she says.
Her need for staying in contact with the people who have fled and to start mending the wounds is reflected in Rafaf, who has been living in the Netherlands for the past year. At some point she was placed in a house with five Syrians and there were great tensions. The four others were Muslim, Druze, Christian and Kurd and from four different cities. So she immediately went to work to get a dialogue started.
Civil society and peace
The relations with the host community have been even more pressing.
"I had been one week in the Netherlands. One morning we woke up there were big letters in the street. 'No Muslims here. Go home.' It's in a small village," she explains. But instead of pulling back she started to make wrist bands with the Dutch word for "thank you" and handed them out to the neighbours.
"We wanted to break this ice between us," she says.
And that is also why she is at the workshop in Copenhagen. Unlike within Syria, most of the Syrian participants are men – because they are the majority of the ones who have had to flee.
"I have the same goal. I want to make it change where I am. I want to motivate Syrians to be active citizens," Rafaf says.
Shaheed agrees. She thinks the exiled activists have important contributions to the host communities in the West or in Lebanon where she is living now.
"We have a lot of experience of people from different backgrounds. How to understand the differences, the cultural differences," she says. "Plus, we want to engage Syrians here. We want them to come back. And if they come back they need to be merged into society and be positive active citizens."
She sees the civil society activism as a necessary foundation for a lasting peace solution, in Syria and abroad.
"Civil society needs to be engaged, but not as a third party in the power sharing. It is important not to be seen as part of the conflict. We need to stay out of power, but to participate in advocacy," she says.
Danish-Arab Partnership Programme
KVINFO's programme in the Middle East and North Africa is financed by:

She also recognizes that peace will only come when there's a will for it from the fighting parties – and not least a will to pressure them from the international community.  But in order for a peace to last, to mend the wounds and to build a new society on a true peace, the participation of the citizens is needed, whether you are in Syria or not.
"It's about positive active global citizenship. Where ever you go, you bring your citizenship with you. It's a matter of humanity."