Heated debate at Arab Women's Conference on Peace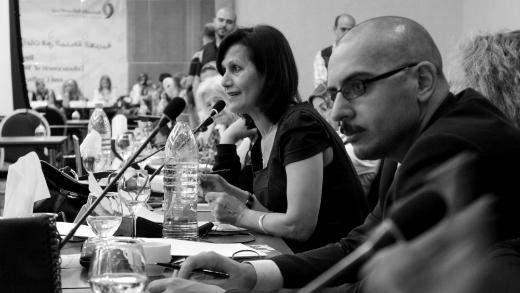 Arab women from conflict torn countries like Yemen, Libya, Syria, and Iraq first and foremost want peace.
Together with about 50 delegates from the Levant and the North African countries they are not only discussing peace but also how to achieve it and how to secure female participation in the ongoing peace building and reconciliation processes. This week mix of high-level researchers, activists and politicians are participating in a two-day Beirut conference "Enhancing Women's Contribution to Peace Building and Conflict Resolution in the Arab Region" – organised by the Al Quds Center for Political Studies and KVINFO with support from the Danish Arab Partnership Programme.
But the way to peace is complicated, as problems in the various countries differ and so do in many cases opinions. Dr. Vian Sabri from the Kurdish part of Iraq talked about the extreme violence that women have been exposed to for decades in her country and the general isolation of female participation in political discussions.  She added that ISIS now being a state causes lack of national partnership and dialogue and that especially women are suffering from the terrorism.
Ms. Sabah Al Hallak from The Syrian Women for Democracy described political oppression now being supplemented by religious oppression. She would like to show women as partners in the political process and not only as victims. Dr. Mais Alkrydee, also from Syria, who is participating in the international peace negotiations, pointed out that women cannot be protected without a secular constitution and that too many parties have their own agenda in her country.
Ms Lila Ben Khalife from Libya also emphasized the need for dialogue within the warring parties as her country is about to drown and without a new approach everybody will go down. She is strongly suggesting the need to bring young people into the discussions.
Dr. Maha Sallim from a prominent Libyan human rights organization points to the ISIS presence in the country as the most important issue and that the separated power with two governments has to stop as solutions require unity.
From Yemen Dr. Bilgis Abu Osba explained about the hardships living in a forgotten war and Ms. Racha Jarhum stressed that there are no general facilities and support for women exposed to violence such as shelters, and that women generally are being isolated from discussions.

Danish-Arab Partnership Programme
KVINFO's programme in the Middle East and North Africa is financed by:

Toward the end of a full day of speeches and comments, the debate got pretty heated as participants started elaborating on women's general political empowerment and sometimes lacking abilities to put women's rights on the agenda – slightly blaming each other for causing problems in their particular country, like the Jordanians underlining the challenges they have dealing with the huge influx of Syrian refugees. Mr. Oraib al Rantawi who is head of the Al Quds Center for Political Studies said, that these kinds of disagreements and discussions are normal and to be expected during conferences like this.
The second day of the conference will focus on regional cooperation, best practice and recommendations.
by Inger Marie Vennize