Huda Lutfi – redefining 'Egyptian'
Egyptian art is much more than the classic artefacts of the pharaohs and works that tow the tight state line, points out DJ, music critic and composer Katrine Ring. She recommends that we take a look into the much broader and more internationally oriented Egyptian art scene reflected in the book Huda Lutfi – a book which also portrays an interesting contemporary artist, who is striving to push the boundaries of social cultural norms, religion and artistic form.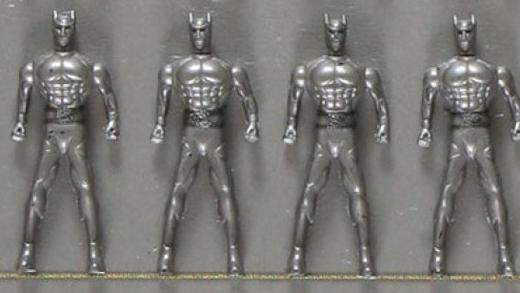 Facts about Huda Lufti
Huda Lutfi is one of Egypt's most influential artists.
Born in Cairo, Egypt, in 1948, where she currently lives and works.
Holds a PhD in Arab Cultural History from McGill University, Montréal, Canada
Huda Lutfi's debut exhibition was held in 1996 at the American University in Cairo, followed by solo and group exhibitions in the USA, The Netherlands, Germany, France, Bahrain, Belgium, Senegal, Mali, Greece; Denmark and other countries.
Lived three months in the Nørrebro district of Copenhagen, during which time she exhibited at Copenhagen's Nikolaj Kunsthal in 2010 at the My World Images exhibition.
The book includes six further chapters covering a variety of diverse themes, all written by the author. These are mainly short introductions to various individual themes about the singer and role model Umm Kulthum, about gender as a cultural construction, about spirituality, and others. The book includes a wealth of photographic material supporting the main theme of each chapter allowing readers to explore and discover specific themes in her works.
Our knowledge of Egyptian art is very limited. When thinking about Egyptian art, our thoughts turn to the artefacts of the pharaohs and the strict state control of artistic expression; but there is much more to Egyptian art than this blinkered and quite prejudiced view. For alongside the state-controlled art scene, there exists a lively, vibrant, and internationally oriented Egyptian art scene that is breaking with the clichés and forging ahead in new directions. With the book Huda Lutfi, about the female artist of the same name, we are provided with a broad perspective of the current status of the contemporary Egyptian art scene and given a splendid portrait of a very interesting artist.   
The core of the book essentially consists of two substantial chapters. Firstly, Samira Mehrez, the Egyptian professor of modern Arabic literature, provides a detailed insight into the historical and political correlation of art, in which she describes the position held by art within the state. This is a highly relevant essay for understanding the reality in which Huda Lutfi operates as an artist in Cairo, Egypt and the world at large. Secondly, there is the chapter written by Huda Lutfi herself, in which she tells of her background and about the origins and unfolding of her artistic career. Included in this chapter are some though-provoking descriptions of a selection of reactions that her art has received. 
    
New definitions of 'Egyptian'
Huda Lutfi was university educated in Montréal in Canada and at the American University in Cairo. It was as a cultural historian that Huda Lutfi's artistic rise began to gain momentum; her intrigue regarding the absence of women artists in Arab art history led her to focus on the presence of women within art. Her art history learning and methodology were challenged, leading Huda Lutfi herself to begin working as an artist. For the first many years, here medium of choice was collage, but later she branched out to working with objects she found discarded on the streets. The richly diverse photographs in the book show the complexity and variety of her works.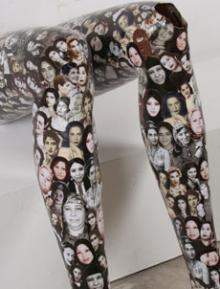 When discussing Egyptian art, it is first important to discuss who sets the definition of what 'Egyptian' is. Here, Samira Mehrez's chapter is particularly illuminating. She explains the historical positioning of art within the state, starting from the days of British colonialism and leading through to the present day. Previously, the matter had been simple as, until very recently, the state held the monopoly on determining what was or was not classed as being Egyptian. Later on, international art curators butted in with their definition of "genuine Egyptian art". If an artist was not able to meet the criteria of the one definition or the other, things were difficult – artists had to find their own way.
Today, the reality for the Egyptian cultural landscape is both new and different. To a far greater extent, artists have liberated themselves from the state and its strict line regarding art. Also, they are able to commute between state-owned and private-owned galleries and institutions. These two things have helped to limit the historic grip the state has held on art production and in its role as sole patron. Simultaneously, it has had an educative effect on those working for the state, instilling them with a broader artistic perspective. Additionally, it has resulted in an increased interest from the state to include in various state-managed projects artists who work in the private realm and internationally.   
  
From academic to practicing artist
When artists began to relate to and make inroads into the international art scene – for example, by becoming educated at art schools in Paris, London and in the USA – they themselves became able to define their art. The growing art market in the Gulf area, particularly in Bahrain and Dubai, served also as a contributory factor for this growing awareness.     
Here, Huda Lutfi is a model example. In many ways, she is an unusual artist in Egypt because she lacks a formal artistic education from a state-run art school; in actuality, she is an art historian. Nevertheless, today she enjoys recognition as a world-renown artist, and commands much respect in her home country. 
   
Sacrilege
Huda Lutfi exhibited her work for the first time at the gallery of the American University in Cairo. Since then, she has moved into the well-respected private galleries of Cairo and further onto the international art scene – including in Dubai. The recognition and respect she enjoys in the private galleries, and now internationally, has led to her becoming a highly well-received figure in her homeland. Today, she is one of the artists whom the state invites to participate in state-organised projects, even though the state continues to have periodic issues with Huda Lutfi's form of expression. One particular example of such an issue is described in the chapter entitled The Testimony, where she describes how her work consisting of a shoemaker's last (the form used to shape a shoe) painted silver and covered with Sufi texts has continued to be a bone of contention for many years. The result is censorship/self-censorship.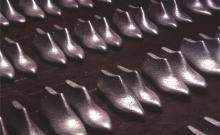 The reason for the state's objection to this particular work turned out to be the fact that, according to Islam, it is sacrilege to write Sufi texts on any kind of shoe – even though here it was merely a shoemaker's last and not an actual shoe. This work was exhibited at the Townhouse Gallery, one of the leading private galleries in Cairo. The poster advertising the exhibition showed this work with the shoemaker's last, and as they were hung up in public places the work became the object of much focus. As a result, the authorities clamped down hard; all the posters had to be taken down from the streets and the exhibition could only be seen upon prior arrangement with the artist – who was required to be present. The struggle to have the work exhibited internationally dragged on for an entire year. Today, the work remains impounded with the customs authorities. 
At odds with the authorities
As an artist, Lutfi works with issues of gender and culture, in particular, she works to increase the visibility of perceptions of women and their roles. She does so by creating dolls; here, she challenges the perception of what is authentic, when even traditional Egyptian dolls are now being produced in China. She also objectifies dolls with writing, providing them with statements such as "No to War!" – not because the statement itself is controversial, but rather because the context makes it controversial. In this case, it was because of the Iraq war and the 9/11 attacks. The context always plays a role in how her art is to be understood, the result of which is that, as an artist, she remains controversial and at odds with the authorities.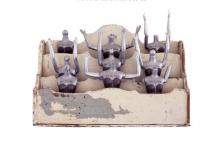 A particular strength of Lutfi's work emanates from her background of studying art history. In her art, she depicts everyday culture – something that is far more controversial in her homeland than we as outsiders can comprehend. Using objects she has found littering the streets and alleyways and markets of Cairo, Huda Lutfi depicts a local culture that can be far more shocking to look at than we could imagine – such as when she finds damaged dolls on the street and exhibits these. And when she works with pictures of women icons and draws attention to the women role models that exist in Egypt. She explains that it is not something that needs to be invented as it is already inherent within the culture.   

Global perspective – local inspiration
Lutfi sees herself as being a universal artist. In her experience, an artist should not be too attached to his or her original culture as this makes looking beyond personal confines difficult. Such people easily lose their perspective and fail to distance themselves from their own point of being; as a result, such artists are unable to appreciate the wealth and complexities of other cultures to an adequate degree. To this, she could also add a gender aspect as she often seems to run into conflict with the authorities, including the state, the police and customs and excise; it is men in particular who are incapable of looking beyond their own limitations. She provides many an example that would be funny, were it not for the tragedy of their myopia.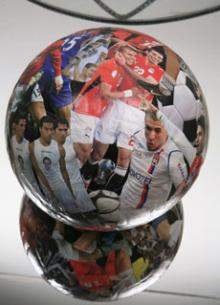 Except from the chapter written by Professor Samira Mehrez, the entire book is written by Huda Lutfi herself. She writes with an elegant reserve and a fair degree of humour. Art is the primary focus, and it is clear that the artistic topics chosen have personal roots. When Huda Lutfi deals with the topics of women, gender and roles, these are based upon her own personal experiences and a cast of characters close to her, including her mother, her aunt and well-known female personalities. Cairo, the city where she herself lives, provides the backdrop, offering a great deal of material for her to work with. So without doubt, she is an Egyptian, from Egypt, and an artist.  

Danish-Arab Partnership Programme
KVINFO's programme in the Middle East and North Africa is financed by:

As a result of her position in the upper middleclass, Lutfi is also active in many social circles. Here, she tends more towards the international agenda regarding the description of women's roles, rather than the local Egyptian agenda, where the social stratum a person moves has a huge and differing affect upon women, gender and roles. As a result, the descriptions given in the book solely represent the areas in which Lutfi herself moves – but it would be unfair to expect otherwise. No matter what way we look at it, she as a role model is an exciting figure: her artistic format is both esteemed and globally-recognised, and she is paving the way for the next things to follow.