Jordanian business leaders study inclusion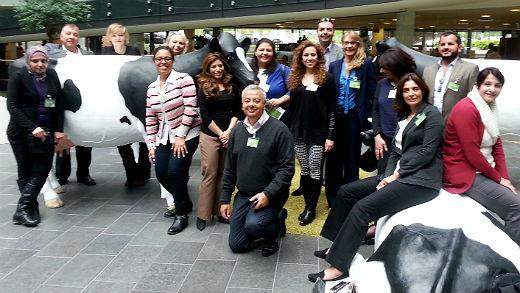 12 Jordanian Business Leaders are in Denmark this week to study recruitment and inclusion of women on the labour market.
Today they visited the large dairy corp Arla. In the headquarters in Aarhus there is only plastic cows, but later today they will visit the dairy in the village of Bislev, where the puck cheese, which is well known in the Middle East, is produced to see how the company policies play out on the ground.
The Jordanian leaders are from a variety of the largest corporations in the country including telecom companies Zain and Umniah, the Jordan Ahli Bank and Zara Holding, which owns some of the country's largest hotels. In Denmark a number of wellknown companies like Arla, Maersk and Danish IBM has opened their doors for the visitors.
The study tour is the culmination of a series of workshops for the Jordanian companies that KVINFO has with Jordanian Business Development Centre. The whole project is financed by the Danish-Arab Partnership Programme under the Danish Ministry of Foreign Affairs.