Jordan's Well-Educated Women Stay in the Home
Jordanian women are well educated. However, less than 14 percent are on the formal labour market. A delegation of Jordanian HR-managers visited Denmark in order to gain new inspiration on how to resolve the country's labour equality paradox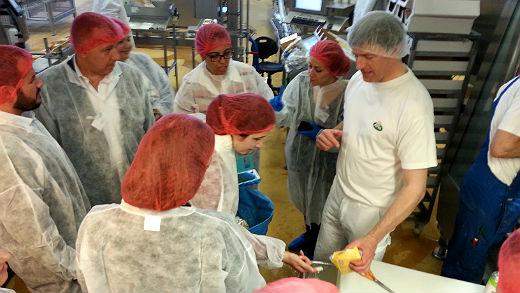 About the Visit
Beginning in 2008, KVINFO has collaborated with a host of local partners in Jordan in order to increase the number of women employed in the public and private sectors. KVINFO has collaborated with the Business Development Center in Amman for the last five years with a focus on developing the working environment in the private sector with the aim of increasing women's employment.
18-22 May 2015, a delegation of Jordanian HR-managers visited a number of business engaged in inclusion and diversity efforts in Denmark.
This visit and other collaborative efforts are financed by The Danish-Arab Partnership Programme under the Danish Ministry of Foreign Affairs.
Photo from the visit to the Arla dairy in Bislev: Jeannette Knudsen.

Dima Barqawi is an exception to statistics in Jordan. The 44-year old HR area director of the Hyatt Hotels in Amman and Cairo has close to 25 years' experience in HR management in the United Nations and the hospitality industry. During the course of her career so far, she has become a mother twice, divorced once, and has now re-married – all the while continuously rising through the ranks of her chosen professional field. She has at no point in time retired from working outside the home. Women's departure from the workforce is one of the primary challenges to gender equality in the workforce in Jordan. While Jordanian women are generally well educated, they usually only work a few years prior to getting married, raising a family, and unceremoniously slipping out of working outside the home. 
A mere 14 percent of Jordanian women have a formal job. Furthermore this number is decreasing maybe because of the current political situation where many well-educated Syrian refugees are willing to undercut Jordanian women's pay scale. Jordanian women are not short on formal qualifications, rather it is socio-cultural mores which prevent Jordanian women from remaining in the labour force.
Even women who wish to retain a job after marriage are often forced to give it up because of inflexible working hours and parental leave, a lack of childcare, and poor public transportation. Dima Barqawi knows this all too well, but she says:
– I became a strong and independent woman due to my work. It is my life. Although I am well aware that this is not a widespread understanding among women in Jordan.
Barriers to Women's Work Outside the Home
Beginning in 2008, KVINFO has collaborated with the Business Development Center in Amman with a focus on improving Jordanians women's working conditions and reinforcing their association with the labour market. One of the project activities has been a series of workshops on inclusion and diversity aimed at HR managers from a number of private enterprises in the Hashemite Kingdom. As part of the programme, 12 Jordanian HR managers have recently ended a tour of Denmark, where they visited businesses whose management is informed by inclusion. 
Maha Shawareb, vice president and co-founder of BDC, admits that there are many challenges to equality in the Jordanian labour market:
– It is not merely a question of the existence of certain notions of whether a woman should work outside the home or not, and how they could and should be employed. It is also a matter of how working outside the home is culturally associated with dire need. You only work outside the home if you must in order to provide for you family. Women's participation in the formal work force is not understood as contributing to women's self-determination or financial security and privileges. If we want women to enter the formal labour force, we must change our cultural mores. It does us no good to keep 50 percent of the population waiting in the sidelines, she says.
The BDC employs a range of strategies in order to facilitate a change in attitudes, including workshops for the families of young women who wish to work outside the home. Maha Shawareb explains how the BDC places great emphasis on the dissemination of the strengths and competences the young women acquire: The young women achieve financial independence, they become a more equal partner in the decision-making processes in the family, while at the same time contributing to an increase in their family's general standard of living.
The BDC also offers mentorships to young women who are matched with older female mentors who have already succeeded in striking the balance between family obligations and career aspirations. The BDC also offers workshops in capacity training and personal communications strategies.
– But there is another side to this issue. The working environment in the companies, which hire women is not supportive of women's choice to work outside the home. In Jordan, there are no flexible working hours and although business are required by law to provide childcare facilities for the children of employees, this has only been implemented in a few instances, explains Maha Shawareb.
Diversity Boosts the Bottom Line
Jordanian women are faced with the fundamental challenge of simply getting to work. Taxis are not merely expensive but also frowned upon as a means of transportation for unaccompanied women, and public transportation is in a poor state. According to Maha Shawareb, some companies have started offering a private shuttle service for employees. Keeping in mind that companies are also required to offer childcare, hiring female staff easily appears to be an expensive and difficult proposition for employers.
Maha Shawareb does not doubt that the employment of women will ultimately be beneficial to companies' bottom line. A fact, which has been further confirmed during the visit to Denmark. The next step ahead will be the dissemination of this message to the large companies in Jordan.     
– Even the most progressive companies have not fully comprehended the extent of the benefits to hiring women. Diversity drives innovation resulting in higher efficiency and productivity rates. Visiting companies such as Maersk, Arla, and IBM in Denmark has proven that this is indeed the case. Companies must realise that by including women in the workforce, they gain another perspective, which may generate new economic opportunities. We need diversity in our labour market, but in order to achieve this there must be a conscious strategic decision. This is not going to happen by itself, states Maha Shawareb.
However, she notes that currently, there is political support in favour of the inclusion of women in the labour force in Jordan.
Women in Jordan
Despite the high level of education among Jordanian women, the country is at the very bottom of the Global Gender Gap Index, published annually by the World Economic Forum. Jordan is placed 134 out of 142 countries.
The Scandinavian countries are at the top of the index, with Iceland in pole position and Denmark at number five.
Judged only by the level of education by gender, Jordan is placed above average at number 70.
The Need for a Change of Attitude
The tour of the Danish companies has been an eye opener to Dima Baqawi. Her own sector, the hospitality industry, is one of the most difficult for women to gain entry into because the industry is plagued by prejudices. The hospitality industry is generally frowned upon because it is associated with licentiousness, not least due to alcohol being served in the large hotels, such as the Hyatt where Dina works. And gender bias also influences management decisions.
– When I return to Amman, I want to set up meetings with each of my female employees to tap their minds as to the dearth of women in the hospitality industry. I want to learn about the challenges they face, and how they may be resolved. If I can present their testimony to management, this may be the catalyst for a much-needed change of attitude.
Corporate Responsibility
In Jordan, the time is right for the promotion of equal opportunities in Jordan. The current Minister of Labour, Professor Nidal Al-Katamine, promotes a progressive agenda, implementing a host of strategies designed to promote women's entry into the workforce.
Eman Okour is head of the Economic Empowerment Section. She points to a range of concrete steps realised during recent years in order to facilitate the entry and continued presence of women in the labour market.
The Ministry of Labour has set up an employer-funded parental leave scheme, which makes it easier for private companies to offer their employees parental leave. Furthermore, the scheme promotes gender equality by offering the same level of subsidy to male and female employees. 
The Ministry of Labour has supported a comprehensive restructuring of the textile industry, which traditionally employs many women. While transportation to and from the workplace has been an obstacle to women's employment, the establishment of 12 satellite worksites in close proximity to Jordan's larger cities and improving infrastructure has reduced workers' commute, something which has ensured continued female employment in the industry. 
– The efforts in this field increase our understanding of the challenges women face. We are currently preparing a long-term strategic plan, which focuses on equal pay and the establishment of childcare facilities in the larger companies. We have just launched the National Strategy for Jordan 2015-2025, which includes our targets for equal opportunity in the labour market, explains Eman Okour.
After her visit to Denmark, she remains optimistic, although she describes the Jordanian case as a fast-forward process compared to the process Denmark has witnessed in terms of equal opportunities.

Danish-Arab Partnership Programme
KVINFO's programme in the Middle East and North Africa is financed by:

– We are currently pushing for equal opportunities similar to your experiences in Denmark in the 1970s. But we need to forge ahead and work on diversity and inclusion. It has been very nice to experience how companies in Denmark are well aware of the importance of gender diversity in the workplace. They know diversity optimises productivity, which is why they are working towards this goal. Here, it is not merely the government taking responsibility for the situation, she says.
Translated from Danish by: Maria Zennaro