Lend a Tunisian woman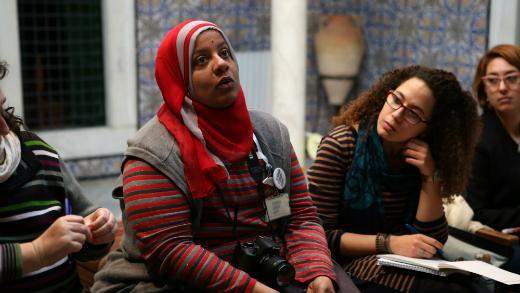 Lend your prejudice. Talk to it. Get to know it. This is the simple idea beind The Human Library, and now this idea is on its way to Tunisia.
Tunisian Association L'Art Rue has partnered up with The Human Library from Denmark in order to develop a Tunisian version of the library. The project is supported by KVINFO's Mini Pool.
The first workshop for volunteers took place in Tunis in December. The main focus in the Tunisian library is gender and women's rights, and women are the main target group as "books" as well as "readers".
Still, the project will try to cover all eight pillars of prejudices, The Human Library normally tries to address. In addition to gender it is ethnic background, religion, sexual orientation, occupation, lifestyle, disability and political conviction.
Danish-Arab Partnership Programme
KVINFO's programme in the Middle East and North Africa is financed by:

So far three Human Library events are planned for this year, but hopefully this will lead to the forming of a permanent group of volunteers, who will continue the activities. Activist from the already established Human Library group in Egypt participated in the workshop.
The idea for The Human Library dates back to the Roskilde Festival, which is Northern Europe's largest rock festival, in the year 2000 as a way to address prejudices and stereotypes between humans. Since then Human Libraries have sprung up in many different settings in more than 70 countries across the globe.
 
Read more about The Human Library