More Women on the Ballot in Jordan
The number of women who dare and desire to contribute to decision-making processes in Jordan by running for parliament is increasing dramatically, despite considerable obstacles. The Jordanian election, held last month, had a historically large percentage of female candidates.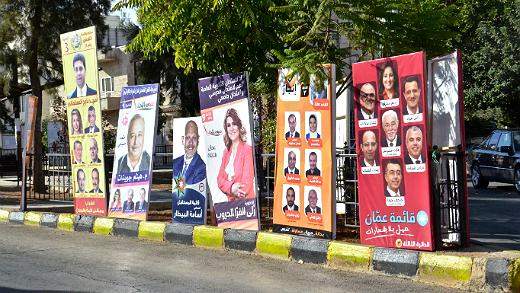 This vast interest is noticeable in the streets in all corners of Jordan. Colourful posters of female candidates from all religious, social, and economic backgrounds adorn fences and lampposts. Some women sport uncovered hairstyles and modern profiles. Others are more conservatively dressed in the abaya, or sporting the niqab. This year, according to the Independent Election Commission, there are 258 female candidates. This amounts to 20% of the total number of candidates, and twice the number of females up for election in 2013.
Salma Nims, general secretary of the Jordanian National Commission for Women (JNCW, the umbrella organisation for all women's rights organisations in Jordan), interprets the number of female candidates as a positive indication.
About the Election in Jordan
The article was written and published in KVINFO's Web Magazine's Danish version before the elections in Jordan on September 20.
There are 258 female candidates standing in the election out of a total of 1293 candidates. Women thus constitute 20 % of all candidates according to the official statement by the Independent Election Commission.
Out of 230 lists, 198 lists – or 86 % – have a single female candidate, while only 23 lists – or 10 % - have more than one female candidate.
A mere two lists are made up exclusively by women.
The new electoral law replaces the unpopular 'one person – one vote-law'. The single-winner constituencies led to the election of a representative of the most influential tribe – and most often a male candidate.
The new election is based on an additional member system, where parliamentary candidates are elected from constituencies at the district level.
There is a pre-set women's quota of 15 MPs.
The election covers the 130 seats in the lower house of Parliament, Majlis al-Nuwab. The 75 member of the upper house, Majlis al-Aayan, are appointed by the King.
Jordan ranks 141 globally with regards to women's parliamentary representation and claims the 13th position in the Arab world, according to the Sisterhood is Global Institute (SIGI) in August 2016.
Read the full interview with the Jordanian MP, Wafaa Bani Mustafa, one of only a few women elected outside the parameters of the quota system in 2013.
The increasing will and awareness concerning women's political participation in Jordan suggests that Jordanian women seek visibility, and an active role in political decision-making processes. 
However, she also warns that in reality many candidates will not be elected to Parliament. This is due to socio-economic and cultural mores in Jordan. People's values are still informed by tribal culture and dominant male authorities.
"We are very pleased with the high representation of female candidates. We are, however, somewhat sceptical with regards to whether or not the new electoral law will secure more parliamentary seats for women than the minimum number stipulated by the women's quota. The electoral law is a good start but we still have a long way to go in order to change women's – political and social – position" explains Salma.
She points out that in order to implement more reforms and changes to the electoral law in favour of women's roles in Jordanian politics, a greater willingness on behalf of Parliament is required.
"In society, women are not even accustomed to assuming important roles neither in the labour market nor in politics. At this stage it is thus pertinent that we increase the women's quota to minimum 30 % during the coming years", says Salma Nims.
In the run-up to the ratification of the electoral law, the women's movement was unable to increase the women's quota from 10 to 30 %. However, this fact has not deterred women from participating in an election where the number of women candidates has an all time high.
This increase in female candidates has not merely delighted the women's movement in Jordan. The increase has also paved the way for new debates in civil society. Among women's rights activists there is a renewed faith in the inclusion of women in politics, and debates concerning the necessary steps towards increased gender equality in Jordan. JNCW and several other organisations have organised public debates and workshops in various districts in Jordan in order to debate the role of women during the election campaign and politics.
A new voting system
When looking carefully at the electoral posters in the streets, one notices a change in the voting system. The posters not only portray a single candidate but portraits of several candidates. This year voters not only choose a single candidate, they also have to vote for an electoral list.
The new electoral law replaces the unpopular "one person – one vote" system in single-winner constituencies. Instead, a proportional system where candidates form party lists in each electoral district is put in place. This unpopular law was changed to promote more equal, democratic elections. Elections favouring the 'political' choice rather than the 'personal'.
At the same time, it is hoped that the new voting system will lead to an increase in elected female candidates. The new system doesn't allow merely the main candidate – usually a man – to be elected.
The struggle for equal rights must be fought from 'within'
Nadia Shamroukh is the general secretary of Jordanian's Women's Union (JWU), the country's the largest women's organisation. She is convinced that the struggle for equal rights, and women's increased political participation is a lengthy process. It cannot be measured just by the yardstick of women MPs, and is by no means concluded by the 20 September parliamentary elections.
"The electoral law may contribute to the challenges against women's stereotypical roles in society and give women with the courage to fight for equal rights alongside men. But this struggle shouldn't only be carried out within the confines of Parliament. We need a determined effort to strengthen the role of women in society, and claim important positions in the labour market and politics. This will make women stand as political and social leadership figures" she explains.
About JWU og JNWC
Jordanian Women's Union (JWU) is Jordan's largest women's rights organisation. Jordanian National Women's Council (JNWC) is an umbrella organisation for all women's rights organisations in the country.
KVINFO has cooperated with JWU and JNWC on various projects since 2007.
The projects in cooperation with JWU include combating gender based violence, furthering women's economic participation and equal political participation, including the promotion of a more democratic and equal electoral law.
KVINFO currently cooperates with JWU on two projects. One project aims to improve the work of 40 Jordanian human rights organisations vis-à-vis women's rights. The other project aims to create organisations among female refugees from Syrian and the human rights activists advocating their cause.
KVINFO AND JNWC have previously cooperated on a large project aimed at improving women economic participation in the public and private sectors. Several of these activities have subsequently been continued in new projects involving the member organisations of JNWC and their partners.
According to the Independent Election Commission, just 17 % of candidates run on a political platform or as member of a party. The majority of candidates claim support from tribal relations or economic interests.
Clan or tribal affiliations have played an important role in Jordan throughout history. This enforces electoral support on the basis of the ethnic or tribal affiliations of candidates.
Thus, elected candidates do not tend to work towards furthering a particular political ideology. Rather, they seek to further clan interests. Parliamentary elections thus serve as form of battle between tribes.
The tribal system is based on male authority, which earns a higher recognition in Jordan. Women also remain underrepresented in the private sector and important public posts in society.
"While the new electoral law represents a step forward for women's rights, this does not suffice. One must also examine the social and cultural barriers to women's participation" Nadia affirms.
Focusing Less on Gender and More on Political Substance
Salma Nims from the JNWC is also convinced that the new electoral law isn't enough to transform the current electoral situation. To instill change more reforms and further changes are needed.
"In the JNCW, we have several reform propositions up our sleeve. We will continue to advocate for an increase to the women's quota and organise capacity building for the parliamentary candidates" she says.
She also points out that in order to further all aspects of women's lives, an efficient social and political plan of action in required.
"In the struggle for equal gender representation, one must pay attention to not just the numbers, but the substance too" Salma holds.
She emphasizes, that it is not merely a question of whether candidates are male or female. Rather, what matters is their values and their dedication to women's causes. It worries her how several female candidates, seeming to represent modernity and gender equality, hold controversial and conservative views on women. This is particularly true of the Islamic Action Front Party (IAF), which is the political arm of the Muslim Brotherhood in Jordan.
"We definitely don't want women to win the election simply for being women. We want women who will fight for social justice and improve women's rights. What is the point of electing more women if they hold fundamentalist views, such as supporting polygamy?"
Women's New Ways to Gain Visibility
Running for the second time in the town of Zarqa, Sawsan Azzam is one of the hopeful candidates. Although she is neither backed by an influential tribe, nor boasts a brimming campaign budget, she refuses to give up on her dream of becoming an MP.
"It is a dream of mine, even though it can be difficult to face the economic and social challenges as a woman. In my hometown, people are not accustomed to women in politics, but after the previous election I convinced my family to support me." Sawsan explains.
She ran as an independent during the last election. This time – because she wants to show how women can focus on their own values and not just make it in politics thanks to the women's quota – she is a candidate for one of the two women's lists.
Like scores of other candidates, she is faced with economic challenges when publicising her political views and party platform. She has personally felt limited by the experience.
"Starting out, we tried to contact one of the popular advertising agencies. We realised immediately that the costs were unrealistic" says Sawsan Azzam.
Instead, she has settled for a door-to-door campaign in her local area and on social media. These methods are free of charge, and Sawsan Azzam is impressed by the visibility rates one can achieve simply by having a facebook page.
"We have to be realistic. Here in Jordan, we do not have equal access to the means with which to run a campaign. Many women are not economically independent, but rely on their husbands for spending money. Other women do not work outside the home, even if they have an advanced university degree. So, in order to gain exposure in my hometown and reach other young people in Zarqa, I put together a facebook page", explains Sawsan Azzam.
Harassment, Distrust, and the Heckling of Candidates
In many constituencies, women face considerable resistance and harassment if they present themselves in public on election posters. This prevents many women from appearing on election posters.
It is the natural outcome in the society where many of the women lead their lives. Hence, Salma Nims of the JNCW believes that the women's struggle starts at home and in public.

Danish-Arab Partnership Programme
KVINFO's programme in the Middle East and North Africa is financed by:

In October, Alia Abu Haleel, a candidate from Aqaba, gained particular attention. She replaced her portrait on the election posters with a photo of a flower basket. This led to an outcry from numerous feminists and women's rights activists, who criticized women's status in Jordan and called for gender equality in the country.
"Before talking about gender equality in politics, we have to ensure openness and active female participation in society. These kinds of stories have to be brought to an end. We have to rid ourselves of patriarchal mores, the undermining of women, and clan mentality. Then we can make a serious effort for women to set the agenda in parliament" Salma Nims concludes.