Moroccan rap is the voice of the people
Soultana is the only female rapper in Morocco. Although her lyrics are provocative, she uses her raps to deal with women's lack of rights and the men's moral double standards, and when Soultana and her musical partner Anas Basbousi take to the stage they want to show a different image to the world: an image where men and women stand as equals.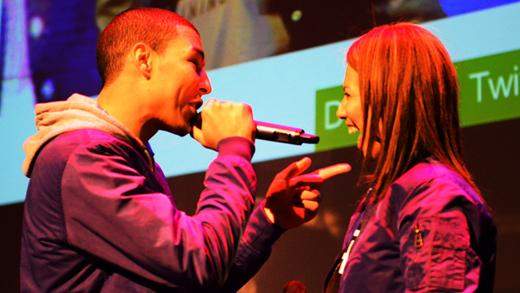 The date is 8 March – International Women's Day – and a celebratory concert is underway at The Black Diamond, Copenhagen's Royal Library. On the stage rapping in Arabic are Moroccan duo Soultana and Anas Basbousi, aka. I.N.S. Both are wearing dark jeans and sneakers, sweatshirts and identical blue bomber jackets. One man and one woman – different, yet the same.
This is Morocco's new hip-hop duo, though they are not the type of musicians you would be likely to find on Moroccan TV. As well as being artists, the duo represents a two-person peaceful underground-music revolution. 
"It's the first time in the history of Moroccan hip-hop that a man and a woman are working together. It's our way of showing the world that we're equal and that men and women are worth the same. When we're on stage, we have equal status as performers; neither one of us is above the other," explained Anas Basbousi when he and Soultana visited KVINFO the day before their Black Diamond performance.
The only female rapper
It would be fair to say that the hip-hop scene, even in Denmark, is not exactly teeming with women performers. And in Morocco there is only one – Soultana. To have got to where she is today, she has not only had to succeed in breaking into the male-dominated hip-hop milieu. She has also had to break away from the traditional role of women in Morocco's conservative, Muslim society, where it is expected that women, even young women, adopt the role of housewife. 
"One of the things I want to do with my music is to tell women that they are free and that they can do whatever they want with their lives. No one has the right to dictate what you should do or how you should dress," tells Soultana.
The collaboration between 29-year-old Soultana (whose birth name is Youssra Oukaf) and Anas Basbousi is completely new. Soultana's first big breakthrough came in 2005 when she was a member of Morocco's first – and to date, only – girl rap group Tigresse Flow. Although this five-girl group was an immediate success, many people were opposed to it. 
In 2008 the group scooped first prize at Mawazine, Morocco's international music festival held in Rabat. This prize usually leads to bands being offered production support for putting together their first album and a making a promotional music video; however, there was no such flow of support for Tigresse Flow upon their winning the award. As the organiser put it: "they were just girls and they would probably forget all about making music soon after."
The constant opposition and hostility towards Tigresse Flow eventually led to the break up of the group. The four other members decided that it was becoming too hard to continue, but Soultana was determined to continue making music so she embarked upon a solo career.  
The voice of Morocco's women
The final number performed by I.N.S. at The Black Diamond on 8 March was Sawt Nssa ('Women's Voices', ed.), the song that cemented Soultana's breakthrough as a solo artist. The song is about the women on the streets, about the girls who, having no other alternative, are forced into prostitution to survive. The song is also about the double standards that Soultana feels permeate the entire Moroccan society: on the one hand, it is men who are the customers and who pay these girls for sex, while on the other hand they condemn these girls and make it impossible for them to have any other option.
And even without understanding Arabic, it is not difficult to hear the rage and indignation in Soultana's voice. 
"Hip-hop is the voice of the people. Our music isn't about being in love or infidelity. No, what we talk about are the lives that we live – your life, my life, and other people's real lives. We all live with the same crap, and there's poverty everywhere. Through our songs, we really want to change how people think, because it's by changing people's mental attitudes that we can change society," explains Soultana. 
"You can say a lot through hip-hop. The song may only last three minutes or so but it can still convey a really strong message. This is another reason why we need to get more women performing. Other women listen when they see a woman on the stage; they take in the message and they've most likely never heard a women singing their causes before. This can encourage them to believe in themselves and believe that they have rights. After all, women in Morocco do have the right to demonstrate for better rights, but they don't do it. They also have the right to demand their rights, but they don't do this either. Why not? It's because nobody is telling them that they can actually do these things," adds Anas Basbousi.
Hip-hop lacks state recognition
In Morocco, hip-hop is not defined as a music genre; instead, the Ministry of Culture has decided to classify hip-hop as a sport. This is a definition that irritates both Soultana and Anas Basbousi, and the pair are under no illusions that the reason for doing so is because of hip-hop's ability to convey a powerful political message and its deep-rooted popularity in society. Hip-hop is the language of the streets and is the music people listen to in the ghettos. Whereas traditional Arab folk music and pop music such as raï and chaabi always deal with love and lack any semblance of political message, much of the hip-hop milieu is closely linked to the underground groups of society among whom social dissatisfaction and criticism smoulder.
"A long time before that man set himself on fire in Tunisia [Mohamed Bouazizi in 2011, ed.], dissatisfaction and criticism were smouldering in the underground milieu. All of those artists who were part of the underground were addressing the problems that we are living with today: social inequality, lack of freedom of speech, unemployment, poverty, and homelessness. So in this respect there was already a movement underway. Then the Arab Spring happened, and here it was these artists who took to the stage in Cairo's Tahrir Square and sang together with the people. This is the power of hip-hop. Hip-hop/rap can translate the voice of the people into lyrics and music," tells Soultana.
Enticing more girls into hip-hop
Both Soultana and Anas Basbousi hope that Moroccan society will change; however, they have given up hoping that change will come as a result of a revolution. In their view, change has to be brought about peacefully by the people; people must make demands of the government, and the government must take its responsibility seriously. However, neither Soultana nor Anas Basbousi criticise the king – even underground hip-hop cannot voice criticism of Morocco's monarch.
Alongside their music careers, the two artists are working on their own project aimed at creating positive change for both society and hip-hop. 
Together, they are in the process of forming an association that will create a strong professional framework for the hip-hop milieu. Their aim is to promote the establishment of better recording studios, improve music-distribution channels, and establish a youth centre where young people can go after school to work with their music in professional and serious surroundings.

Danish-Arab Partnership Programme
KVINFO's programme in the Middle East and North Africa is financed by:

The main objective is not merely to achieve recognition and validation for hip-hop as a music genre, but is just as much about creating opportunities that will attract more girls into the milieu. 
"One of the reasons that there are so few girls who rap in Morocco is that an artistic or musical career is not accepted as a suitable vocation for girls. Families and society at large are usually against such choices. Girls are expected to grow up, marry, have children, and look after the family. It's because of this that girls need support. Boys tend to look after themselves – it's not taboo for them to choose a career in music. Like in all Arab countries, men have many more opportunities that women, but I don't agree that it should be this way," explains Anas.
"Another reason is that in Morocco we have a great deal of problems with the production side of the music industry. If you want to create and produce hip-hop music, there's no proper network or professional framework to work within. Once we've established such a framework, it'll be much easier for girls to express themselves musically as they no longer will have to stand in the streets to rap," he adds.  
Soultana nods in agreement. Even she has had to put up with her fair share of negative comments during her journey to becoming the successful musician she is today.
"I fought to achieve my place as a rapper in Morocco – to be able to stand up and say: "Yes, I'm a rapper, I exist, I'm an artist!" When I one day eventually stop doing what I do, I hope I'll have opened up the world for more girls who have the courage to talk about the same things as I do. I want to provide them with the right to choose this route forward," concludes Soultana.