On mapping and agency
Working with digital tools to combat the incumbent issue of sexual harassment in the streets adds to the function of technology for social change. But it also raises many thoughts about agency, responsibility and perhaps space appropriation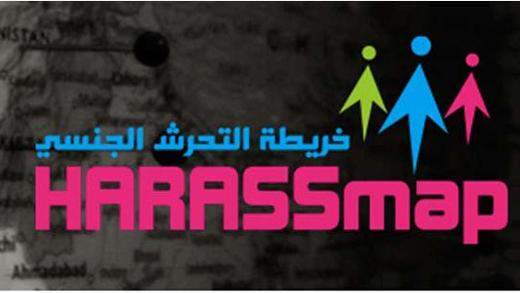 "Thank you dear followers. We wish you a harassment free Friday," reads a Tweet posted by Harassmap. http://twitter.com/#!/harassmap/status/13242492036059136
The Twitter post comes as a pleasant read about an issue that for a long time has been an embittering face of everyday life in Egypt.
Harassmap (harassmap.org/), a tool that uses geo-tagging technology, was developed in early 2010 to localize incidents of sexual harassment in the streets, as reported by people.
The map is powered by Ushahidi (www.ushahidi.com/about-us), a Kenyan open-source company that builds tools to allow users to crowdsource) information and to create info-visualization platforms. (crowdsourcing means to outsource tasks, traditionally performed by an employee or a defined contractor, to an undefined, large group of people or community – a crowd – through an open call, for instance via internet and social media. In a country where 83 percent of all women are reportedly victims of sexual harassment in Egypt, the need for organized responses to articulate a resistance to this infuriating phenomenon is pressing."Tak, kære venner. Vi ønsker jer en chikanefri fredag." Sådan lyder en Twitterbesked fra Harassmap. (twitter.com/#!/harassmap/status/13242492036059136)
Technology alone doesn't do it
Harassmap responds to this need, but also deploys some creativity in its response. While intersections between mapping, info-visualization and activism have become common phenomena, they are yet an untapped territory in Egypt.
But before celebrating the merits of technology and its contribution to creating a sense of engagement and of responsibility, the founders of Harassmap reiterate the centrality of direct citizen involvement in changing the appalling situation of harassment on the street.
"I believe strongly that the only way change is going to happen in our streets, is for all of us to get directly involved in making things how we want them to be," says Rebecca Chiao, co-founder of the initiative. "My friends/partners and I were tired of sitting around complaining about being harassed, so we decided to do something. We're just normal people and we have no grants or anything, so it shows just how much normal people can do."
Mapping as a basis for campaigning
The culture around Harassmap is derived from citizen journalism, where all city inhabitants become reporters. Harassmap functions through harassment reports sent to the core team through SMS, Twitter, email, phone or website. The team then gives the person who reported the incident advice about services in the area of the incident; be it legal aid services, filing a police report or counseling services.
At the same time, the incident is marked on the online map, which is shared with NGOs, media and the police as informational support for their campaigns to stop harassment.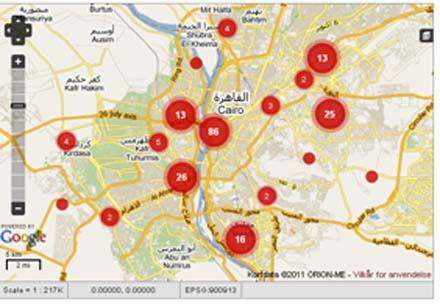 On a longer run, with accumulated reports, the map functions as a visual evidence of places where harassment is recurrent, so that campaigns can be particularly addressed to the recurrence.
"We need to know if the hotspot is a bus station, one-way street, or a public park, because sometimes the solution will be police patrolling, recommending a monitoring camera placement, or just talking to the men in the shops next door," reads the Harassmap blog.
The initiative further appropriates the battle against sexual harassment to people by opening a forum through Facebook where everyone can pitch ideas and proposals to combat harassment.
The poor stand of the harassed
For Nagla Rizk, professor in economics at the American University in Cairo who researches the economies of knowledge in the digital age, the initiative is "a good step to give women some form of privacy, as they could normally be inhibited to report about sexual harassment in police stations."
The focus on popular participation to combat sexual harassment is spot on. With a law criminalizing sexual harassment still in debate, deterring mechanisms almost absent and incidents multiplying in the streets every day, there is no immediate alternative to a grassroots response.
Every woman has a story to share in her domestic place, her working place or even the private places of her mind about the horrors of being sexually assaulted, be it physically, or verbally. Some assaults are so piercing that one cannot get away without sharing them or externalizing them.
Even those of us who choose denial by subscribing to the constructed fact that harassment is only part of a bigger horror in everyday Egypt, failed to remain distant and less concerned. Instead, talking about harassment, mapping it and consistently expressing its woes, through a communal strategy, become a survival and resistance mechanism.
Filling in the gaps of legislation
The use of technology and specifically web 2.0 tools in this battle is also spot-on. Tools such as interactive maps, Twitter,Facebook and others create a more democratic cyberspace where information flows from different directions and users become both consumers and contributors. "Technology gives freedom," Rizk repeats.
The use of maps in particular holds a significance, at least on an abstract level. In a country where public spaces are consistently observed and do not really belong to the public, an act of mapping attempts to restore some of this lost communal ownership of space. Mapping sexual harassment in particular becomes an active intervention into public space where the legal system, orchestrated from above, fails to operate.
Breakdown at day one – a positive thing
The resonance of Harassmap's work is already felt by its founders. "It's been very positive. The first day we launched the test phase, we had so many visits to our website that it shut down. We fixed the problem, but it's a good sign. We've got about 120 reports during the test phase. This has helped us improve our system," Chiao says. She adds that besides reports, they get lots of offers from volunteers for help.
 


For Rizk, the only challenge for Harassmap is to make its voice more heard through a clear message about what has to be done. In other words, more awareness about the work and how can one engage with it is due.
"There needs to be an accessible way for all women to interact with Harassmap. This might be necessary for the volunteers to partner with official channels to be able to advertize their service, especially on television. Otherwise, they become a link in a chain that is not complete."
Need of links to daily life
Danish-Arab Partnership Programme
KVINFO's programme in the Middle East and North Africa is financed by:

Mona Seif, a scientist and a blogger drawn to women issues praises the function of the map in creating a visual perception of how condensed harassment can be in certain areas. However, this representation process cannot stop there.
"The map needs to link somehow to everyday stories, in a way that shows how harassment is part of everyday life, on every layer. Dealing with harassment in the street for women is as normal as dealing with congestion for everyone. This message needs to be conveyed," she says.
Whilst a map showing the intensity of sexual harassment in certain areas serves to show its breadth, the importance of narrative as a serving context provides a much needed depth.
 
Reports can be sent via SMS to: 0169870900, or email to: report@harassmap.org, or through website comments at: harassmap.org