Patriarchy is the Greatest Obstacle to Peace in the Middle East
- Women were deployed to fight during the Arab Spring and were subsequently demoted to their homes. It was never the battle for women's rights, it was a fight for patriarchy, says Lebanese activist Lina Abou-Habib, the director of the feminist Collective for Research and Training on Development - Action, and one of the most notable voices in the debate on gender and equality in the Middle East.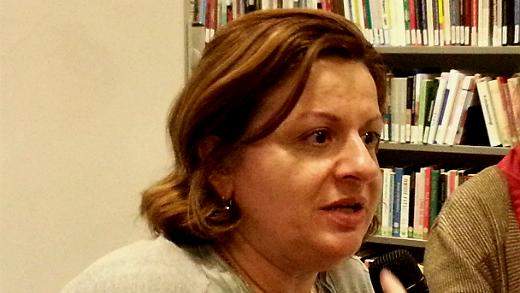 About Lina Abou-Habib
Lina Abou-Habib is the director of CRTD.A - The Collective for Research and Training on Development – Action, a Beirut-based regional organisation, which promotes women's rights in the entire Arab world.
KVINFO and CRTD.A has just entered into a partnership to build a regional network, in which a number of women's organizations in five countries will be able to draw on CRTD.A's extensive experience in work on gender equality and social justice. Read more about the project.
Read more about CRTD.A.
Check out Lina Abou Habib's profile on Who is She in Lebanon.
Read more about KVINFO's work in the MENA region.
As a child, Lina Abou-Habib was taught that women ought to be good homemakers. Rather than concerning themselves with science or politics or other serious matters, women should focus on being wives and mothers. This was during the 1970s, and when, at the age of eighteen, she graduated from a Catholic girls' school in Lebanon, she was one of only two pupils from her class who did not immediately marry. Since then, the changing economic situation in Lebanon and the neighbouring countries has led to an increase of women in the workforce.
"But schools still do not encourage women to pursue education, and girls are not taught the fact that women and men are entitled to equal rights", she explains, when KVINFO meets her during a visit to Copenhagen, where she is doing a presentation on women's rights in the Middle East.
Today, Abou-Habib is the director of the feminist organisation CTRDA, The Collective for Research and Training on Develpment – Action, and she is one of the most notable voices in the debate on gender and equality in the Middle East. She believes that the struggle for women's rights has come to a halt – and she does not beat around the bush when pointing out the culprits responsible for the inertia with regards to gender equality:
"It is high time, we call it as we see it. The Axis of Evil is constituted by patriarchy and the ideologies, which support patriarchy – militarism, religion, and capitalism. Patriarchy is the obstacle to peace in the Middle East and North Africa."
Lina Abou-Habib speaks in a firm voice, her words are resolute and devoid of hesitation.
"Women were deployed during the Arab Spring and subsequently demoted to their homes. It was never a battle for women's rights, it was the struggle of patriarchy. And now, women's freedom and being has come under pressure. There are movements keen to dehumanise women, to turn women into slaves."
Women – The First Victims of the Arab Spring
During recent years, there has been a disquieting increase in all forms of violence against women in the Middle East and North Africa. At the same time, there has been a consolidation in the region of the political forces who call into question or take exception to international human rights. Women were the first victims, explains Lina Abou-Habib:
"Women were the first victims of the so-called Arab Spring. When the revolts began, the protests were romanticised and glamourised. However, everybody were well aware that such a swift and radical change would render life difficult for women and minorities, and pose a threat to individual liberties. The region was not ready for such a change, and the only political forces which came well prepared were the Islamists."
"Voting is such an easy thing to do, particularly if you have never voted before in your entire life – voting almost assumes a cleansing or therapeutic function. And then afterwards, the hard work – transforming institutions and rendering society democratic, inclusive, and equal – begins. In the Arab countries, the tiny social space, which allowed people to vote, was mistaken for actual democracy. But democracy does not signify substituting one totalitarian regime for another."
Then came the war against women, says Lina Abou-Habib. A violent war against women's bodies, women's presence in the public sphere and everything women represent. In Egypt, the sexual violence against women increased with the rise of the rebellion. Security forces performed "virginity tests" on female protesters, and gang rapes became an almost daily occurrence in Cairo's Tahrir Square. In Iraq and Syria girls and young women are abducted, abused, and sold as sex slaves in the souq of Mosul, and several countries in the region do not consider women as citizens on an equal footing to men.
"How can one fathom that girls and women are being traded, forced into slavery and marriage, beheaded and stoned to death? It is hard to believe that in the year 2015, the entire world is not completely appalled and up in arms over this. Particularly since the West is involved. We must ask ourselves how we have contributed to the creation of an environment, which supports these forms of behaviour. Why would anybody leave a European capital, travelling to a country they can hardly place on a map in order to kill other people?" she asks with reference to the radicalisation of Muslims which is also occurring in the West.
The Fight for Gender Equality Must become a Global Struggle
The Charlie Hebdo attack in Paris, the execution of 21 Coptic Christian Egyptians in Libya, the three young Muslims shot and killed in February by a declared Atheist in North Carolina, they are all indicators of how something has gone seriously awry.
"We are living in a time of violence. Everything we do is carried out within a contexts characterised by militarism and radicalisation. We must ask ourselves where we went wrong. We have a shared responsibility but most importantly – we have all contributed to the consolidation of patriarchy. Feminism is global, and it is high time that fight for gender equality becomes a global struggle."
According to Abou-Habib, religion plays a significant part.
"Religion is being used to justify the oppression of women, committing violence against women, killing women."
"All religions must be modernised in order to adapt to democratic societies. Every belief system which supports ideology at the expense of individual liberties, and which is not rooted in human rights, must undergo modernisation. This goes for all religions. In the end, this is not a question of who you are but a matter of your inherent right to a life of dignity, enjoying the same rights as everybody else. Secularism is the only way to ensure this right. A dominant religion cannot achieve this."
Lina Abou-Habib believes achievements in gender equality have stalled since the last UN conference on women's rights, the 1995 Beijing conference. Since she emphasises how the struggle for gender equality has come under further pressure from extremist forces in the MENA region, it is reasonable to ask her how she maintains her motivation and the dedication to the struggle for gender equality:
I have worked for women's rights since the 1980s. While it is truly an uphill battle, we have, nevertheless, made noticeable progress. While we are now faced with new challenges, when facing an entity such as ISIS, this is not the time to call it quits. If ever there was time to be active, resistant, motivated, and ready for action – that time is now. There are forces, which put our entire planet in peril. The February terrorist attack in Copenhagen has demonstrated that terrorism knows no boundaries. North and South are fighting the same battle, we are all faced with the same threat." 
A Backlash against the Women's Struggle
According to Lina Abou-Habib, it is particularly important in the Arab world to raise awareness of how society functions for the benefit of men in terms of laws and traditions. The struggle for gender equality has been taking place since the 19th Century:
"Women in Egypt and elsewhere in the Arab world struggled against the headscarf in 1919. However that struggle has remained largely undocumented and poorly presented. So today, it is really bizarre and frustrating to hear people supporting women wearing the headscarf. It is really a backlash against women's rights."
Lina Abou-Habib elaborates on her views vis-à-vis the argument that women wear the headscarf of their own volition:
"I disagree. I believe the headscarf sexualises women, it objectifies women. And I believe it is important to consider carefully the definition of 'choice'. How do you exclude factors such as peer pressure? How do you exclude the fact that the headscarf protects a woman against harassment from her own circle of acquaintances? We have to understand how this so-called choice may just as well be a political decision, an answer to her experiences in Danish society. At the end of the day, it is a discriminatory practice. How do we define 'choice' in such a context?"
Lina Abou-Habib is angered by what she calls the notion of 'Islamic exceptionalism' – that people in the Muslim world should only be able to strive for a certain level of political and social rights.

Danish-Arab Partnership Programme
KVINFO's programme in the Middle East and North Africa is financed by:

"It is true, women in our region must fight the state, religious institutions, society, and their own families in order to simply gain recognition as fellow citizens, as people with the same rights as everybody else. It outrages me when people tell me that women in the Arab world should not expect to gain the rights they are entitled to, simply because of their cultural background. We are all entitled to the same rights, regardless of who we are and where we are from."
 
English translation by: Maria Zennaro