Prime minister and presidential candidate in march 8. manifestation
"We have come a long way but we haven't achieved our goals yet", said Danish Prime Minister Helle Thorning-Schmidt to a roaring applause in her opening speech at KVINFO's celebration of the International Womens Day in the concert venue Vega in Copenhagen.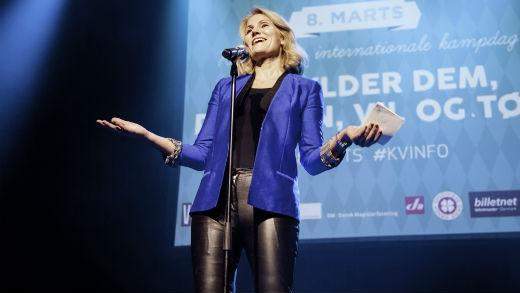 "Gender equality means that all talents are used in our society", she continued. "It means that gender is not a limiting factor, but that all are set free regardless of gender."
The prime minister was one of several speakers at the event, which had the slogan: "We celebrate the ones who are able to, who are willing to and who dare". Another speaker who more than fit that description was Kalthoum Kannou, the first Arab woman presidential candidate. She spoke about the situation for women in Tunisia and in the Arab world and the backlash that women have sufffered after the Arab Spring. 
The program also had several musical acts including a surprise concert from one of Denmarks most popular female performers, Marie Key, who has just released a new album. Her intimate delivery of a selection of her songs exited the 900 strong audience.
On stage was also Emma Holten who has rapidly risen to international fame by starting a debate about the private nude pictures her former boyfriend has distributed on the internet and about women's rights to their own bodies. Scholar Tine Rostgaard from Aalborg University delivered facts and knowledge about men taking a share of the parental leave and both the stand-up comedian Mads Brynnum and the Danish-Norwegian-Brasillian dancer Daniel R. Nilsen in his crinoline delivered their thoughtful and highly humerous takes on gender roles and stereotypes.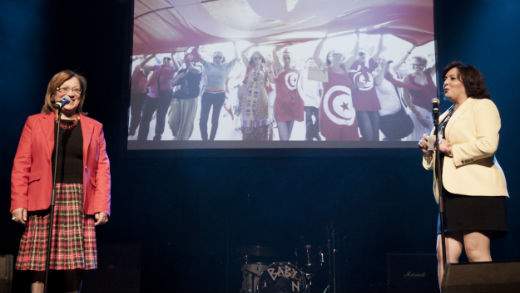 Kalthoum Kannou on stage with president and co-founder of LET (Ligue des Électrices Tunisiennes). Photos: Begga Svavars