Spotlight on women experts
Lebanon just published a database of women experts to enhance the visibility of women in media and business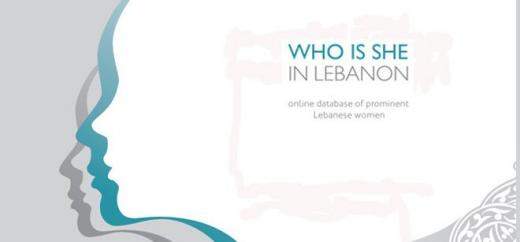 It is hardly a secret that men dominate the public sphere in most parts of the world, also in the Arab world.  The past generation, however, women have gained ground as their access to education and jobs has grown. This accumulated talent, however, is not reflected in for instance media exposure and business leadership. As much as journalists, business leaders or politicians would like to be able to access highly qualified women, information about them can be difficult to come by. To fill this gap, The Institute of  Women's Studies in the Arab World in Lebanon has launched Who is She in Lebanon?, a database of outstanding women in the arts, sciences, business and activism. 
Lina Abou Habib, high-profile director of the non-governmental organisation Collective for Research and Training on Development-Action is included in the new database. 
"Who is She in Lebanon? will ease getting hold of women experts, because at the end of the day men are more visible and more exposed than women.  And because my organization works with women's rights and equality, it's only natural to collaborate on the project with the Institute of Arab Women's Studies." 
Who Is She in Lebanon?  has been created in collaboration with KVINFO, The Danish Center for Information on Gender, Equality and Ethnicity. Since 1996 KVINFO has offered an easy-to-access database of women experts in a wide range of fields, and it has proved an efficient tool for raising the profile of women in media, business, organizations and government. 
I will increase my own visibility
Benja Stig Fagerland, director of the influential women-in-management organization Talent Tuning, is one of more than a thousand profiles in KVINFO's database. 
"I figure in the database to increase my own visibility and to ease my accessibility to journalists. I also want to make myself visible to other prominent women, so they can utilize my qualifications in relation to governing boards and management. In turn, I want to have access to a pool of highly qualified women, so that I can recommend them for lectures and business and board appointments."
The Danish journalist Stéphanie Surrugue of the daily newspaper Politiken regularly consults KVINFO's database for expert comments and fact checking. 
"I use the database to find out whether there might be a woman, who is an expert in the field that I am researching or writing about. I think it is important that both men and women are represented as sources in the paper's articles. After all, our readers deal with both men and women on a daily level, and it's important for the newspaper to reflect this."
Databases in an ongoing process
Who is She in Lebanon is still in the making and at the moment mainly consists of fairly well-known women in Lebanon, according to Lina Abou Habib. "If the database is to have an impact it must eventually branch out to women, who are really invisible. Because amongst women, not all women are the same and not all women have similar opportunities. In the near future the database should make a concrete effort to reach out to those less visible women and open up this space to them."
Building a database is an ongoing process, and KVINFO's database has gradually built its numbers up to include a diverse range of experts. 
Expert databases deflate the notion, that there is a lack of qualified women
"I am quite surprised by the number of women included in the database and their wide range of expertise.  More often than for expert comments I use the database to fact check specific women," says Stéphanie Surrugue. "Using the database also serves to jog my memory, so while I may not find the exact woman I am looking for, others I have heard of come to mind."

Danish-Arab Partnership Programme
KVINFO's programme in the Middle East and North Africa is financed by:

In the long term Lina Abou Habib thinks it is vital for Who is She in Lebanon to be inclusive of women in many different fields and with difference backgrounds. 
"I think it needs to break boundaries if is it to have a real impact. Essentially it needs to be inclusive. So I would like to see Palestinian women, migrant women leaders and young women from the gay and lesbian movement in the database. It's early days yet, but it has a lot of potential," says Lina Abou Habib.
Benja Stig Fagerland believes that a database of women experts in any country is both a powerful and effective tool to enhance the visibility of women.  It also serves to deflate the notion, that there is a lack of qualified women. "KVINFO's database, and now Who Is She in Lebanon? are obvious examples of the fact that there are many competent women, who want their qualifications to be utilized to the maximum."