'The revolution is not over when the president has left'
With their incontrovertible actions in a revolution that continues to rage, Syrian women have categorically won the right to representation and equality after the revolution, believes Maan Abdul Salam, Syrian activist and founder/owner of a now defunct book café and library in Damascus. But such efforts can all too easily be forgotten as the process of reform takes time – and always longer than expected, according to the man who gave up his job with BBC World to become a full-time campaigner for equality and women's rights.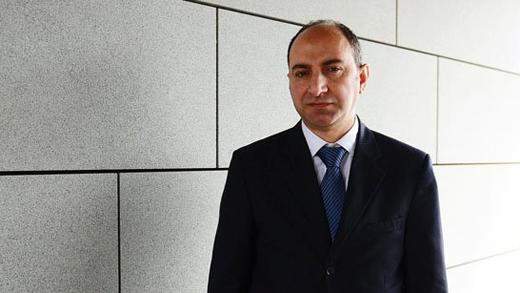 "I don't envisage a particularly bleak future for the women in Syria", tells Syrian activist and women's rights advocate Maan Abdul Salam. He is educated in English literature and has studied press freedom and democracy at various universities outside Syria. 
Maan Abdul Salam is the founder of the web magazine Al-Thara, which writes about culture, literature and research into women-related topics. The magazine is published by Etana Press, an NGO with its own publishing house, which supports activism in the civil society – primarily among the young – and which Maan Abdul Salam also founded. 
Etana was also the name of the book café that became a base for cultural and literary arrangements, opened by Maan Abdul Salam in connection with his activist work. The café is today closed, and Maan Abdul Salam now lives in exile in neighbouring Lebanon.
And, despite his objective, matter-of-fact tone, he remains an optimist. 
"The role that the Syrian women have already played in the revolution has gained them recognition. Their efforts have earned them their rightful representation in whatever comes next", he explains. 
Maan Abdul Salam is visiting Denmark to participate in a conference at the Danish Institute for International Studies (DIIS), and in connection with this, he is visiting KVINFO to exchange information and experience. It was here that WoMen Dialogue had the opportunity to talk to him.
Attitudes towards women have changed
According to Maan Abdul Salam, Syria's women have taken part in the revolution – and continue to do so as we speak – on an equal footing with the men – as regular fighters and providers of provisions, as well as protectors and carers. The have even been women demonstrators. And during the entire revolution the faces of the women have been at the forefront of media coverage and people's awareness. 
This participation, he explains, has helped to shake up social structures and shift society's view of women. In other words, it has changed the way that men view women. 
"One specific example is those women who were raped by government troops and who became pregnant as a result. No one judges of shuns them. On the contrary, the majority of people are concerned more with how they can support and help these women, not an expected turn of events and one unimaginable before the revolution. In a number of demonstrations, we've seen many members of both sexes marching with the flag of equality, and this is yet another sign that men are now also acknowledging the fact that there exists legally sanctioned discrimination", emphasises Maan Abdul Salam. 
The slow pace of the reforms
Naturally, he is aware of the worries that many now share – worries based upon the fact that the active participation of women in other Arab countries has not lead to increased women's representation in political and other decision-making bodies. But in Syria, Maan Abdul Salam believes that time is the key differentiating factor. As he himself says, the revolution is not over just because the president has left the country or stepped down vowing not to stand for re-election. 
"Achieving the results that everyone is talking about will always take longer than expected. And people are quick to forget. It's true that there is a risk that the role of women in any sort of revolution will get forgotten, but it's precisely because of this that we need to keep reminding each other and talking about it", he tells. 
Maan Abdul Salam himself began talking about women's rights just over ten years ago. At that time, he took a pivotal decision.
Changing track
One evening at the beginning of 2001, Maan Abdul Salam gathered together all of his friends at a Damascus café. He had something important to tell them. 
The announcement, for which everyone had been gathered together to hear, was that from that moment onwards he would commit himself to the fight for women's equality and women's rights. This provoked a few spontaneous smirks from a couple of his friends, but the majority were understanding and backed him up in his decision. 
At one point, Maan Abdul Salam worked as a producer for BBC World. As he could not afford to give up his job, he opted to go part-time until finally in 2003 he had sought and received enough financing for his activities that he was able to resign completely. 
A sense of duty and enough freedom
"I felt duty bound. I felt that I actually could make a difference and had enough freedom to act. And by freedom, I mean that I had both an understanding of fear and knowledge of injustice", tells Maan Abdul Salam. 
He had become well acquainted with injustice through his work with BBC World when they visited women's rights activists, prisoners in Syrian gaols and others. Often, it was 'that type of story' that he ended up covering, without it, however, being a conscious choice or because his work required it of him. It just happened. 
But in 2001 he made a decision to fight these injustices in other ways. 
Witness to discrimination
"It's difficult for me to explain. You could say that I felt personally connected to the case, as I had no legal, activist or other experience with the issue. I knew nothing at all about women's rights; but I knew something about discrimination", he explains. 
The discrimination Maan Abdul Salam describes, and that which he reacted against back then, included the fact that Syrian women were not allowed to travel abroad without the consent of a male relative, could not open a bank account, only inherited haft of their husband's estate, and that women who had been raped could watch their attacker go free if he married his victim. Legally sanctioned cases of discrimination. 
And among the injustices remained the fact that women and culture, according to Maan Abdul Salam, are the first to suffer the impact when a country is hit by conflict. For cultural and structural reasons. Women who lose their husbands (or whose husbands lose the ability to work due to injury) find it difficult to find work because society considers only men as being the main breadwinners in a family. And those women who suffer assault find it difficult to get the support and help they need, making them even more vulnerable.
Giving his all for democracy
From 2001 to today (where he cannot live in Damascus so currently lives in exile in Beirut), Maan Abdul Salam is behind a varied range of activities and projects aimed at promoting women's rights and equality. Conferences, websites, workshops, training of students and journalists, study groups, a library and a book café are just some of the initiatives he is behind, all of which are supported by a diversity of international donors. 
His focus today is not merely women's rights, but also the rights of children and young people, as well as human rights in general. For all of these contribute to the creation of a healthy democracy, which for Maan Abdul Salam is the overall goal. 
In another attempt to pinpoint why exactly it is that he firstly chose to work with women's rights, with little pre-knowledge of the area, he explains, "rights are an essential component of a democratic society, In reality, this is true for women, children and all minorities. But I believe that changing the legislation that discriminates will affect the democratic sphere." 
Rights are about giving, not taking away
Maan Abdul Salam believes that change is a process that is already happening within the society that, for the first time in history, is undergoing a revolution of this kind. And no, it is not the first time have been taking part on an equal footing with men ; nevertheless, Maan Abdul Salam still believes that this time it will be different and lead to something better. 
"It's true that women have participated in revolutions and demonstrations earlier in history, for example, against colonial powers.
Danish-Arab Partnership Programme
KVINFO's programme in the Middle East and North Africa is financed by:

And there have also been small pockets dotted throughout the history of Syria where women have had more freedom to work, speak, write, move and dress as they wished. But the reason why this didn't lead to long-lasting equality back then was the dictatorships that followed. And that makes all the difference. Now there's a chance again – a chance we need to grab with both hands. We need to talk to people and convince them." 
Maan Abdul Salam pauses to think once again. And as the tension seems to fade from the muscles in his face, he says: 
"We need to talk to them about what 'rights' means. It's all about making room – not about taking away and making demands."