Today, We Stand Together
Nine months ago, I turned 18, thereby obtaining the right to vote in the upcoming parliamentary elections. In reality, however, women's voting rights were obtained decades before I was born – today, precisely 100 years have passed since then. Today, 5 June 2015, is Constitution Day.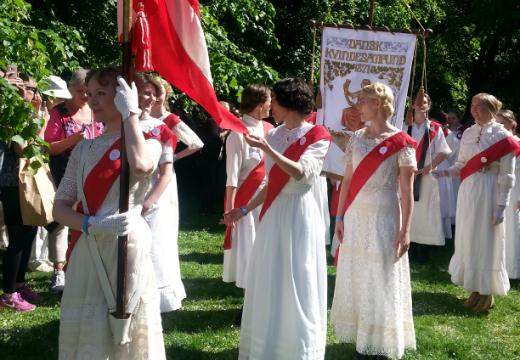 Sunshine and Suffragettes
It is half past nine and there are suffragettes on the train. I am thinking that it must be hot – wearing long black (and white) dresses on a day where the sun is already scorching. This train of thought is quickly replaced by respect, however. How cool is it for these women to have made such an effort on this day. I ask if I may take a photograph, they smile replying: "Yes, of course!". We chat for a while before getting off the train at Østerport Station. They are not the only women turned out in convincing and lovely outfits today – and there are plenty of other friendly and talkative people about too.
Today, I witness a huge sense of community I did not even know existed. Walking down towards Grønningen, the street facing the Citadel, we are joined by women and men of all ages who are all taking part in the Constitution Day Procession. Many people are dressed in historical costumes, most people are dressed in white. It is as if the weather has been so awful this year in order for the sun to shine so much stronger today. I imagine the reverberations from 1915: Then 23-year-old Nanna wrote about the procession, calling the sunny weather "a good omen".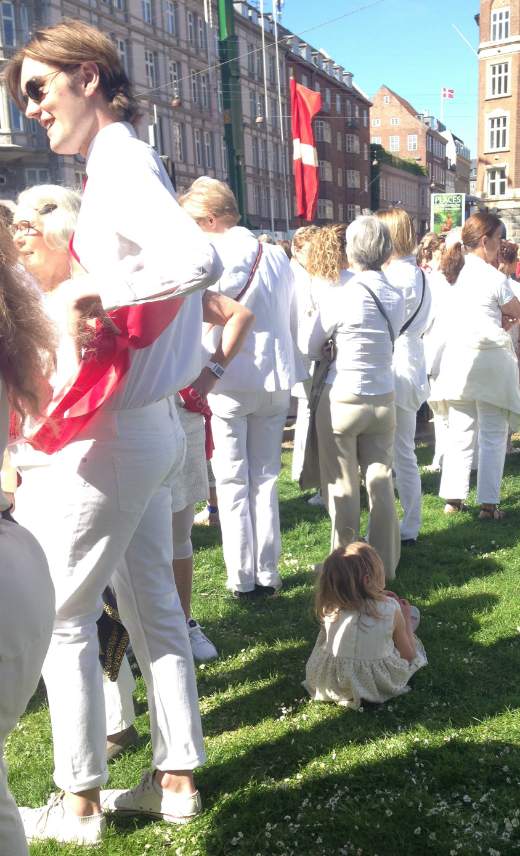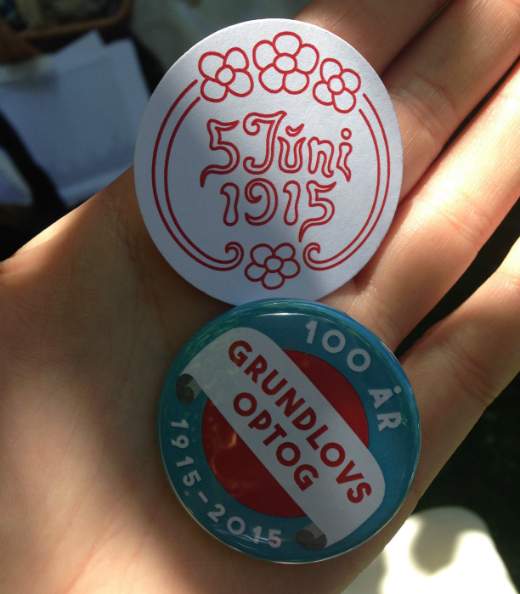 There is something in the air while we are waiting for the procession to kick off. Political buttons are sold, people are chatting and laughing. There is a pronounced sense of community: We are all gathered here to celebrate the centennial, celebrating together. I am speaking to a woman who has brought her daughter along – they are both dressed in white, ready to lead the procession today with the Danish Society for Women. Today, it is incredibly easy to chat to other people. In Copenhagen, I am accustomed to everybody wearing headphones, staring into the ground, keeping to themselves.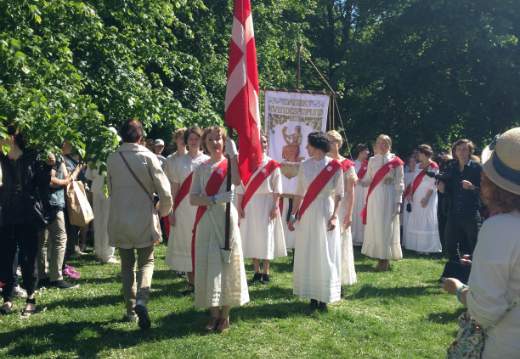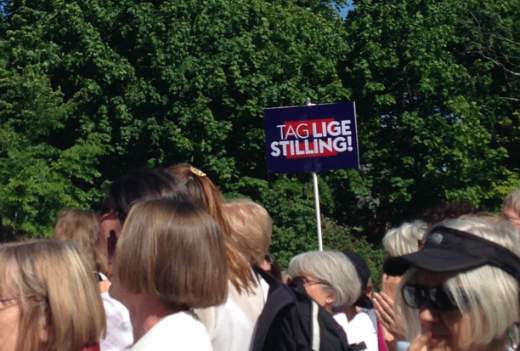 Take a Stand for Equality!
The procession kicks off, the beautiful contingent from the Danish Women's Society at the very front, all dressed in white dresses and scarlet ribbons, just like in 1915. Everybody is delighted, save for a single driver who is trapped by the pedestrian traffic, unable to edge his car past us. We all ignore him.
Copenhagen has never been a more beautiful sight than today, as we are walking in town, sharing the solemnity and community of the occasion. During the past few weeks, I have taken the female candidates on numerous election posters for granted. Today, I double check. There is Samira Nawa, Sisse Marie Welling, and Josefine Kofoed. Ida Auken is everywhere. And over there, it is the Prime Minister – Denmark's first female Prime Minister.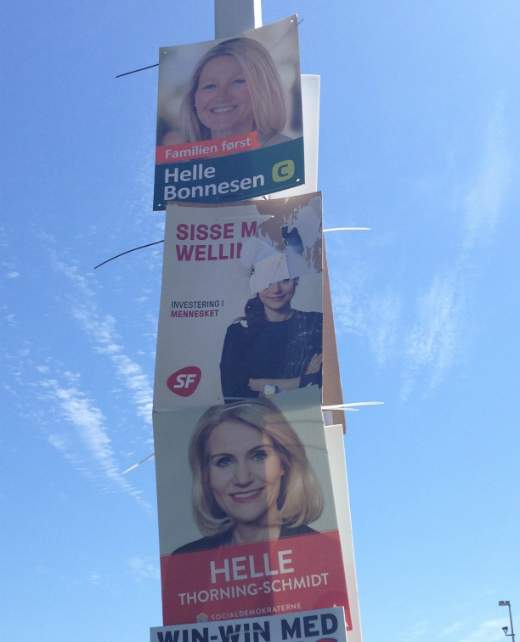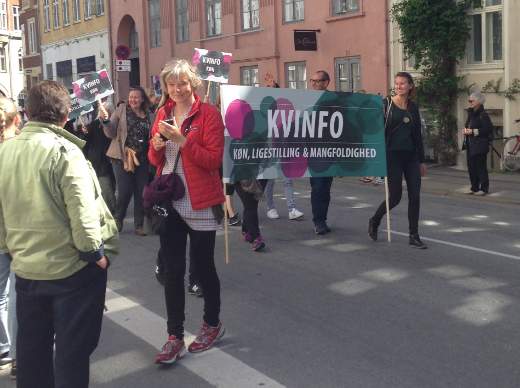 The large groups such as KVINFO and the Women's Council are here. As is a tremendous number of other groups. There are banners from LGBT-groups, The Neighbourhood Mothers, labour movement networks promoting racial equality, and many others groups. Politicians from all parties are present: those the Socialist People's Party, the Alternative, the Red-Green Alliance, and the Social Liberal Party are most easily spotted in the crowds. We are all present: All kinds of women – and quite a few men – cheer on as the procession glides past. Everybody is smiling. It is a festive occasion.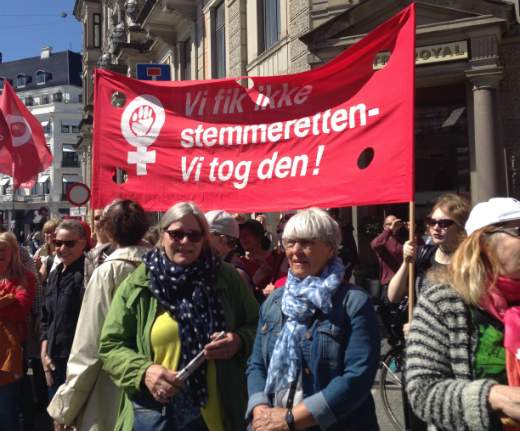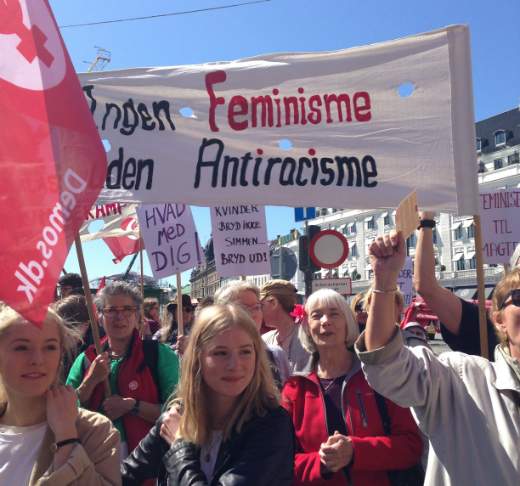 Of course everything is not quite perfect just yet. We encounter a banner from the Women's House. It says: "We Didn't Receive the Vote – We Seized It!", reminding us all of the 30-year struggle to include women in representative democracy. "No Feminism without Antiracism!", it says on another banner. The women carrying the banner are dancing and singing. I am thinking, we need to keep this in mind: It is impossible to separate one struggle from another. We are fighting for women from all cultures and religions. Gender inequality is intrinsically connected with many other forms of inequality. A fact, which is easily forgotten on a festive day such as today.  
Carnival
As we reach the Grand Square in front of Parliament, the procession assumes a certain solemnity. The flags of Parliament are blowing in the wind set against the blue sky. As we approach the Grand Square, we hear music, louder and louder. There is a sombre mood adding to the solemnity of the occasion. The women at the head of the procession walk slowly, in unison, in their white dresses. I shiver.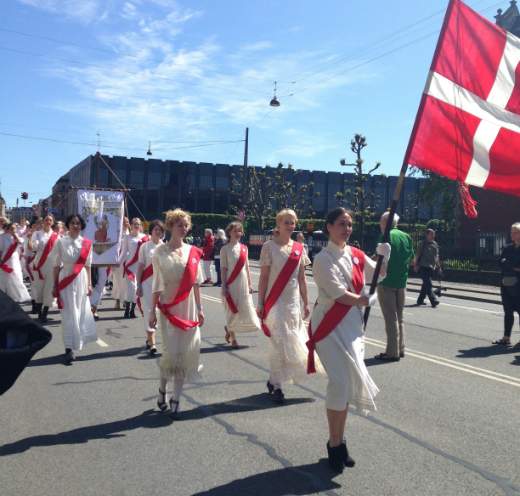 I overhear tourists talking about the procession. "What is this? A Carnival?", they ask one another. I am laughing, while wishing they understood the meaning of the procession. I wish everybody knew the meaning of these past 100 years – and that it has been a worthwhile struggle. And that the struggle is not yet complete.
A Festive Occasion for Democracy
We file past the Grand Square, entering Parliament Square. As I throw myself into the crowd, I am stuck with an eternal problem of mine: That I am still as short as my 12-year old self. It is OK: The woman standing in front of me explains who is up on the stage.
Facts about Women in Danish Politics
Lisa Holmfjord from the Danish Women's Society gives a speech, Queen Margrethe gives a speech, Mogens Lykketoft (Speaker of the Danish Parliament, transl.) gives a speech. The audience loudly applauds every five seconds – not least when Holmfjord says: "The worst stance to assume is that of indifference". Or when the Queen quotes her grandfather who – after signing the Constitution – told one of the women cheering in the crowds: "I believe you ought to go home and prepare some coffee for your husband". Obviously, it would not be amusing if someone said something to that effect these days, but today we are all laughing because it occurred such a long time ago. Laughing is good: Indicating the absurdity of sexism.  
Lykketoft calls it "a festive occasion for democracy", and the party kicks off next to Parliament and in the Royal Library Garden. There is another party in the Grand Square – Distortion (the annual Copenhagen street festival, transl.) is well on its way by noon. It is amusing to witness the clash of two celebrations: The modern and the historical celebrations. Everybody is happy, everybody parties
Struggles for Gender Equality and Pocket Money
There music and ice cream. In the Royal Library Garden there is speech-karaoke. They will treat me to a shot of Gammel Dansk bitter if I read a passage from Emma Watson's HeForShe-speech at the UN. Although I suffer from a bad case of stage fright, I gather it is not too shabby to pretend – if only for thirty seconds – to be Time Magazine's "Feminist of the Year". I am proud of myself for doing it, until three young women discard their shirts to give the Pussy Riot speech, which leaves me feeling quite inferior.
My self-confidence suffers another blow as I attempt to make a paper boat in KVINFO's booth. Hmmm. The directions were just fine until my paper triangle was suddenly supposed to transform into a square. I throw more than a few glances at a small boy who finishes making his boat in ten seconds. As a matter of fact, there are quite a few children making paper boats decorated with their equality wishes. The future generation of feminists are hard at work already.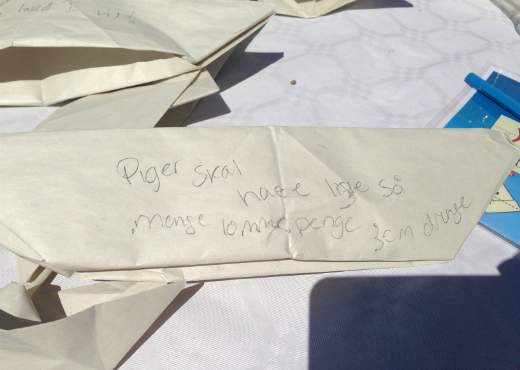 I steal a glimpse of one of the boats: "Girls and boys must get equal pocket money!" I am smiling. An early awareness of unequal pay is surely a good thing. 
I write my own equality wish on my failed paper boat and move on. I am listening to speeches, chatting to people, getting sunburned. It is a nice day.
Gender on the Quay
It is four o'clock, people are starting to slow down. We congregate on the Quay in front of the KVINFO building for the "Gender on the Quay" event. The band, "We at Sea" is playing: People are having a few beers, greetings flying through the air. The mood is relaxed.
People pay attention when Nina Groes (the director of KVINFO, transl.) mounts the rostrum. We gather closely around her, many people elevate their iPhones in order to take pictures. She speaks about the arguments raised against women's right to vote in 1915 – such as women not having the brain capacity required for an understanding of politics. Everybody laughs. But as Nina explains, this argument is still in force today. Not in politics, but in many other fields: Literature, science, etc. Women make less money than men, and jobwise women are not equally represented among the higher echelons of society.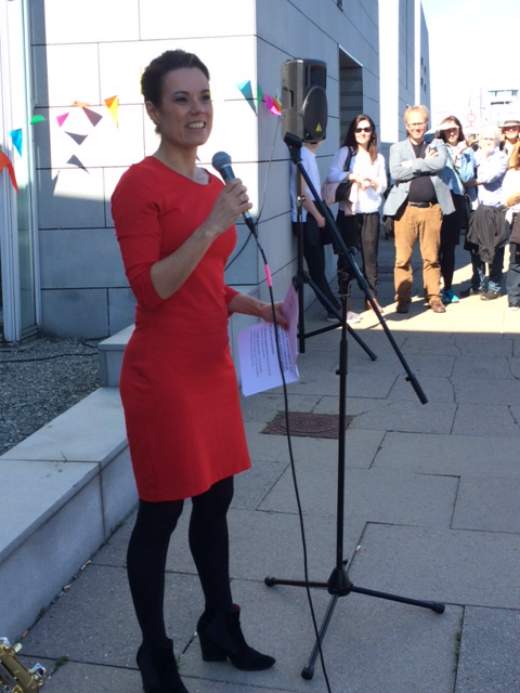 It is a day of nostalgia. Everybody speaks about the struggle for women's right to vote. Hearing about the history of the struggle for gender equality is a daunting experience. One is almost left with the impression that we ought to just lean back and be grateful for what we have. That there is nothing left to fight for – because we are infinitely better off than women were a century ago. But do we not owe it to them to use the influence they bestowed on us to continue the struggle? 
In her speech, Nina Groes says: "The struggle for gender equality has a future". YES! I yell, almost.
The struggle did not come easy back then, and the battle has not yet been won. But it is bloody amazing to be a part of it – especially on a day like today where solidarity is in the air, a day where everybody is talkative, and everybody looks proud. We are doing it together.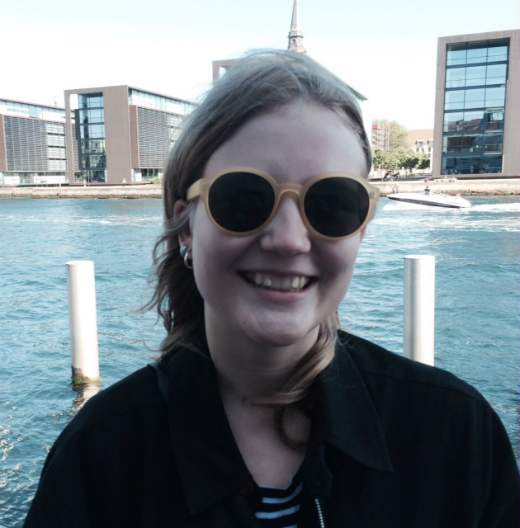 There Are Still Things Worth Fighting For
On my mother's 18th birthday, my grandmother told her to vote for a woman. Because there was always a qualified woman. Because it was necessary. While it may no longer be necessary to vote for a woman, we still have a long way to go. I have not yet decided whether to vote for a woman or a man. But I will be voting for a feminist.
I received a text message from my grandmother in the evening after the centennial procession: "Hello Anna. I hope you had a nice day. There are still things worth fighting for :->". When I think of the women who struggled for women's right to vote I feel a tremendous sense of respect. I respect the first women who entered politics. And I respect all the "ordinary" women: All the women who – regardless of their political viewpoints – have used their right to vote since 1915. As I put my first x on the ballot I shall remember the many women who fought for my rights 100 years ago – and I shall remember that there are still things worth fighting for. 
The day ends as we launch our paper boats. On my boat is written: I wish that nobody should feel limited by their gender whether at home or in the workplace". The boats only go so far before sinking. A little girl tells me the boats are racing to sink first. And then the boats will be devoured by small sharks in the Danish waters. Oh well. I am convinced our equality wishes will reach further than the paper boats. We are ready to continue to struggle tomorrow, each in our own way, together.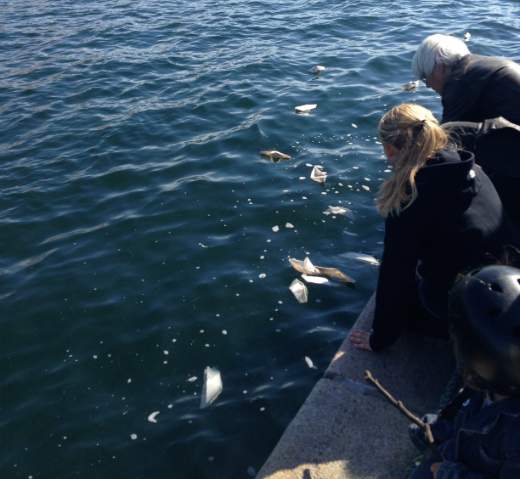 English translation by: Maria Zennaro