Trade Union Network Breaks through Gender Barriers
A unique women's network proves that while it may be difficult it is by no means impossible to break through the gender barriers of trade unions. Women's access to these fora may even further their political participation. The male leadership of the trade unions must be convinced that they will not lose power – rather everybody gains collectively from women achieving high offices of power, says Ahmed Al Motamassik who is associated with the network, Réseau des Femmes Solidaires pour l'Égalité.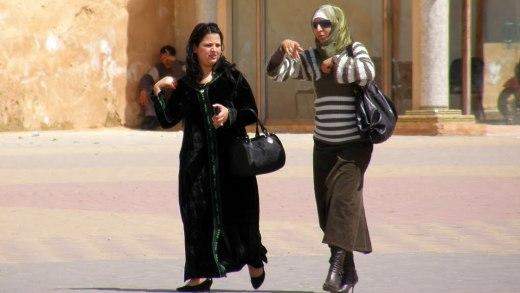 Actually, there is nothing new under the sun. Women assume responsibility for basic functions and the tedium of routine tasks while men are awarded the top jobs. They naively suggest that "women either do not want the top jobs or they lack the competence to pull it off".
Does this sound familiar? The chorus of "women's own choice" is performed in every language across all continents. That is, until women begin to change the lines of the chorus. Which is precisely what the organization RFSE (Réseau des Femmes Solidaires pour l'Égalité) have begun to do in Morocco. This unique Network brings together female trade unionists from three Moroccan trade unions in order to dismantle the mechanisms which limit access to influential posts in the trade unions and curtail women's political participation.    
"The trade unions are aware that women are a key to the renewal and continued influence of the trade unions thanks to women's potential for higher rates of trade union activism than the men. However, this renewal is hindered by the history of the Moroccan trade union movement with its particular culture of sacrifice and women's own sense of identity", explains labour market sociologist Ahmed Al Motamassik.
He is one of Morocco's most experienced gender equality experts with more than thirty years' experience supporting the Moroccan women's organizations' endeavours to structure and mobilize the Moroccan women's movement. He has lectured female political candidates and newly-elected female MPs, training them in public speaking as a means to elicit respect and public recognition in democratic fora.
A Space for Political Participation
Ahmed Al Motamassik in Brief
Ahmed Al Motamassik, 65 years old, was born in El Jadida, a port city 100 kilometres to the south of Casablanca. He received his M.A (Philosophy) from Mohammed V University in Rabat and began his career as a high school teacher of philosophy.
Appointed to the commission to reform the teaching of philosophy in Morocco in 1976. He concurrently obtained a degree in business administration from ISCAE, Morocco, and received a PhD in Education from the Sorbonne in Paris.
He has subsequently worked as a consultant and lecturer in gender and equal rights, including the training of female candidates to elected assemblies in Morocco
The network came about thanks to a group of female trade unionists with whom KVINFO has collaborated since 2010 in order to support the female steering committee's work promoting women's political participation in the Moroccan trade unions.
Certain sectors of the Moroccan economy are primarily women's domains, e.g. the health service where women constitute more than fifty percent of the workforce. However, women's participation in the formal labour market is generally low and the numbers have decreased from 30 to 25 percent since 1999. Unemployment strikes women at a higher rate, 21 percent for women vs. 11 percent for men, and, on average, women earn 27 percent less than men carrying out similar jobs of equal value.
Women are notably employed in the private service sector. Their over-representation in the informal labour market and in part-time positions is an impediment to trade union activism. Conversely, dissatisfaction with labour conditions also serves as an incentive for women to become trade union activists.
Furthermore, a study carried out by Ahmed Al Motamassik demonstrates that the trade unions attract women who have become disaffected with the political parties and their reluctance to include women. Trade unions thus constitute an important locus for increasing gender equality and consolidating women's political participation in Moroccan society. That is, if women are able to gain access to the decision-making process.   
A Gender Politics Network
Indeed, this is the very purpose of the network, which has brought together 78 women from three trade unions, including the oldest and largest trade union, Union Marocaine du Travail (UMT), the Fédération Démocratique du Travail (FDT), and SNESup, the trade union for university graduates and lecturers.
"In the trade unions too, Moroccan women often stand isolated and divided. The women's network attempts to create a shared awareness of gender politics across the trade unions," explains Ahmed Al Motamassik.
Morocco has made great strides in terms of gender equality legislation. This progress has so far not been translated into actual notable changes in gender equality. Morocco's new 2011 Constitution defines gender equality as a fundamental value and the Electoral Law stipulates that women be assigned 15 percent of the electoral seats. According to Moroccan labour law, gender-based discrimination is not permitted, but efforts to further gender equality are often the case of "one step forward and two steps back", writes Ahmed Al Motamassik in the report, "Femmes Syndicalistes sous Surveillance" (Female Trade Union Activists under Surveillance), a study of women's access to leadership positions within the trade union movement, prepared by Al Motamassik as part of the network project. 
"Some trade unions try to secure a 20-25 percent women's quota in the governing bodies. But this is a far cry from gender parity. And women's representation is inversely proportionate to the level of influence," writes Ahmed Al Motamassik.
Women Accept the "Paradigm of Impossibility"
Moroccan trade unions do not carry out systematic gender-based statistics and there are thus no comprehensive studies of women's representation in the governing bodies of the trade unions. A few single facts do, however, reveal part of the picture. E.g. while women constitute 29 percent of employees at universities and other institutions of tertiary education, according to Al Motamassik's study, they constitute a mere 15,4 percent of the members of the national board.
His interviews with female trade union activists demonstrate that the women are demoralised by having to battle against their own colleagues as well as the reaction from Moroccan society at large, which takes exception to women spending too much time in meetings and working outside the home.
"The network aims to address the women's identities. They have internalized what I like to call the "Paradigm of Impossibility" i.e. that it is categorically impossible to gain access to power and decision-making. They are influenced by the patriarchal cultural mores, which assign women the responsibility for the family and position men as the breadwinners. And when the women do get involved with trade union activism they are subjected to a continuous guilt complex, while at the same time having to confront the culture of the Moroccan trade unions which is coloured by the history of the trade union movement in Morocco," explains Ahmed Al Motamassik. 
Women's Role Models: Thatcher, Merkel, and Bhutto
It is a culture informed by what Ahmed Al Motamassik has coined the "culture of victimhood" of the Moroccan trade union movement.
"The trade unions were founded in very masculine sectors characterized by physically demanding labour such as the phosphate mines and the sugar refineries. During French colonial rule, trade unions were forbidden and after the 1956 independence, the new regime perpetuated the policy of suppressing the trade unions, which were considered part of the political opposition. Trade union activists were imprisoned before and after independence, and they risked their lives and freedom by participating in industrial action. This has created the ideal of the trade union activist who is willing to sacrifice everything – including the family – and be perpetually at the disposal of the trade union. This is a decisively masculine ideal which excludes women," he explains.
About RFSE
Réseau des Femmes Solidaires pour l'Egalité (RFSE) is a network for female trade union activists encompassing three Moroccan trade unions. The aim of the network is to consolidate women's positions within the trade unions and further their chances of becoming union representatives.
RFSE came out of a network initiated by KVINFO and founded in 2010. Leadership training of female activists is one of many activities undertaken by the network.
At least 49 of the women who have participated in the leadership training have subsequently been elected as union representatives.
The project which led to the creation of RFSE is part of KVINFO's work under the Danish-Arab Partnership Programme financed by the Danish Ministry of Foreign Affairs.
Read an interview with three trade union activists from the project here
The role models mentioned by the female trade union activists are typically either masculine iron ladies such as Angela Merkel or Margaret Thatcher – who was hardly supportive of trade unions – or Benazir Bhutto, Pakistan's first female prime minister who was assassinated during an election rally in 2007.
"Many female trade union activists are torn between the expectation to sacrifice all for the trade union and make themselves available at all hours and the counter-expectation of being equally available to their families," says Ahmed Al Motamassik.
Women Are Viewed as the Weakest Link during Negotiations
Al Motamassik explains how a "masculine, androcentric ethos" entails that women are considered the "weakest link" in the trade unions.
"Men tend to believe that female negotiators more readily give in to employers' demands during negotiations. And they believe women are more vulnerable to pressure from the counterpart whether that be in the form of unwanted sexual advances, allusions to their dressing provocatively, or suggestions that they are rotten wives. Women are to a large extent prevented from participating in negotiations or official visits. Women are thus not only excluded from decision-making bodies due to the glass ceiling. Women are also prevented from gaining the experiences necessary in order to successfully stand for election to executive positions," explains Ahmed Al Motamassik. 
The women analyse these processes within the network. Ahmed Al Motamassik has designed a training programme addressing self-esteem and articulation of competences, conflict resolution, and gender mainstreaming based on the conclusions presented by the network.
The analysis of power struggles and theories of power constitute an essential element of the training programme in recognition of the fact that women's access to positions of power and influence is limited by men not willingly ceding their own influential position in the trade unions.
More Power to Women = More Collective Power
"Our intention is not to create a confrontation between men and women. This would merely affirm the view among men that increased power to women entails a diminution of their own power. This is the typical notion of power understood as having "power over". However, in our model of understanding power means having the "power to". Seen from this perspective, more power to women automatically entails more collective power to the organisations which reinforces their performance capabilities," says Ahmed Al Motamassik.
This point of view is gaining traction because the trade union leadership is well aware that of the need for change and renewal if the unions are to remain relevant. Merely six percent of the Moroccan workforce has a trade union membership. Women represent a considerable potential in terms of boosting trade union membership as well as the recruitment of new trade union activists.
"The RFSE-Network organized a seminar for male trade union leaders where they prepared a plan of action for placing women's representation at the top of the agenda internally in all three unions. Broadly speaking, we also need to focus on gender roles within the families which limit women's trade union participation and activism. In this way, the ideas may permeate not merely the internal culture of trade unions but the Moroccan society at large," says Ahmed Al Motamassik.  
The 78 founding members of the network have concurrently initiated local training programmes in three Moroccan cities, Marrakech, Kenitra, and Meknes. The women's network is designed to expand like ripples of water mobilising increasing numbers of female trade union members throughout the country with the aim of furthering women's representation in decision-making bodies and promoting gender political awareness of gender equality in the labour market.
"We Are on the Right Course"
Moroccan women have successfully gained access to the traditionally male preserve of the trade unions in Morocco.
Danish-Arab Partnership Programme
KVINFO's programme in the Middle East and North Africa is financed by:

"The women from the network have slowly started to rise through the ranks of their respective trade unions and, in some cases, other fora as well. This is proof that it is indeed possible to create a gender-equality dynamic by extending networks and raising consciousness. We are on the right course and in a position to clearly see the road ahead of us," says Ahmed Al Motamassik.

English translation by: Maria Zennaro