Tunisia gets unique gender parity election law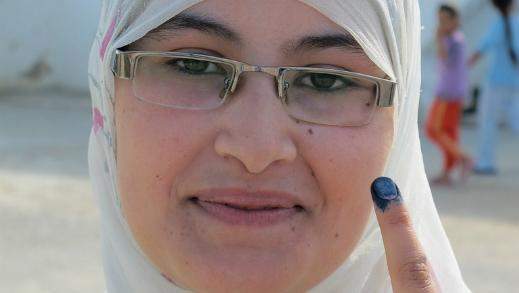 Local elections are due in Tunisia next spring and it will be a landslide victory for women!
Because of the new election law the coming local councils will get a much more gender balanced composition.
The passing of the election law is a clear victory for the strong women's rights groups in Tunisia.
"LET has been very focused on the advocacy campaign that we conducted regarding the law of parity in the municipal elections. Fortunately, It was voted by a majority in the parliament in favor of a horizontal and vertical parity", says Besma Soudani who is co-founder and leader of KVINFOs partner organization Ligue des Électrices Tunisiennes ( LET – the league of female Tunisian voters).
Parity means that the parties have to nominate an equal number of men and women on the election lists. It has no direct quota for how many seats women will get, in contrast to a number of other countries, which have used quotas to safeguard women's representation.
Also the national election law has a requirement for parity, and that resulted in women getting 31 percent of the seats at the parliamentary elections in 2014 – the highest share in the Arab world.
Still, the new municipal election law takes the concept one step further. The parliamentary elections showed a clear pattern of the men getting the first slot on the election lists and the women relegated to number two. Thus, a party getting only one member from a constituency would almost always elect a man.
The new election law demands that the parties have to reserve the top slots for women in half the constituencies. So the parity in the municipal elections will be both horizontal and vertical, as is demands gender parity in the number of candidates as well as in the top candidates.
The law is unique worldwide and it is expected to make a huge difference, especially in the poorer and more traditional south and interior parts of Tunisia.
Tunisia has a unity government composed of three secularist parties and the moderate Islamist Ennahda party, and the election law has broad support across the political spectrum.
The law is "a further step towards increasing women's participation in decision making and management of local authorities, and a recognition of all the women who are very active in their local areas", spokesperson for Ennahda Yusra Ghannouchi says to the internet news service Middle East Eye.
The passing of the municipal election law is the third victory in a row for LET's advocacy for women's rights. They also succeeded in getting significant passages into the new Tunisian constitution and the election law regulating the parliamentary elections in 2014. 
Photo: Noeman AlSayyad for UNDP at the election for the constitution assembly in 2011.