We Are Making a Difference Here
Rasha Al-Khazaleh works with Jordanian women who are subject to violence and vulnerable Syrian women and children in Northern Jordan. Rasha Al-Khazaleh and volunteer Amneh Al-Sihamat feel morally obliged to do this work, which is an integral part of their identity. Photo: Jens Juul.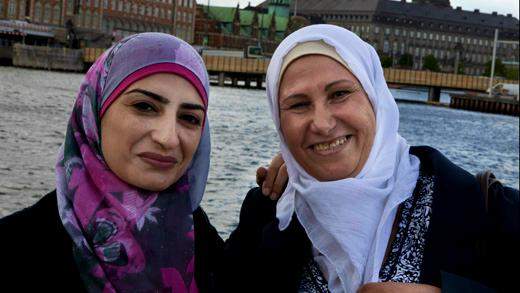 Jordanian Women's Union
The Jordanian Women's Union was founded in 1945 in Amman, Jordan, and has existed in its current state since 1990. JWU is one of the most influential women's rights organisations in the region, collaborating with a host of international and national partners, including KVINFO.
JWU promotes equal rights and women's political rights in Jordan. Furthermore, JWU runs one of just a few women's shelters in Jordan, as well as several mobile and stationary medical clinics, and a capacity-training programme, which offers vulnerable women the means to provide for themselves. The NGO also offers free legal assistance, psychological counselling, and advice for women and families.
Read more on the JWU web site
Rasha Al-Khazaleh is a social worker in Irbid, Jordan's third largest city, in the north of the country close to the borders with Palestine and Syria. The conflict zones have created a huge flux of refugees, particularly from Syria. According to UN estimates, more than 500,000 Syrians have sought refuge in Jordan. Much of Rasha Al-Khazaleh's work focuses on the Syrian refugees. She finds that while there is much work to be done with respect to women's rights, the women refugees and their children, however, constitute a particularly vulnerable group in acute need of assistance.
– There are many challenges facing these women and children. The children are often sent into child labour, which renders them vulnerable, and they experience discrimination in the schools. That is the reason for our work in the schools where we teach the children how to cope peacefully with diversity, explains Rasha Al-Khazaleh.
Rasha Al-Khazaleh is a social worker with the Jordanian Women's Union (JWU), a women's rights NGO. JWU was founded in 1945 and is one of the oldest and most established nationwide organisations in Jordan. JWU offers legal assistance, psychological counselling, and medical services. They also support women who are subjected to gender-based violence and they run training programmes for women promoting economic and political independence. Several of their programmes are run in cooperation with KVINFO.
JWU was one of the organisations pushing for the 2010 ratification of an 18-year minimum age of marriage for women in Jordan. The law is intended to protect girls from underage marriage, a widespread practice in the region. However, Rasha Al-Khazaleh is now witnessing how underage marriages are carried out in the refugee camps under the guise of 'informal marriages', a practice which exploits a loophole in Jordanian law whereby an imam officiates a formal religious marriage ceremony, which is then only officially registered once the girl has reached the age of 18. Consequently, very young teenage girls are de-facto married yet have no legal rights, including in the case of divorce. 
Engaging the Women is Difficult
Rasha Al-Khazaleh notes a general challenge to her work in the refugee camps as well as in her daily work with Jordanian women: In a fundamentally patriarchal society such as the Jordanian it is difficult for social workers to gain women's trust.
Women in Jordan
Read an article from Social Watch about the political opposition to JWU's women's shelter in Amman.
Read the UN report on the extent of gender-based violence in Jordan.
Read in article in Women's News about the problem with informal and underage marriages in the Syrian refugee camps in Jordan.
Read UNHCR's tally of Syrian refugees in Jordan.
Read UNHCR's tally of Syrian refugees in Irbid, Jordan.
Rasha Al-Khazaleh spends many working hours responding to calls made to the JWU-hotline in Irbid. The hotline is JWU's most popular service and as a social worker, Rasha Al-Khazaleh counsels vulnerable women. The counselling is primarily of a legal and psychological nature, and domestic violence and parental custody of children after divorce are some of the most common topics. Violence, however, is the most widespread problem, she explains.
– Our work is challenged by the fact that the women are afraid because we also talk to the other party to the conflict, i.e. usually the husbands. But when we are approached by a women subject to violence, we are obliged to contact the perpetrator and attempt to mediate between the two parties. It is often a very complicated situation. And we have to explain to the woman that we do not merely work for her but for the entire family. Something, which may come off as a very insecure proposition to the woman subject to violence, says Rasha Al-Khazaleh.
JWU is promoting access to knowledge on women's rights and opportunities. Ideally, Rasha Al-Khazaleh would like to see a separation between state and religion in Jordan, in order for women's rights to be firmly entrenched.
– The separation of religion and state would enable us to change and amend the laws, such as the family law, the laws regarding parental custody of children after divorce, and regarding women's general mobility in society. As it stands, women are somewhat oppressed by our laws, explains Rasha Al-Khazaleh.
And when you say 'somewhat'?
– It is a manner of speaking. All women are oppressed by our current legislation, she affirms.
Scarcity of Services in Remote Areas
The Jordanian Women's Union has 11 regional branches throughout Jordan. The aim is to standardise the services offered. At the main branch in Amman, the establishment of a beauty salon and a canteen has been a thriving success. The canteen caters to business and private clients while offering vocational training to women. The beauty salon, which used to be run by one of Jordan's leading hair stylists, has become a popular choice for bridal parties. Both businesses offer vocational training for women in need of an independent source of income, enabling them to provide for themselves when they leave the centre.
Due to a lack of funding and local resources, the regional branches are not always able to offer similar vocational training. At the Irbid branch, there is a canteen run as a small-scale version of the canteen in Amman, but the beauty salon in Irbid has been shut down. While all branches may refer women to vocational training throughout Jordan, it is not always feasible for women to pursue this offer. 
The main branch in Amman is the only JWU branch, which offers a women's shelter. According to a recent UN report, there are three women's shelters in Jordan. Vulnerable women may stay for shorter or more extended periods at the women's shelter while their problems are resolved. When Rasha Al-Khazaleh is faced with particularly severe cases, e.g. trafficking, she refers the women to the women's shelter in Amman. The women's shelter has a limited capacity of only 20, so resolution to the challenges faced by battered women must usually be found within the family.
Amneh Al-Sihamat, a volunteer administrator with the JWU, explains that it has not been possible to realise the plans for a women's shelter in Irbid so far.
– The first women's shelter in the Arab world was actually established in Jordan. We would like to open another shelter in Irbid but it has been very difficult to find a suitable location. First and foremost, security is the main issue. It has to be in a secret location. We are working in areas characterised by tribal mores and traditions, so the security aspect is very important. Secondly, there's the question of funding. In order to establish and run a women's shelter we need seriously increased funding, explains Amneh.
Working to Make a Difference
Their work is more than simply a job to Rasha Al-Khazaleh and Amneh Al-Sihamat. It is an intrinsic part of their identities and they feel morally obliged to improve conditions for women in Jordan even if their work is encumbered by the increase in extremist Islamism throughout the Middle East and resistance on a local and national level.

Danish-Arab Partnership Programme
KVINFO's programme in the Middle East and North Africa is financed by:

– This is who I am. It is about our daily lives, it is about our existence as human beings. We have to strengthen the position and rights of women in society. This issue is not separate from our individual lives and our own problems, explains Amneh Al-Sihamat.
She is supported by Rasha Al-Khazaleh, who lists the accomplishments of the Jordanian Women's Union.
– We are very persistent, we do not give up. This is my eighth year working for the JWU. I have previously worked for other organisations but here I really feel that I am making a difference. We are responsible for a huge humanitarian effort. Only very few organisations in Jordan work for women's rights in the manner of the JWU does, that is down to earth. We have also contributed to legal changes, which have extended women's rights, e.g. changes to our family law. We have affected change so that women may keep in contact with their children in divorce cases. While they used to be able to meet with their children at our centre for a few hours, now the children are allowed home visits for up to five-six hours at a time, explains Rasha Al-Khazaleh. 
She concludes:
– Of course, we can always do more. We are working on it. We are opening more branches in remote areas. We consolidate our work by entering into partnerships with other NGOs. And we are continuously improving our services.
English translation by: Maria Zennaro