"We Need Women. Full Stop."
The Arab Spring and political reforms has led to more female MPs in the Middle East and North Africa – an increase thanks to a quota for women in many cases. KVINFO has met three MPs who believe female politicians are a necessary prerequisite for social change. They do not, however see eye to eye on the relative merits of a quota for women. Photo: Ibtissem Jbebli, Wafaa Bani Mustafa and Sabrine Ghoubantini. Photographer: Jens Juul.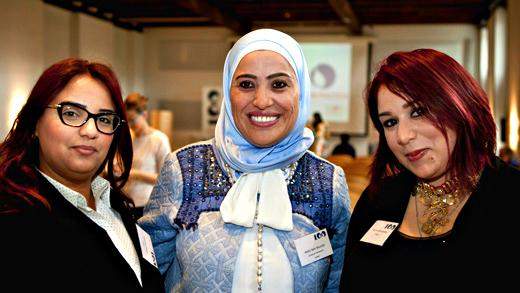 The transformations in the Arab world have also shifted the status quo in national parliaments. One sign is women increasingly claiming seats in the legislative assemblies.
This increase in female representation is partly due to quota systems. One would be hard pressed to find a single female politician claiming that women and men are currently offered the same opportunities in politics.
KVINFO has met three MPs from Tunisia and Jordan who all fall within the categories of 'young' and 'female'.
Election Victory despite the Tribal System
Equal Rights In Practice
KVINFO's rights map offers easy access to information on equal rights and women's rights in the Middle East and North Africa. Click to view
"The system of political support in Jordan is clearly tied in with the tribal system of the country. This is at an obvious disadvantage to women because historically women have not had power or influence in the tribal system," explains Wafaa Bani Mustafa, a Jordanian MP.
And yet she is a living example of success. When she was re-elected to Parliament in 2013, she secured her seat outside the quota system. Her constituency, the Jerash Governorate, has five seats in Parliament: Four seats awarded by direct election and one seat reserved for a woman through the quota system.
"I 'crossed the road'. In Jordan, it is difficult for a woman get elected – with or without a quota. However, to Jordanians it is no longer completely beyond the pale for women to be active in politics. The number of women in Parliament has slowly increased with the expansion of the quota. But it is quite unrealistic to believe the number of women MPs will increase unless the quota is further enlarged," says Wafaa Bani Mustafa, a 36-year-old law school graduate, whose 2010 election was thanks to the quota system.
Women and Youths – A Rare but Welcome Occurence
Women's active political participation is still a cause for news in Tunisia. According to Tunisia's new electoral law, the political parties' lists of candidates must have a 50-50 gender representation. Similarly, the new constitution affirms that the state aims at a 50-50 gender representation in all elected bodies.
When the new electoral law was implemented during the 2014 election, women only obtained 68 of the 217 seats in Parliament, amounting to 31 percent.
Sabrine Ghoubantini is one of the newsworthy MPs. She's a trained accountant and has been politically active since 2011, when Tunisia held the first elections after the Arab Spring. Now 27 years old, she was the third-youngest MP elected in the 2014 elections.
"I am considered odd and unusual. One does not often encounter a politician such as myself. There may be small differences of opinion around the world, but in order to assume a high office in society, one must usually be experienced. And experience often equals age. Of course, one must also, according to the majority of voters, be a man. This is what they are used to," explains Sabrine Ghoubantini.
Youth is Change
Ghoubantini does not merely encounter negative reactions to her age and gender.
"People are surprised when they meet me. But it is also a positive surprise. I am told that it is a good thing for the young generation to contribute to the political leadership of our country. People consider this as a source of hope."
"You have to keep in mind that Tunisia only recently witnessed a revolution. There is a general notion that all the politicians from the ancien régime are old-fashioned, and that there is a need for new blood, new ideas, a new generation in order to bring about the necessary changes. To most people – and voters – youth equals change. We are considered dynamic, creative, ambitious, and hard-working," says Sabrine Ghoubantini.
Quotas Keep the Door Open
Quotas in the Middle East and North Africa
A number of countries in the Middle East and North Africa have amended their electoral laws and constitutions, including quotas for women, in the aftermath of the 2011 wave of revolutions.
The Quota Project – the Global Database of Quotas for Women – offers an easy-to-use search function, which outlines the various national systems of the countries of the world.
While Tunisia instated a new electoral law, which includes a quota system in 2011, Jordan revised its laws in 2012. The 2013 election saw women claim 18 of 150 seats in Parliament, or the equivalent of 12 percent.
This came about as the result of a quota system, which reserves 15 seats for the female candidates claiming the highest number of votes. A further three women were thus elected beyond the numbers stipulated by the quota system. Wafaa Bani Mustafa, a firm proponent of the quota system, is one of these women. 
"Quotas keep the door open to women. The core question is this: Would we have the same number of women MPs without the quota? In Jordan, we would have merely three women (the three women elected without the aid of the quota system, (ed.), perhaps even fewer. Civil society has stronger foundations in Tunisia for example, so the numbers perhaps would not slide as much there," she says.
"I am a strong supporter of quotas for everything in Jordan. I have been working on an amendment to our investment laws, stipulating a lower tax bracket for companies where women employees constitute a minimum of thirty percent of staff. The amendment was ratified by Parliament but was stopped by the Senate. I really believe in quota systems because we are not merely facing political and economic challenges but cultural issues too. Men have led this country, business, and politics for the past 100 years. Women have only now begun to join in," says Wafaa Bani Mustafa. 
Quotas Are a Necessary Evil
Ibtissem Jbebli from Tunisia disagrees. She is a lawyer, 35 years old, and won her seat in Parliament in 2014.
"When it comes to quotas my views differ from most women in Tunisia. The revolution threw open the doors for women being able to demonstrate their abilities and commitment. Seen from this perspective, quotas are a step backwards. I prefer for women to demonstrate true commitment in order to get elected. Voters are humans too and are quite capable of figuring this out. We need neither gender segregation nor discrimination," says Ibtissem Jbebli.
Her fellow MP, Sabrine Ghoubantini, is in partial agreement, though she cannot imagine women currently gaining access to Parliament without a quota system.
"If we want to offer women equal opportunity, then let us try the quotas and see whether they actually offer women equal opportunities. It is not widely accepted for women to assume positions of power in the Arab world. "'I will not accept a female boss', is a widespread point of view," she says.
"Spouses and colleagues may very well accept women in leadership positions. The problem arises when this occurs outside one's immediate social circle, where women are viewed as emotional, weak, or hormonal, and as being ruled by the heart rather than the mind. This is what we are up against. So, I consider quotas a necessary evil in our environment."
Women Are Unwittingly Excluded
"I also find that many men unwittingly act in exclusive ways. They are used to all-male social networks. So, they habitually consider only other men when choosing a leader or a representative," says Sabrine Ghoubantini.
She is convinced that quotas are necessary in order to redress the historical gender imbalance in Tunisia. At the same time, she also considers the quota system as a legal appeal for women to become involved in politics.
"Quotas may provide an impetus for women who had not previously considered running for political office or other form of political activism. When quotas are stipulated by law, women are offered an incentive to get involved. I often hear women claim, "we are unable to do what you are doing." They use their children, families, fathers, or brothers as an excuse not to get involved. I believe the quota system may be instrumental in getting women involved in politics," she explains.
Quotas as a Means against Women's Low Self-Esteem
Ibtissem Jbebli has also experienced how women disengage themselves from politics.
"The real problem is not a whether we have a quota system or not. The task at hand is to create a positive environment where women and men have equal opportunities and are aware of this right. Women internalise their low status in society. They believe they are worth less than men. That is the true problem," she says.
Seen from this perspective, she finds that quotas are a useful tool despite her opposition to the quota system in principle.
"We will never get anywhere if we always have to start by convincing ourselves and others of our equal status," says Ibtissem Jbebli.
Capable Women Are Singled Out
Women's Political Participation
Tunisia and Jordan are two of the countries where KVINFO is engaged in increasing women's political participation.
Tunisia:
KVINFO has cooperated with LET, Ligue des Èlectrices Tunisiennes (Tunisian Female Voter's League) since the Revolution. LET worked hard before the ratification of the constitution and the electoral law in order to promote the quota system, which stipulates that women constitute fifty percent of parties' candidates. Before the parliamentary- and local elections, LET offered training and advice to a number of female candidates, some of whom were subsequently elected. Ibtissem Jbebli and Sabrine Ghoubantini have both participated in the training programme.
Read a previous article about LET's work and women in Tunisian politics in the Web Magazine.
Jordan:
In Jordan, KVINFO cooperates with the Jordanian Hashemite Fund for Human Development (JOHUD), which is active in three southern districts of the country. The project aims to increase women's participation in local politics by training local female leaders in the political system, human rights, countering negative views on women in politics, and achieving positive change in local communities.
Read more about the project "Increasing Jordanian Women's Political Participation"

The three MPs agree that there are higher expectations of women than men who engage in politics in the Middle East and North Africa.
"News stories will single out women who do well. For instance: 'This and that woman is so incredibly talented.' Men are never singled out in this way," says Ibtissem Jbebli from Tunisia.
In Jordan too, women aspiring to a political career are generally expected to be more capable than men.
"When women declare they desire to enter politics, they are immediately faced with queries concerning their abilities. It is as if women must be super heroines," says Wafaa Bani Mustafa.
She considers this a worrisome trend because is favours extraordinarily well-educated women, thus undermining the political representation of the entire population.
"We need 'ordinary' women in politics. Women from all walks of life, from the humanities, from finance, from business. It is dangerous to demand that we must all have special abilities. Simply put: We need women. Full stop."
On the Lookout for All Kinds of Politicians
Sabrine Ghoubantini from Tunisia also finds it essential that Parliament reflects the entire spectrum of society in terms of gender as well as socio-economic class and level of education.  
"We need all kinds of women coming from all kinds of places. Hopefully, the local elections will be a step in the right direction because a non-academic background is more acceptable for candidates at this level. Nidaa Tounes (or The Call of Tunisia, the secular party heading the government, ed.) is on the lookout for women who above all else will promote change and improvements in their local areas. These women may very well be non-educated women from more humble backgrounds," she explains.
Politicians Promoting Human Rights and Youths
As MPs, Jbebli, Ghoubantini, and Mustafa see themselves as promoting specific interests.
Due to her legal background, Ibtissem Jbebli primarily focuses on human rights. She is particularly interested in civil rights but is also on the Parliamentary Defence Committee.
Above all, 27-year-old Sabrine Ghoubantini considers herself a politician for the youth. Unemployment is rife among Tunisian youths who do not play an active part in civil society and rarely vote. According to Ghoubantini, "they feel left on the margins of a society which has nothing to offer them."
Female Politicians Are Good News for Women
Jordanian Wafaa Bani Mustafa is the first woman in Jordan to be elected outside the framework of the current quota system. She believes she has a specific role to play and possesses particular insights when it comes to women's issues.
"Another reason for keeping the quota system in place is that we need female MPs in order to change the laws which effect women. These are laws concerning discrimination, the question of citizenship for children born to a Jordanian mother and non-Jordanian father (citizenship is currently conferred on the basis of the father's nationality, ed.), violence against women, or the general support for women's rights."

Danish-Arab Partnership Programme
KVINFO's programme in the Middle East and North Africa is financed by:

"I actually do not consider this a problem specific to the Arab world. It is like this all over the world: We need positive action for women in legislative assemblies in order to secure women' rights and the laws, which pertain to women's matters in particular. Female politicians are good news for women. If there are no women promoting women's rights, nobody else will come forward and do the work. Who would they be?" says Wafaa Bani Mustafa.
English translation by: Maria Zennaro