When The Olive Turns … Organic!
Souhad has devoted herself to an important challenge: changing the image of Gafasai which is affected by the cannabis cultivation. Souhad aims at turning her ancestral land into a nursery for organic farming and parallel activities in order to revalue the village's legacy.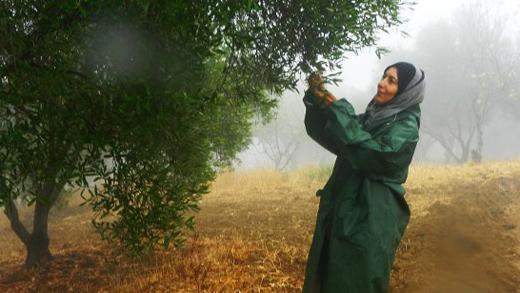 More success stories
Souhad Azennoud is only one out of a number of Moroccan women with a success story - read all of the stories in the book 'Moroccan women - invisible success stories'.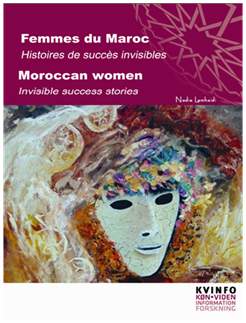 Leaving her executive position in a large multinational in Casablanca to return to Ghafssai in order to cultivate organic olives and engage in beekeeping, was a natural decision for this agribusiness engineer. She left the plush comfort of Casablanca for the constant back and forth between Casablanca; where her children continued their education, and Ghafsai where she grew organic olives. Twenty three years ago, Souhad, a young student in agribusiness in Nancy, was far from imagining that she would feel such an attachment to the land of her ancestors. Yet her father revealed his attention years ago, he has requested for an early retirement from IBM to return to "Bled" and engage in agriculture. He restored the old family home, bought new lands and plants of olive tree which have grown well. 
Souhad's multiple visits to the new family home, her proximity to the olive trees and the people of the region have strengthened her attachment to her land and raised in her a new passion: working the land and offering a new career to her father's olive trees.
Souhad believed in the inevitability of the protection of the area's natural qualifications. She has involved in a wide sensitization campaign that included peasants of the region in order to urge them to use manure. She also encouraged the children on environmental education and the preservation of local factions. The cooperative "Ariaf Kisan" has become a model in the region in the field of waste management, environmental agriculture and the protection of nature. Souhad, while employed at Nestle, decided to drop her 12 years career to devote herself to beekeeping. She bought hives and combinations and spent days learning this job.
"I am part of these mountains …" 
Souhad settled with her children and her husband in Casablanca, and quickly adapted to the shuttle Casa / Ghafsai. To cover a distance of 1300 km in each trip, is certainly not easy. Souhad, tamed this road, and its shortcuts: "I do not know if my presence, in the region, can be seen as a return, because in reality I never left it. I feel that I belong to these mountains."
For six years, Souhad worked in this mountainous region (the Rif), which is very fragile in terms of its ecosystems, to promote organic farming through instilling good agricultural practices to farmers, to safeguard the biodiversity of the region.
In 2007, Souhad initiated the project of' the cooperative "Ariaf Kissane". She was quickly identified and selected by her peers to be the president. The cooperative was composed of seventeen farmers, including 4 women and was an example in terms of olive cultivation. From picking to crushing, Souhad was there to train, control and congratulate the members of the cooperative. "I am very happy about the harvest this season; we have been able to convince everyone to adhere to this project which aims at the production of extra virgin olive oil of high quality, in compliance with international standards in terms of  the level of acidity".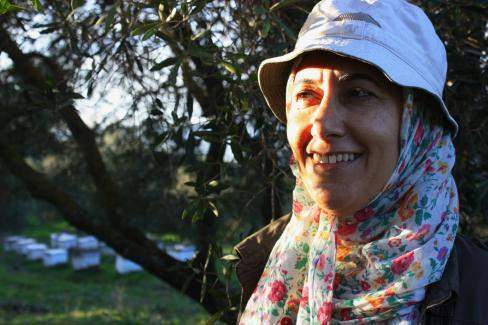 Facts about Souhad Azennoud
1962 Birth in Rabat
1987 Obtained specialized Master in Agribusiness from Nancy University (France)
1992 Worked for Nestlé group
2005 Worked as beekeeper in the region of Ghafssai .
2007 Creation of the Cooperative of Organic Olive Oil ''Ariafe Kissane. ''
Until she will be able to live on her honey, olives and oils, Souhad worked in an institution of English-language. This work provided her with the financial resources needed to invest more in agriculture and tourism, because in addition to the cooperative, Souhad has initiated a project of self-catering cottage. She received groups of tourists, for the most part of spring, all passionate about her ecotourism. "If agriculture helped people to work, and guaranteed stable resources, tourism has helped introducing this region which has certainly, with the dam, lost much in agriculture, but has enormously gained in landscape."

Danish-Arab Partnership Programme
KVINFO's programme in the Middle East and North Africa is financed by:

This devoted mother, passionate beekeeper and experienced olive grower had a great love for the land, and an enormous respect for nature. She purported to be guardian of this ecological balance enjoyed by the region of Taounate-Ghafsai. 
She produces fertilizers by herself and in a natural way, by using the "composting". She picks the olives by hand, and crushes oil under cold conditions: "my future challenge at the moment, for my cooperative, is to manage improving the production conditions to have it certified "organic".