Women Are Vulnerable – and Essential – in Emergency Relief Work
It is a well-known fact that women are victims in war. It thus comes as no surprise that women are also hurt by the current war in Yemen. Women, however, also take centre stage in securing the humanitarian relief efforts aimed at the victims of war.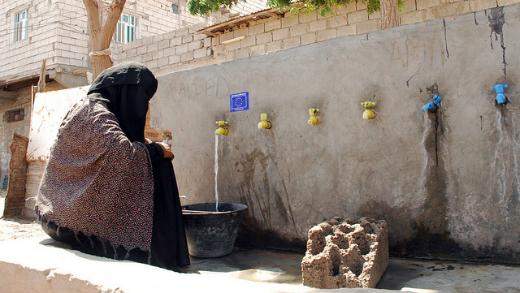 Despite being known primarily for their isolated lives carried out in the private rather than the public sphere, Yemeni women distribute cash, food- and water rations to internally displaced families and others in distress in cooperation with international relief organisations. They also carry out needs assessments. Women are essential to the requisite reconciliation and understanding of the parties involved, their rationale and motives at the local level, and in the private sphere. Places beyond the reach of international organisations.  
The Canadian academic, Maliha Chishti, warns that this cooperation may pose women as traitors in the view of the locals, who do not consider the international community a neutral player.
About the Conference
'Gender Mainstreaming and Women's Rights in Humanitarian Action' gathered academics, aid organisations, and NGOs in Amman, Jordan, in order to debate the interface between emergency relief and development work.
Focusing on the situation in Yemen, the conference findings were of relevance to other areas marred by war and armed conflict.
The conference was organised by Al Quds Center for Political Studies in cooperation with KVINFO.
These are only a few of the insights from the conference, 'Gender Mainstreaming and Women's Rights in Humanitarian Action', which brought together more than 60 participants, of which more than half were from Yemen.
The conference in Amman, Jordan, furthered dialogue between academics, international aid organisations and NGOs. Jordan houses the majority of refugees from Yemen.
Women's engagement with the distribution of the humanitarian aid has been pivotal since 26 March 2016, when the protracted political crisis in Yemen was replaced by outright warfare. Previously this year, Yemeni NGOs have formed the umbrella organisation, OMAM, in order to improve the coordination of the relief effort. OMAM calls on the warring parties to engage in dialogue and for the international community to take charge constructively, in order to resolve the conflict.
In spite of this, a coalition of Arab states headed by Saudi Arabia has – with the acquiescence of the international community – unleashed thousands of bombs on their impoverished neighbouring country. This was done to quell an insurgency movement from Northern Yemen, the Houthi, who has seized power in most of the country. The interim president, the legitimate leader in the eyes of the international community, has fled into exile abroad.
The Dilemmas of Combining Development and Relief Aid
The Yemeni participants in the conference expressed their frustration with the destruction caused during ten months of war. In a country such as Yemen, where the economy was already at an all-time low, war primarily constitutes a humanitarian disaster.
Women's organisations and other NGOs are committed to the development of Yemen – many have worked to promote the economic development of the country for decades, as well as improved and increased rates of education, good governance, and gender equality. Yemen has been a priority country in the Millennium Development Goals and Denmark has supported efforts to bring an end to child marriage.
At the conference, two representatives of these efforts, Ghaidaa Alabsi and Fatima Taher from Oxfam Great Britain, detailed the adjustments made to their project due to war. Rather than carrying out broad advocacy work in local communities, the project is now directly targeting internally displaced families in the Hajjah province. These families have defaulted to child marriages as a solution to their precarious situation – in terms of economy as well as security.
The project provides cash payments to families for carrying out specific tasks and offers small business loans on the condition of participation in courses promoting awareness of the dangers of early marriage to young girls. The two project managers stressed how this amended project plan was more efficient than the original project plan. Ghaidaa Alabsi explains:
"In one internally displaced family, the 10-year old daughter had been married off, against the wishes of her mother, and the family had already received the dowry. However, after participating in one of our classes on child marriage, the father called us to tell that he was going to work in order to pay the dowry back."
The project is also an example of how it's possible to modify a development project, in order to encompass an element of humanitarian aid. This is of utmost importance since international development organisations have, to a large extent, terminated their development programmes due to the war, leaving mostly relief work organisations such a UN's relief organisation, OCHA, and, as previously mentioned, Oxfam in the country. The message from Oxfam and others is that, situations which calls for emergency relief should not necessarily put development goals such as gender equality on hold.
This does, however, entail a dilemma because humanitarian aid is usually offered unconditionally and without differential treatment – something, which is no longer possible when development goals are applied in humanitarian aid. As illustrated by Oxfam's project, the distribution of aid is contingent on a contribution to the development goals of the project, in this case a reduction in the number of child marriages.
The International Community and Its Partners
Local NGOs cooperate with large organisations seeking to further their own agendas in order to ensure that aid reaches the people who need it the most. Adel Saleh manages one such local NGO, the National Foundation for Democracy and Human Rights (NFDHR), which has amended development projects to include a humanitarian component.
Aside from being the director of NFDHR, Adel Saleh is a graduate student in the master programme in 'International Development and Gender' at Sana'a University. This programme was developed in cooperation with Roskilde University and KVINFO. NFDHR is thus mindful of how projects carried out locally impact men and women differently and how local organisations are a prerequisite in order to channel international aid towards those most in need. To Adel Saleh, war is no reason to stop development work in Yemen.
KVINFO in Yemen
The civil war in Yemen has led to the cessation of most KVINFO projects in the country with the exception of two projects mentioned in the article:
A master's programme in gender and development in cooperation with Roskilde University and Sana'a University. The first class is expected to graduate this year.
A project seeking to prevent child marriages in cooperation with Oxfam. The initial project has been amended and adapted to the conditions of war and is targeting recipients of emergency aid.
Photo credit: EU's emergency relief organisation, ECHO.
"Some regions are wholly unaffected by the war. Rather than all development organisations pulling out of the country, they should continue working in these regions", he points out.
Maliha Chishti, Ph.D. from Ryerson University in Canada, used to direct the Hague Appeal for Peace. Prior to the year 2000, she participated in the process leading to the ratification of the UN Security Council's resolution 1325. The resolution calls for the protection of women during armed conflicts, women's right to participate in peace negotiations, and their entitlement to support in this endeavour. Furthermore, the resolution ensures that women are actually prepared for this process.  
Based on her previous experience as a gender consultant in Afghanistan, Maliha Chishti's cautions the conference that international aid may become a weapon of war and thus exacerbate the situation of women:
"Aid may end up causing more harm than good – because it may be diverted, manipulated, and politicised", notes Maliha Chishti.
Today, organisations wishing to take part in relief work are required to disclose how they will safeguard the interests of women – or rather, include a gender perspective. In many cases, the gender perspective is transformed into a focus on women. In a country such as Yemen the question regarding women's participation is already politicised. To Maliha Chishti there are a number of similarities between Afghanistan and Yemen:
"Women's share of humanitarian aid is not necessarily safeguarded by the international community. Even in conservative and strictly gender-segregated socities, women have access to these decisions through informal contacts to, for example, tribal councils."
For the women who were previously active in Yemeni civil society and the women's movement transforming their activities towards emergency aid work has come quite naturally. Bilqis Abu-Osba, lecturer at Sana'a University and one of the founders of OMAM, participated in the conference. She explained:
"Women's participation in peace negotiations at the national level is not a luxury. On the contrary, women's participation supports the search for viable solutions; similarly, women's participation in humanitarian relief work may contribute to resolve the problems at hand".
Not Merely Urban Educated Women
Women such as Bilqis Abu-Osba also believe in taking special measures in order to ensure women's access to their share of aid. Women must be included in the organisation and distribution of aid and – as a consequence thereof – women must be included in the on-going peace talks. So far, these peace talks have not moved Yemen any closer to a peaceful solution.
Bilqis Abu-Osba is a vigorous advocate of the rights of women in Yemen. She speaks English, is well-educated, and accustomed to moving in international circles. She is – in other words – the kind of activist, with which international organisations most easily cooperate. 

Danish-Arab Partnership Programme
KVINFO's programme in the Middle East and North Africa is financed by:

It is another recurring dilemma that, while cooperation with women such as Bilqis Abu-Osba is necessary and important, it cannot replace cooperation with the kinds of women that are typically beyond the reach of international organisations. These women may be conservative, they may work within the religious and ideological framework of Islam, they may lack the skills to navigate the landscape of international development, and they may only carry out activities in their local communities.
Yet these women are also significant to humanitarian aid, peace-making, and the development of countries such as Yemen.