Women Deliver through the eyes of KVINFO
During four hectic days Copenhagen was hosting thousands of activists from all over the world. Activists talking about women's and girls' rights and health.
KVINFO was off course present. See our collection of photos from the conference and our events during the week.
Photos: Sisse Stroyer and KVINFO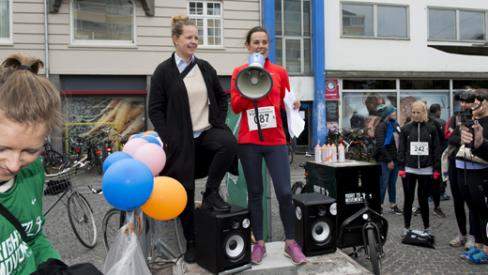 KVINFOs director Nina Groes and co-founder of Right to Movement Lærke Hein kicks off the Women Deliver Run – a run to promote the right to movement for all.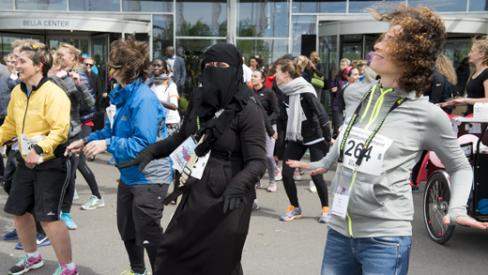 At the finish at the conference center the participants were met by DJ Rosa Lux and a Zumba work out. Most of KVINFO's partners, who were at the conference, also joined the Women Deliver Run. Among them Sofia Rais og Jalila Sadik from the Moroccan organization Droit & Justice. 

A number of iconic women's rights defenders spoke at the opening of the conference. Among them singer Annie Lennox, who has devoted a big part of her life to the fight against hiv and AIDS.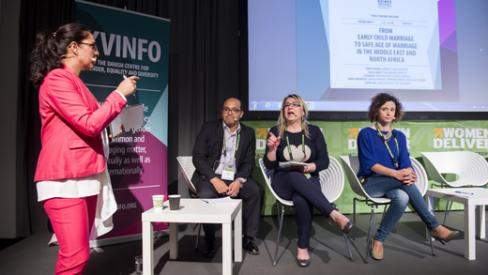 KVINFO's side event on fighting child marriage in the Middle East and North Africa. Among the panel was our partners Mukarram Odeh from Jordanian Women's Union and Sofia Rais from Moroccan Droit & Justice. From the latter organization Jalila Sadik also gave a heartbreaking story about her getting married at 16. Well known Danish radio host Rushy Rashid was moderator.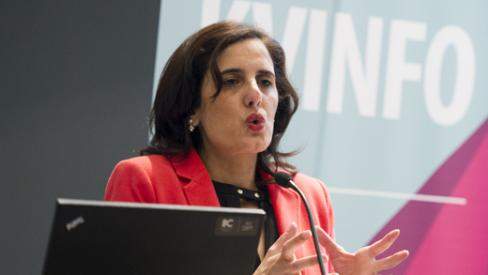 KVINFO's second side event on women's access to the labour market. Reem Aslan from the jordanian Sadaqa Network told about their work to secure child care facilities in the larger Jordanian companies. Lack of day care is one of the main reasons for the low rate participation on the labour market for Jordanian women.  force.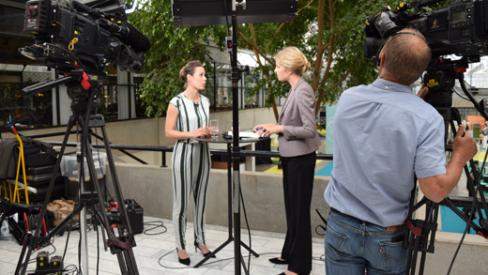 Women Deliver was also a golden opportunity to put gender equality and women's rights on the national media agenda. Here KVINFO's director Nina Groes is advocating equal rights live on national television.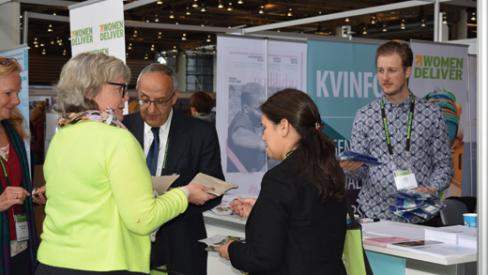 Along the many seminars and panel debates, there were rich opportunity for networking on Women Deliver. Here the secretary of the Moroccan minister of solidarity, women, the family and social development visits the KVINFO booth for a talk about our project with developing mediation in divorce proceedings in the Moroccan courts.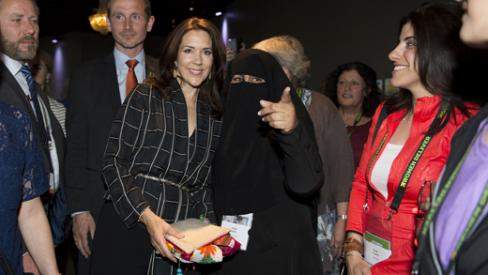 Wednesday evening saw a public meeting in the Tivoli Castle where all danish organizations promoted their work for both Women Deliver delegates and interested visitors from the general public. Crown Princess Mary visited and had a talk with Jalila Sadik from Morocco about her path from child bride to activist against early marriage.