WOMEN DELIVER's Danish CEO: ''We Must Change the World…''
Last week, Denmark was teeming with people fighting more or less for the same causes as KVINFO: equal conditions and opportunities for all. The international organisation, Women Deliver, held its fourth global conference on 16-19 May, under the slogan, "Invest in Girls and Women – It Is Well Worth It." Almost 6,000 politicians, activists, organisations, researchers, NGO's, business people, professionals, and royalty from 155 different countries signed up to the conference held at the congress and exhibition centre, Bella Center, in Copenhagen. KVINFO has interviewed Katja Iversen, Women Delivers Danish CEO.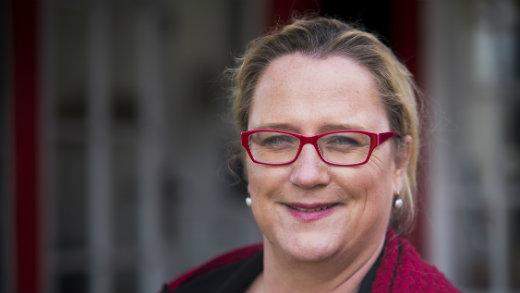 Two notable Danish women were at the forefront of the conference as it kicked off on May 16. One is very famous and a royal, HRH Crown Princess Mary is patron and thus officially opens the Women Deliver conference. The other is Katja Iversen, for the past few years she has served as CEO of the New York-based organisation, Women Deliver. Katja Iversen spoke at the opening ceremony and was scheduled to participate in several high-level debates during the conference. The level of ambition is sky high.     
We Are Changing the World
"We must change the world for the benefit of girls and women. This is our daily task at Women Deliver. Because this is the right thing to do, girls and women suffer from a lack of opportunities – this does not make sense from neither a human rights perspective nor from an economic point of view," explains Katja Iversen. 
An Indispensable Man
Katja Iversen is seated in one of two conference rooms facing the open office on the 8th floor of an office building close to Manhattan's theatre district, where 20 women are fine-tuning the conference programme, adding news to the website, and posting updates on social media. There is the sound of incessantly ringing telephones and the buzz of quietly hectic conversations.
The cancellation of a staff meeting is met with enthusiasm and a round of applause; they can all do with the additional half hour to complete their tasks. The only man in the office is seated behind a desk next to the entrance. He receives visitors, offers coffee, and sorts out practical matters in the office. "We could not do without him," says Katja Iversen with a smile. 
A Focus on the Numbers and Money
There will be a particular focus on economics in Copenhagen. The Women Deliver website contains a myriad of numbers and statements pinpointing the global losses due to the repression of girls and women. For instance, UNICEF statistics indicate that annual infant-mortality rates approach three million babies due to women's inadequate access to postnatal health care. WHO statistics indicate that 800 women die from pregnancy and childbirth. Every single day. And the World Bank concludes that the majority of these deaths could be prevented by increased investment in improved maternity clinics and the training of health personnel.
Equal Rights Equal Numbers in the Black
"Health care is very costly, and it takes a long time before investments pay off. This fact sometimes makes it difficult to convince politicians to go ahead with investments as they may well have left politics before the statistics prove that the investment made a positive difference. Everybody agrees that women should not die from childbirth, everybody concurs that children become at risk because families often fall apart when mothers die. Keeping the principle of women's productivity in mind, that is, their contribution had they survived, possibly speaks more directly to male ways of thinking or to investment decision makers," explains Katja Iversen. For this reason, she only used economic reasoning when she participated in the World Economic Forum in Davos, Switzerland this past winter.
Business executives get the point that women are better workers if they are not constantly pregnant. Since sex is not optional for women in many places, access to birth control represents a formidable leap forward.
The website substantiates the issues. One analysis from FAO shows how equal rights in the agricultural sector, i.e. the right to ownership and cultivation of arable land, would feed a further 100-150 million people compared to current levels of agricultural production. Another statement, from USAID, demonstrates the correlation between girls' schooling and the GDP; for every 10 percent increase in girls' schooling, a poor country's GDP will increase by 3 percent. This way of reasoning was further extended and debated during the conference.
A Focus on Solutions
At the Women Deliver conference, there was a range of side events, which focused on solutions. The usual keynote speeches, charting the wider perspectives on the issues, were supplemented by plenary debates. The aim of the 100+ presentations and debates was to bring best practice solutions to the forefront in order to inspire conference participants. During the final day of the conference, regional caucuses were held. These were meetings where 100 participants from the same geographical region had the opportunity to learn more about projects in neighbouring countries, network with a view to establishing partnerships, and where youths may speak to political leaders and business executives – and vice versa.
A Focus on Learning
"When we focus on solutions, we seek to bring together various people," explains Katja Iversen. "There are certain tendencies in Africa, and then a whole lot of exceptions to the rule. So, people from villages in Zambia sometimes has more in common with Cambodian villagers than people from the large African cities. Equally, people from the middle class may have more in common across borders than they do with poor people from the same country. Hence, beyond the geographical matrix, through which we view indicators such as child mortality, maternal mortality, birth control, and education, we also include themes such as the urban-rural divide, class, and poverty. The debates are moderated in accordance with a geographical principle while encompassing questions such as income and indicators of poverty."
Women Deliver is Expanding
This will be the fourth Women Deliver global conference, and there has been a steady expansion since the very beginning. The first conference took place in London in 2007, followed by Washington DC and Kuala Lumpur – while Jill Sheffield, the founder of Women Deliver still served as CEO. Katja Iversen has now assumed the reigns, however Copenhagen was not chosen as the site of the fourth global conference because of Katja Iversen's national background.
"Due to the expansion of Women Deliver, only a few cities are actually able to accommodate the conference. During the last round, there were three cities shortlisted and Copenhagen made the most convincing proposal when taking conference facilities, hotel capacity, transportation, security etc. into consideration".
Youths Constitute the Future
This year's conference has close to 6,000 delegates from 155 countries and a special effort had been made to attract young advocates by offering all-expenses paid bursaries and a special programme, which offered career guidance and networking opportunities.
"It is important to include youths," says Katja Iversen, "or we would not be able to tap into their thoughts and opinions. And it is important to offer them the opportunity to network with political leaders and business executives from their home countries and regions. In many places, there is no daily dialogue between the higher and lower ranks of society." 
Dismantling the Silo Mentality
Women Deliver was founded by Jill Sheffield. While she still serves as president of the organisation, she plans to retire after the conference in Copenhagen. The impetus to found Women Deliver came about more than ten years ago when she heard an Iranian woman's throwaway remark on the absurdly high levels of maternal mortality. Jill Sheffield decided to collate the numbers documenting women's realities and create projects in order to increase access to improved maternal health clinics with trained staff.
Jill Sheffield wanted to dismantle the silo mentality in order to further cross-sector collaborations for the benefit of the 225 million women who seek birth control in order to prevent further pregnancies. Since debates about girls and women are usually ushered off to the side, it was important to her that the Women Deliver conferences made an impression from the very start.
Shedding Light on Women
"Our conferences are held in the places where the EU and government meetings take place. It has to be a large and accessible venue with transparent glass facades, amazing light, and clean floors. We claim the space, this is important to the cause."
Jill Sheffield holds no reservations regarding the choice of Katja Iversen to carry the traditions forward and develop the organisation further: "I did not have a single second thought. She has the right background from NGO's, the UN, management, and communication. She is very knowledgeable and has the right approach. Katja Iversen is able to reach out and develop network across all kinds of barriers. But the most important factor is her immediately noticeable high levels of energy and dedication," explains Jill Sheffield. 
Network and Travel
Reaching out at the necessary levels surely requires stamina. Katja Iversen spends half the year travelling for her work, attending meetings with the UN and the World Bank, participating in debates and conferences and cooperating with partners spanning the entire globe.
Numerous high-profile partners contribute to the organisation of the Women Deliver conference. Approximately 70 organisations and business were present with exhibition stands at the conference centre. On May 18, when all conference delegates visited Tivoli Gardens, the Danish consortium on Women Deliver hosted a miniature 'People's Meeting' at the HC Andersen Castle affording the international delegates an experience of the popular traditions of democracy in Denmark. KVINFO was – naturally – a part of this event.

Photo: Thomas Arnbo/DI. English translation by: Maria Zennaro