WoMen Dialogue is now Kvinfo International on facebook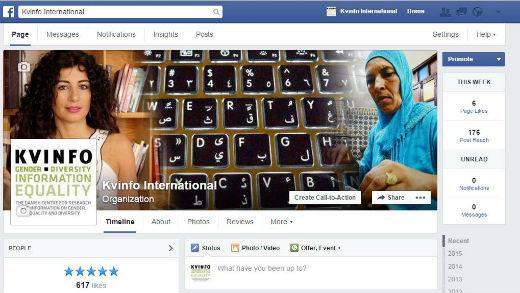 In December KVINFO's web magazine WoMen Dialogue was integrated in the general English language homepage here on kvinfo.org. At the same time the name was dropped in order to avoid the confusion that had been created by having two different web profiles with different names.
However the name WoMen Dialogue lived on for a while on the magazine's facebook page, but now it's also gone from there. WoMen Dialogue's facebook page has now changed its name to Kvinfo International. In addition to posts about the web magazine articles it now also hosts general news about KVINFO and other gender related stuff – just like on KVINFO's Danish facebook page.
One of the effects of WoMen Dialogue looking like a totally separate media was that it had a rather quiet existence on facebook. But the new name has changed that. In the less than two months since the name was changed Kvinfo International has gained more than 50% more likes and is now well past 600. Still not much compared to KVINFO's Danish facebook, but clearly on its way up.