Women Heading For the Top of Tunisian Politics
Kalthoum Kannou is the first female presidential candidate in Tunisia. She is a living symbol of the country's peaceful transition to democracy. But she does not stand alone. LET, an organisation supported by KVINFO, trains Tunisian women in achieving political leadership positions, and several female candidates are waiting in the wings.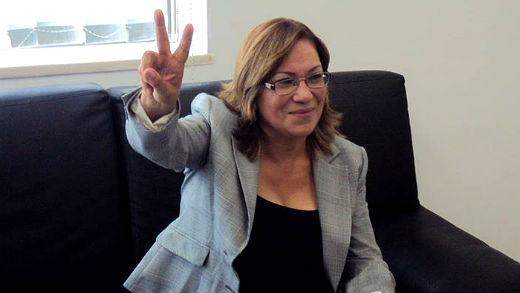 Fact Box:
The Tunisian election and gender equality:
The gender parity law in Tunisia stipulates that every second candidate on party lists must be a woman. However, as usually only the head of the individual lists is elected, women's placement on the party lists is pivotal to the electoral outcome.
68 women were elected to Parliament during the election of October 2014. This is equivalent to 31,33 percent of the 217 members. Seven of the elected MPs had participated in the LET training programme.
The presidential election in Tunisia was won by Beji Caid Essebi from the Nidaa Tounes Party, securing 55,7 percent of the vote. Runner-up, Moncef Marzouki, CPR, gained 44,3 percent of the votes during the second round of the elections.
Local elections are due to be held in October or November 2015.
Kalthoum Kannou, the first female presidential hopeful in the history of Tunisia, also represented the possibility of the first female president in the Arab world. She will stand again in the presidential elections in 2019.
Kalthoum Kannou, Selima Ben Kheder, and Besma Soudani Belhadj were invited to Denmark as part of an exchange programme coordinated by LET and KVINFO.
Read more:
Interview with Besma Soudani Belhadj and Salma el Naqquash from Egypt.
Watch LET's video promoting female political participation (in French).
This article was translated from Danish by: Maria Zennaro
Tunisia has not only achieved the status of the most democratic state in the Arab world. The country, which witnessed the spark of the Arab protest movements in 2010, also boasts the first female presidential candidate in the Arab world.
 Kalthoum Kannou, 55, is a trained lawyer who stepped down from her post as judge in the Supreme Court of Tunisia in order to pursue a political career, thus paving the way for numerous other women in the Arab world. She ran as an independent candidate during the first round of the presidential elections on November 23 2014, thereby steering clear of the battle between the principal parties, CPR and Nidaa Tunes, but also forfeiting the financial support and logistical backup offered to candidates from the main parties.
"I was honoured to be the one to take these first steps in Tunisia. There's still a very masculine mentality here, so it is not easy for a woman to run as a candidate", explains Kalthoum Kannou, who – as a dissident during the rule of Ben Ali – was accustomed to battling the social mores of a rigid society as well as being subjected to outright personal persecution.
While the Tunisian electoral system is founded on a principle of gender parity, obliging political parties to list an equal number of female and male candidates, the parliamentary elections in October demonstrated how only 7 percent of political parties had a woman heading the party list.
Kalthoum Kannou explains how her decision to run as a candidate in the presidential election was an experiment intended to gauge whether Tunisia was indeed ready to accept a female head of state. She is personally convinced that a female, independent president is precisely what is called for in modern, post-revolutionary Tunisia.
"In my mind, Tunisia needs an independent president who can safeguard the non-polarisation of the political landscape. At the same time, the election of a female president in Tunisia would send an important message to the international community, indicating our readiness to look forward, accepting a democratic, gender-equal governance process", says Kalthoum Kannou.
While Kalthoum Kannou lost in November 2014, with Béji Caid Essebsi from the pro-reform Nidaa Tounes Party winning 55,7 percent of the vote, she has decided to run again in the presidential elections in 2019.

Supporting Female Candidates
During her campaign, Kalthoum Kannou received support from KVINFO's partner organization, LET (League of Female Tunisian Voters) whose targeted training programme aims to consolidate the competency of female political candidates on both local and national levels. LET coaches potential political candidates in subjects ranging from communication and negotiation techniques, media management, campaigning, and fundraising.
Due to Kalthoum Kannous' many years of experience as a lawyer and judge and her special status as presidential candidate, she did not follow LET's basic training programme, instead receiving individual coaching by LET throughout her campaign.
According to Kalthoum Kannou, the work of LET is of pivotal importance if women are to sucessfully splinter the glass ceiling of Tunisian politics.
"The interest in the training programme indicates the readiness of Tunisian women. They are ready to transform their rights through political action. LET does a very important job in supporting the competence of women wanting to run for political office, as it is a battle to run as a woman. One has to fight low cultural expectations of women", says Kalthoum Kannou. 

Gender Equality in Times of Upheaval
According to Kalthoum Kannou, the Tunisian revolution deepened Tunisian women's involvement with politics. While women were a considerable presence during demonstrations, they subsequently had to fight to retain the progressive gender equality laws promulgated by Habib Bouguiba, Tunisia's first president after independence from France in 1957, when a new constitution was to be drafter under influence from Islamist political forces.
It was precisely these post-revolutionary times of upheaval, which inspired Besma Soudani to establish LET.
"During the revolution, a range of voices, which I did not find representative of Tunisian culture, appeared in the political debate. They were conservative voices promoting polygamy and a limitation of women's participation in public life. With the ratification of the gender parity law immediately after the revolution in 2011, I finally felt Tunisian again. To me, the law is a symbol of the democracy we have yet to experience. So, I wanted to establish an organisation which could lend support to the women who felt ready to assume the responsibilities of political leadership, and thus function as role models to society at large, to their families, and their children", she explains.      
Kalthoum Kannou's position as a role model was made abundantly clear during the recent conference for KVINFO's partner organizations in Egypt, Jordan, Yemen, and Tunisia, Women and Constitution Writing. Here, she convened with potential female political leaders from other countries in the region in order to discuss the empowerment of women in the political arena.
Furthermore, her candidature has inspired younger women in Tunisia to become politically active.

Young and Ambitious
Selima Ben Kheder, 32, is a trained lawyer like Kalthoum Kannou, but she is part of the younger generation of Tunisian women seeking political influence. As a member of the secular, reformist Nidaa Tounes Party, she is a candidate in the municipal elections in 2015. Selima Ben Kheder has completed the entire LET training programme in political competence development. She had no prior experience from active political participation. Besma Soudani underlines how today, Tunisian women do not have experiences from political leadership positions due to the simple fact that there was no scope for leadership roles for anyone but the dictator during the years of dicatatorship.
The LET training programme has been decisive for Selima Ben Kheder.
"The training programme has enabled me to become a leader in my party. I was a novice in politics. Prior to the revolution, I used to vote and I was engaged with various political organisations but I was never an activist. After the revolution, I joined a political party but I was lacking in political experience. The LET training programme has provided me with an understanding of what it entails to be a female politician. I have learned how to communicate, which strategies to use during debates, and how to organise and finance my campaign. It has been particularly important to start a good while prior to the election. I have become well-prepared with regards to structuring my campaign and instructing members of my campaign staff", says Selima Ben Kheder. 
She draws the comparison between a society devoid of female political leadership and a person with a disability, trying to hobble along on one leg only.
"Women constitute half of society. Women's political leadership not merely ensures a more modern, democratic, and transparent society, it may also pave the way for placing women specific issues on the agenda, whether they be questions regarding childcare or combating the high rates of unemployment for women", says Selima Ben Kheder.
Besma Soudani from LET adds:
"This is precisely why capacity training programmes are important to women. Seeing as our system is based on a law of gender parity rather than a quota for women, women must be able to compete and prove their worth. Being a woman does not automatically entail a knowledge of the UN Convention on the Elimination of All Forms of Discrimination Against Women (CEDAW) or general issues pertaining to policies of gender equality. Training and education is crucial".

A Fragile Democracy
Tunisia is undoubtedly the country, which has fared most favourably from the Arab Spring protest movements in the Middle East and North Africa. The recent parliamentary and presidential elections are a testament to the country's relatively peaceful transition to democracy. It is however, according to Besma Soudani, still a fragile process, and she cautions against the international community letting go of Tunisia, in order to focus exclusively on those areas of the Middle East and North Africa where the struggle continues.
Danish-Arab Partnership Programme
KVINFO's programme in the Middle East and North Africa is financed by:


"Tunisia has become a symbol of positive change, but our democracy is still in a fragile state. Tunisia requires investment – not merely financially, but also in the shape of exchange programmes such as this one, which enables us to visit Denmark and witness the workings of a genuine democracy characterised by dialogue. Our new government will prepare the laws which lay the legal foundations for the next fifty years or more", says Besma Soudani.