Women in local government – what does it take?
Whether in Jordan, Denmark or Morocco, men outnumber women when in local government. But why? Meet three women who are trying to make a difference by becoming active in politics at a local level.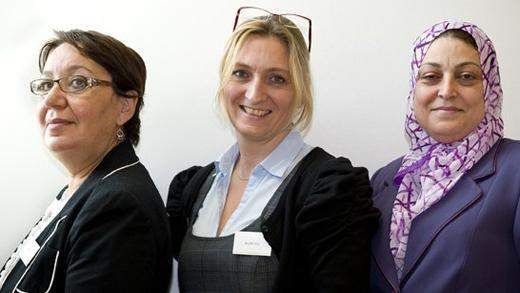 When Jordanians went to the polls in 2007's local elections, one candidate in particular stood out. Kawtar Abd-Allah Bakheet Al-Egweiri was a clear vote-winner (being the woman candidate who received most votes in the entire country) and was overwhelmingly elected onto the municipal council of Jordan's third-largest city, Zarga. 
In the run-up to the local elections, Kawtar Abd-Allah Bakheet Al-Egweiri ran her own campaign with the help of friends and family who assisted by handing out flyers and putting up election posters. 
However, that same strategy was not enough for one of her colleagues somewhere else in the world. When Danish Birgitte Vind ran in the 2009 local council elections in Denmark's ninth-largest city Vejle, she had to think creatively in order to catch the attention of the voters. Therefore, she set up a boxing match between her and an opposing male candidate to drum up press coverage and thereby get her message across to the voters. 
On a sofa in Copenhagen, these election stories from Jordan, Morocco and Denmark are digested with a solicitous air of understanding. 
We are at a conference on women in local government in the Danish capital Copenhagen. Here, three such political women – Moroccan Zakia Mrini, Jordanian Kawtar Abd-Allah Bakheet Al-Egweiri and Danish Birgitte Vind – have taken a seat on the sofa to share with each other their experiences of being a woman in local government.  
Although being very different, the three of them have something in common – they have all gone into politics because they want to make a difference. 
A desire for change
Danish Birgitte Vind is 45 years old and is new in the world of politics having only served as a town councillor for one year. 
"I stood for election because I was unsatisfied with the policy of the government. I thought it was short sighted and failed to tackle some important political issues," she explains. 
Moroccan Zakia Mrini is 51 years old and serving in her second term. She has been in local government for seven years and is now mayor of the Guéliz district of Marrakech, Morocco's second largest city.  
"I've always had a strong sense of justice and believed in fighting discrimination and it's because of these convictions that I've been politically active for the last 20 years," Mrini tells.
For many years, Zakia Mrini has been involved with the Moroccan women's movement and she is founder and president of several women's rights organisations. 
Jordanian Kawtar Abd-Allah Bakheet Al-Egweiri is also serving her second term and has eight years of local government experience behind her. 
She entered into politics because she believes that local politics in Jordan needs the contribution of women. 
"Men dominate society and are the decision makers in many areas. But now, with five women having been elected onto the local council, things are changing," she points out. 
In all three countries, men outnumber women in local government. The ways the different countries deal with this imbalance in the corridors of local power differ significantly. As do the ways the three women perceive the situation – are there fewer women in local government because local social barriers afford women less opportunity to gain political influence? Or is the low number of women in local government due to the women themselves?
The quota debate
Moroccan Zakia Mrini is in no doubt. When the conversation turns to the causes of the gender imbalance in local government, she smiles and shakes her head. 
"Men and women can't compete on equal terms," she says.
"There is a clear imbalance between the genders throughout the hierarchy. Just look at the figures – they speak for themselves," she stresses 
Today, only 12% of the elected local government officials in Morocco are women. And this amount is taking into account the fact that, following pressure from the Moroccan women's movement, quotas were introduced at the last local elections – a quota for women which has been set at 12%. The number of women mayors is even lower.     
Marrakech, where Zakia Mrini herself is mayor for the district of Guéliz, saw its first ever woman lord mayor elected at the last elections – the first ever woman lord mayor in the country. The 33-year-old lawyer made headline news across the world when she toppled the city's male lord mayor of many years and was slated by critics who questioned her ability and political clout to be able to lead one of Morocco's largest cities. -Just as many were furious about the fact that Morocco had even introduced quotas for the number of women elected to local government office.   
"The introduction of a quota wasn't well received within the political system. Many believed that it was tantamount to giving seats on the local council away to women," Zakia Mrini explains.
A high priority from the top
Such was not the case in Jordan when Kawtar Abd-Allah Bakheet Al-Egweiri ran in the 2007 local elections. These elections were the first to be held following the introduction of new laws introducing a quota for women within local councils of 20%. The quota system here was met with no criticism. 
At the elections, 215 women were voted into office: 195 of these as a result of the quota system. Kawtar Abd-Allah Bakheet Al-Egweiri was one of the remaining 20 women politicians who won a seat on the local council based purely upon the number of personal votes she had received. 
Kawtar Abd-Allah Bakheet Al-Egweiri is keen to stress that the bulk of mayoral posts are still held by men. Today there is only one woman mayor in Jordan. 
"Parity between men and women is still a long way off in top leadership. But it's also about the women. Most women don't elect other women – they elect men. And women perhaps don't work as hard as men to get to the top. So the responsibility lies with the women themselves," explains Kawtar Abd-Allah Bakheet Al-Egweiri 
Lacking self-confidence
Unlike Morocco and Jordan, there are no quota systems in place in Denmark at local government level. Nevertheless, a record number of women were elected at the most recent local elections with almost one third of posts, or 32% of local council seats, going to women. At the same time, Denmark achieved the greatest number of women mayors ever with a total of 14, equivalent to 14%.  
Birgitte Vind was one of the new local politicians to be elected. Although she still sees certain barriers for women in Danish local politics, she believes that these are disappearing.  
 "Danish politics has in the past been very male dominated with male norms and values being the order of the day. Women make room for others – men don't make room for others to the same extent. But a lot is changing now. We can already see this at a national level where there is a majority of female party leaders in the Danish parliament Folketinget," she explains. 
According to Birgitte Vind, the biggest barrier for women today is themselves. 
"So many of us just don't believe that we can do it and we haven't been brought up around politics. At the same time there is a duality: on the one hand, we believe that having women in politics is important; yet, on the other, the majority of women say 'I don't want to be elected just because I'm a woman but because I'm up to the job'," she explains. 
The role of the media
When stepping into the political arena it is difficult to avoid the media spotlight – no matter where you live. It is precisely through the media that candidates make themselves visible to voters and convey their messages. But what do the media think of female politicians? Here, again, the experiences of the three women differ. 
"In Morocco, the media have reacted to the introduction of quotas and women politicians in different ways," tells Zakia Mrini. 
"Those sections of the media that are positive about the women's movement have shown a keen interest. Whereas areas of the media that are against the quota system have given negative coverage. It's hard getting through and getting journalists to come when, for example, we are hosting an event," says Zakia Mrini.  
Being able to get a word in is difficult in the Danish media – whether you're a man or a woman politician," explains Birgitte Vind, continuing: 
"For me being so new it was important for me to get media coverage. But journalists aren't interested in hearing opinions about things like educational policies – they want a story that will sell newspapers."
And it was because of this that she came up with the idea to have a boxing match with a political opponent in the area of educational policy, which resulted in catching the media's interest.  

Danish-Arab Partnership Programme
KVINFO's programme in the Middle East and North Africa is financed by:

According to Kawtar Abd-Allah Bakheet Al-Egweiri , this was a tactic that the Jordanian women did not need to resort to during the elections, as the Jordanian media were positive towards the women candidates.
"In general, the media are very positive. Perhaps this is because the press is controlled by the government. They only paint a positive picture of women in politics," Kawtar Abd-Allah Bakheet Al-Egweiri says.
As a result of this, Kawtar Abd-Allah Bakheet Al-Egweiri predicts that more Jordanian women will enter local politics at the next round of elections. The media have helped show the population that women local politicians are both important and competent. 
It is a question of having good, strong role models – something the Jordanians, the Moroccans and the Danes have. Three of whom are sitting on this sofa in Copenhagen.