Women in politics – a cornerstone of democracy
If women want to enter into politics, they require the support of their husband, father brother or family. This is the firm belief of Naderah Rawashdeh, the only woman in Jordan who has been independently elected into a town council without the help of the country's women's quota system. She is just one of the women whose lives have turned around after having received political training in one of KVINFO's partner projects aimed at bringing more women into politics.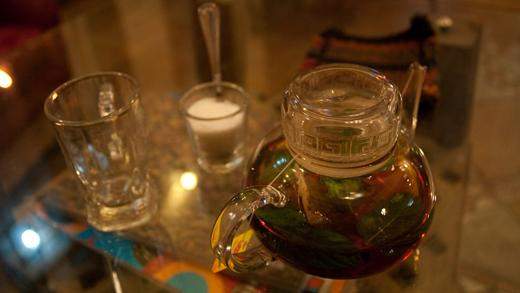 Facts
Since 2008, KVINFO has been working to promote women's political participation as part of the Danish Foreign Ministry's Arab Initiative programme. The lives many of those who have participated have been turned around since becoming interested in politics and receiving the tools and support that have enabled them to become active in the political arena.
The results of Jordan's local elections held last year were particularly encouraging for Naderah Rawashdeh, who had stood as a candidate in the country's Karak region. She was the only women to be elected independently and not as a result of Jordan's women's quota system, which guarantees a 25% representation of women in elected posts. To top this off, she was also the candidate to receive the second highest number of personal votes, just losing out behind the mayor. As well as sitting on the local council, Naderah Rawashdeh also sits on an advisory committee and she is also head of a women's association. But before getting to where she is today, she underwent many years' political training. This training was provided by Jordan's Zenid institute in a project which has been supported by KVINFO since 2008.
Naderah Rawashdeh visited Denmark for the first time in January 2014. During her visit, she explained what her political training had meant to her and highlighted the greatest obstacles facing Jordanian women who want to become active in the country's political arena. Naderah Rawashdeh believes that she herself has come up with the solution to some of these problems. 
"I divide my time equally between my political work, my household chores and the running of a small farm that grows olives, vegetables and corn which I sell – my children help me here and it gives them the opportunity to earn a bit of money. My husband also prepares food and cleans, and has always done so. He supports my political work as does my family," tells Naderah Rawashdeh
In her opinion, patriarchical thinking, tradition and culture often stand in the way of women's political participation:
"It's no use a woman wanting to achieve a whole lot if she doesn't have the support of her husband, father, brothers or wider family. And it's always religion that ends up being used as an excuse to hold women back; even though Islam and the Quran include rights and afford opportunities to women, in the wrong hands these are used as weapons against women and their rights," she explains. 
Jordanian women such as Naderah Rawashdeh are just some of the many who have participated in KVINFO's partner projects working to support and promote the political participation of women in the Middle East and North Africa. KVINFO began working with promoting women's political participation in Jordan 2008, and since then this work has spread to Egypt, Tunisia and Morocco, with Yemen becoming the next partner in 2014.
Support for the individual and challenges for the many
Naderah Rawashdeh is aware that – despite the fact she has no formal education nor has ever had a paid job outside the home – she is in a luckier position compared to many other Jordanian women. "I've always been a keen reader, kept myself well informed and bettered myself – I suppose you could call it a type of self-study, and with my political victory I've grown even more," she adds. 
According to Naderah Rawashdeh, Jordanian society needs to create a framework and establish structures that enable the individual to become actively engaged in politics; however, she also points out that the individual families must also share household tasks, time and roles in order to make room for the woman's political involvement. Naderah Rawashdeh is herself married and has six children – two sons and four daughters – between the ages of 7 and 27.
Now a teacher herself
Lately, Naderah Rawashdeh has herself begun teaching at Zenid, where she started her political training ten years ago. 
"When I started, I knew nothing about women's political rights and had no experience of political work. As I learn more and more, I now also want to share what I've learned with others. But the most important thing I've got out of it is confidence and the understanding that I'm 100% master over my own decisions," explains Naderah Rawashdeh.
In addition to the Jordanian training programmes like the one attended by Naderah Rawashdeh, KVINFO's activities aimed at promoting women's participation in the political arena span the Middle East and North Africa. These activities range from mentor programmes with experienced politicians and exchange and study trip to initiatives that promote women's rights in relation to changing legislation and the drawing up of new constitutions.

Danish-Arab Partnership Programme
KVINFO's programme in the Middle East and North Africa is financed by:

With the huge differences between individual countries, there is no one-size-fits-all model in terms of which solutions are best or where efforts should best be focussed. Katarina Blomqvist, head of KVINFO's Middle East and North Africa department suggests several possible projects for the future:
"As well as a need for projects that work with the overall structures and existing systems that currently hold women back from participating on equal terms with men, there's also a need for projects that work to get rid of barriers and pave the way for the political representation of women. The introduction of quota systems could be one such example."
"In countries where few women participate in politics, it's also important to train and educate women political candidates and women voters in using their political rights and opportunities to gain influence. Last of all, work that focusses on changing attitudes in general, such as 'Vote for a Woman' campaigns, is also relevant, as it's important that those women who dare to take the plunge and stand for election also have a chance of being elected," ends Katarina Blomqvist.