Women in Politics – looking forward
After two intense days the conference "Women in Politics" is wrapping up with a high level debate. 6 outstanding woman politicians are in the panel giving their perspectives from countries as different as Jordan, Bhutan, Tanzania and Denmark.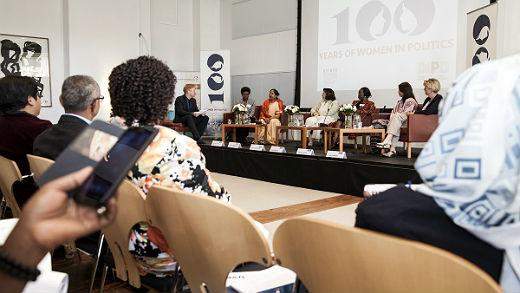 In the panel is Jordan mininster of social development Reem Abu Hassan, former Danish minister of environment Lone Dybkjær, Nepali minister of education Chitra Lekha Yadav, party leader Lily Wangchuck from Bhutan, presidenrial candidate Martha Karua from Kenya and Tanzanian minister of justice Asha-Rose Mtengeti-MigiroI. 
Marta Karua from Kenya tells that even when she was elected party leader, some in her party saw her as merely a figurehead. And when she acutally assumed leadership some of them left the party. 
Reem Abu Hassan stresses to use her leadership to change her department. She has instigatet programs to promote women leader talents in the administration, because their way of seeing things as women is indispensible. 
Lone Dybkjær tells that she in her many international meetings has noticed that women always meet on the same level, and that is not true for male politicians. Several of the other participants also underlines the importance of the cooperation between woman politicians. 
Martha Karua concludes her remarks by looking to South Africa and their principle of "zebra striped" elections lists, with men and women alternating. "It's time to look at which election systems advance women," she says. 
The conference is part of KVINFO's celebration of the 100 year anniversary for women's right to vote in Denmark. Most of the participants will also be present at the celebration on Friday taking part in the reenactment of the Women's procession from 1915, other celebrations and naturally KVINFO's own after party, Køn på Kajen – Gender on the Quay – where we will set hundres of little paperships of hope for gender equality sailing.