Tools
GenderLAB: improving well-being and bottom line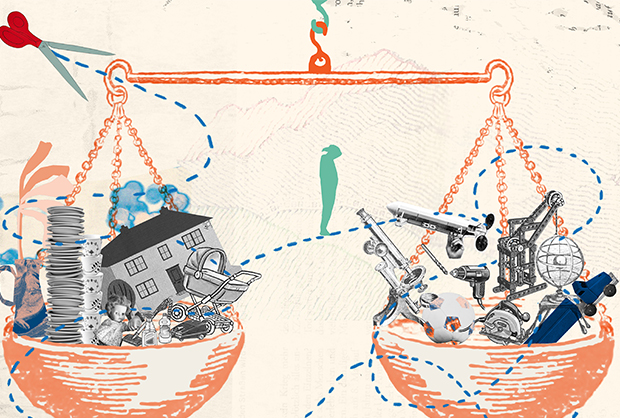 Use a GenderLAB to ensure well-being and improve your bottom line with innovative tools and culture changing practices. This page presents the principles of a GenderLAB, what it offers your business and what the process includes.
Laboratory for durable solutions
GenderLAB is a laboratory combining Design Thinking and norm critical practices to create innovative, tangible and durable solutions to complex challenges and problems.
GenderLAB was developed by KVINFO and Copenhagen Business School (CBS) in collaboration with The Royal Institute of Technology (KTH) in Stockholm and The GODESS Institute at the Hanken School of Economics in Helsinki.
Does your company need to diversify recruitment? Does your organisation work to retain employees? Do you want to create a more  diverse work environment for all employees in your company?
GenderLAB is a workshop process during a short time frame analyses, develops ideas and formulates solutions, while training the participants in visualising, co-creating and changing limiting bias.
GenderLAB offers new approaches to your current challenges and innovative tools for changing culture, evident on the bottom line and on the degree of well-being. Watch how it is connected in 1 minute and 17 seconds in this film:
Invest in diversity today
Find out how a GenderLAB can improve your workplace, and get a non-binding offer:
Call or write KVINFO's project manager Rebekka Mahler.
Tel .: +45 50 76 33 76
Mail: rebekka.mahler@kvinfo.dk
What you get from a GenderLAB
Bring a challenge. Leave with a solution. This is how you can briefly describe the process of a GenderLAB.
The process analyses and investigates the problem you are facing, while at the same time clarifying which biases, norms and blind spots prevent you from spotting or solving problems in a broader sense.
In this way, GenderLAB does two things for you and your company or organisation: Creates change in relation to the challenge that you would initially work with. And helps you become better at identifying and dealing with other and perhaps new challenges.
In GenderLAB you can both challenge yourself and co-create a new culture in your organisation. You get tools to analyse and rethink the norms and biases that limit the organisation in terms of working effectively with your challenges and creating positive change.
Once you and your company or organisation have been through a GenderLAB, you have a proven and feasable solution to your challenge. It can be a project description, a strategy, a campaign idea or an organisational development course.
At the same time, GenderLAB provides tools and skills to continuously work with the norms that shape and limit or develop your everyday life and your organisation.
Invest in diversity
Studies show that diverse and equal societies are stronger, more adaptable, more peaceful and have higher growth.
The same goes for companies, organisations and institutions. By working ambitiously and explicitly with diversity in your company or organisation, you can ensure long term diversity and at the same time solve specific problems here and now. You can do this by investing in a GenderLAB.
Equality and diversity are possibly the very core of the challenge you want to work on. But not necessarily. The issue may be about something completely different, but gender and equality may prove to be a key to creating change.
In this way, diversity is both a goal and a tool in the process.
How a GenderLAB works
GenderLAB is a laboratory where experiments, innovative thinking and solutions are tested.
Your company or organisation will take part in a carefully planned process which takes into account your needs, uses the latest research and guides you through brainstorming, analysis, design, testing and a solution ready for implementation tomorrow.
First, challenges and problems are scrutinised, discussed and analysed. Then follows the development of solutions that can be scaled, implemented and measured. Both parts take place in the interplay between knowledge and practice.
You will be trained in visualising and exploring new possibilities. At the same time, experts and other actors with differing backgrounds and from different sectors are involved. This is to ensure diversity in perspectives, identities and roles and thus creativity and quality in development of ideas and solutions.
In the short term, you will get a solution or change that is ready to be implemented. In the long term, you will gain tools and skills to work continuously with the norms that shape and limit or develop your everyday life and your organisation.